My first car was a 1994 Volvo 850. It came from a time when people knew Volvos to be safe, dependable, yet utterly uninteresting, no thanks to the lack of shapes and liberal use of curves that only a straight-edge could muster. It wasn't an emotionally attractive car, like many of its European peers were at the time, but it still carried itself in a confident and re-assuring way that only a Volvo could. The mid-1990s were an exciting time for Volvo. The even-more-square 240 and 740 Series sedans were reaching the end of their long lifecycles, and the new front-drive hotness was all the rage, and would continue through today.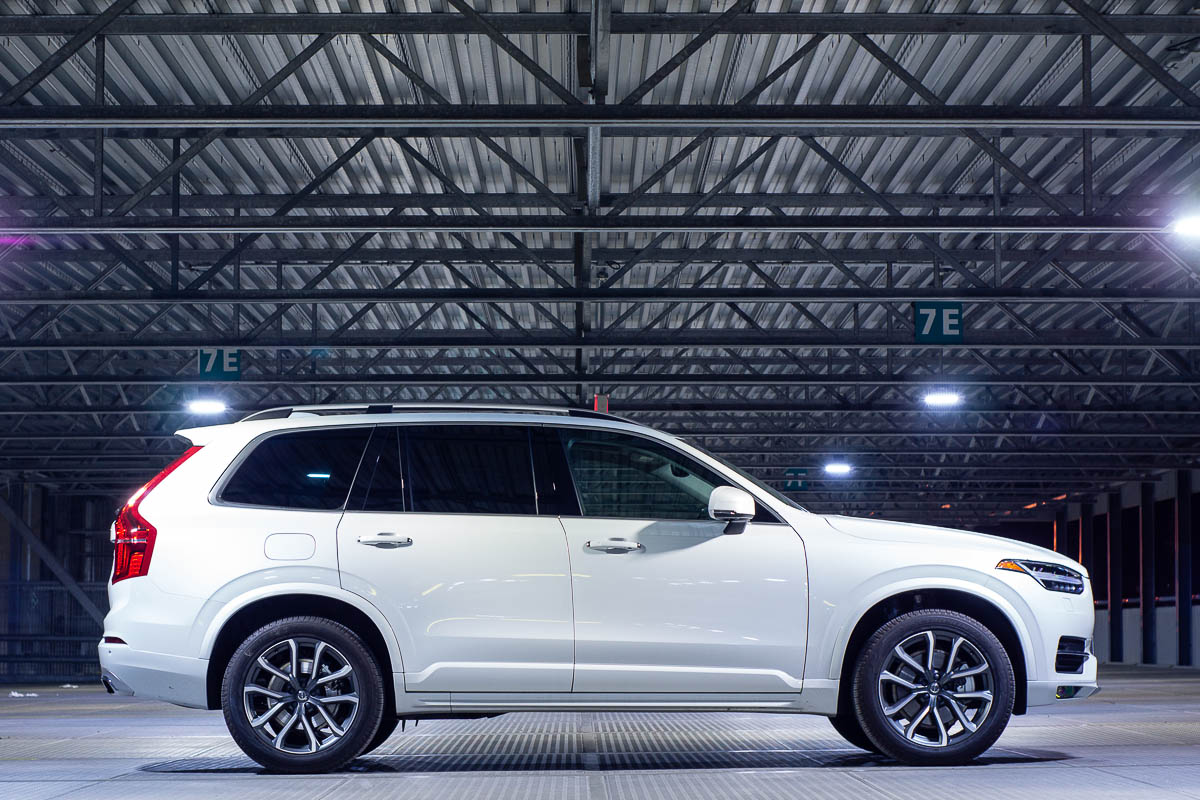 The supervision provided by the Ford Motor Company further cemented Volvo's vision into the future. By 1999, Volvo saw itself fully immersed into Ford's premium vehicle lineup, and the platform sharing that would ensue would influence more than just Ford, but also Land Rover and even Mazda to some extent. The XC90, introduced for the 2003 model year, was Volvo's answer for the hot-selling American crossover segment. The large three-row CUV was a different take on the traditional station wagon Volvo was long known for, but it proved to be a huge success for the brand in North America. The XC90 quickly became the most popular model in the lineup.
The XC90 would go on to be one of Volvo's best sellers for many years, managing to outlast a lot of its competitors before needing a replacement for 2016. Its attributes were especially attractive to the North American public – lots of space, and an overall safety rating that not only customers embraced, but made its competitors jealous as well. This second-generation XC90  has some big shoes to fill. Now technically under Chinese-ownership, how will it carry the torch set by its predecessor? There's a lot riding on the new XC90 here – it can either continue to offer that similar Volvo feel, or it can go in a different direction altogether. I picked up the key to a Crystal White 2016 Volvo XC90 T6 Momentum.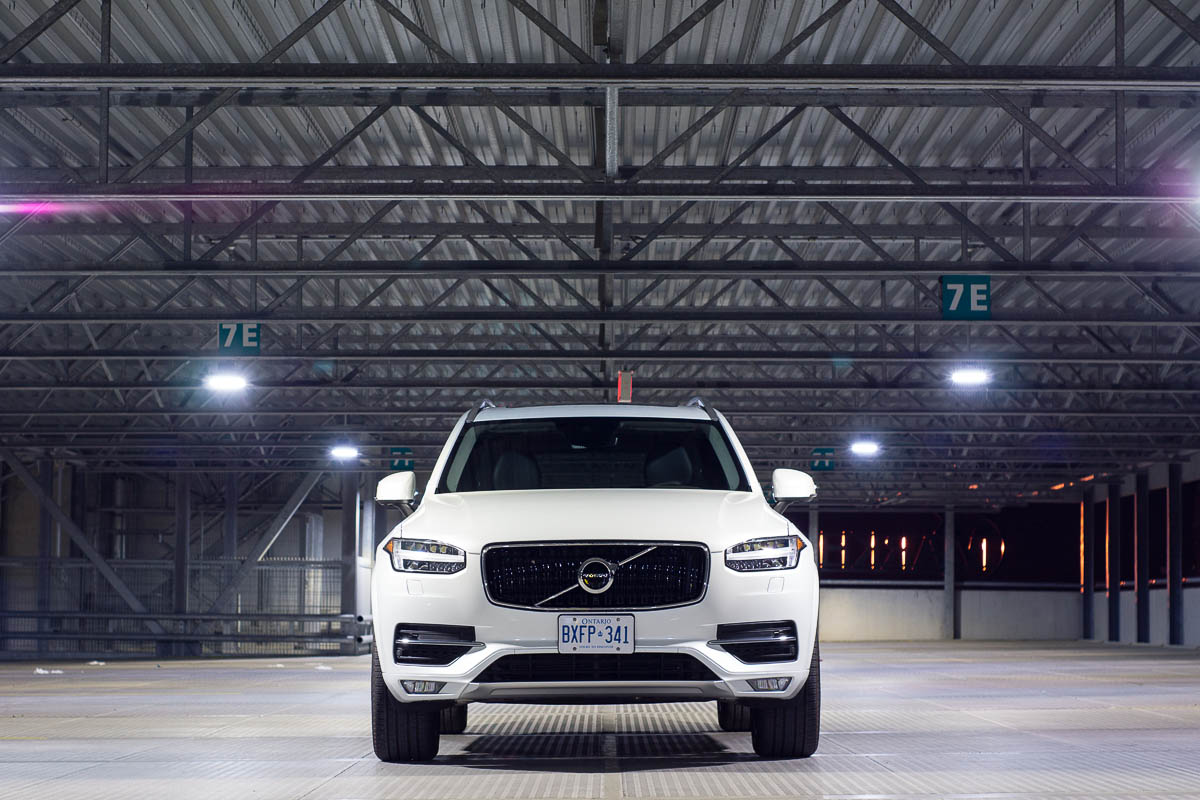 Three-row SUVs have become properly gargantuan these days – to the point where they barely fit into the garages of the suburban homes. One difference between the new XC90 and some of its peers is the road presence it commands. It manages to carry itself with quiet Swedish confidence, but also manages to not look too oversized. Right away, I think it is one of the better-looking choices in its segment. It's not quite overstyled – the general proportions are classic to the XC90. The accentuated shoulders are a throwback to the first-generation XC90, and even the old 240. The taillights contribute to this Volvo design feature. Swedish minimalist design would also suggest reducing unnecessary garnishes – there are no decorative fender vents here. I also like that the bright chrome trim is subdued enough – I think the XC90 would look its best in black, like the Inscription model we recently tested. My XC90 T6 tester also came with optional 20-inch wheels and 275-section tires all around – a $975 option.
What I like the most, stylistically, are the full LED headlights and the overall front-end look. The shape of the headlights do their part in making the XC90 appear wider, and the headlights themselves feature a fantastic LED daytime-running light strip – Volvo themselves suggests it looks a little like Thor's Hammer. Either way, the lighting setup is fantastic to admire from a distance and in your rear-view mirror. This upgraded lighting is part of the Momentum Plus package and is worth every penny.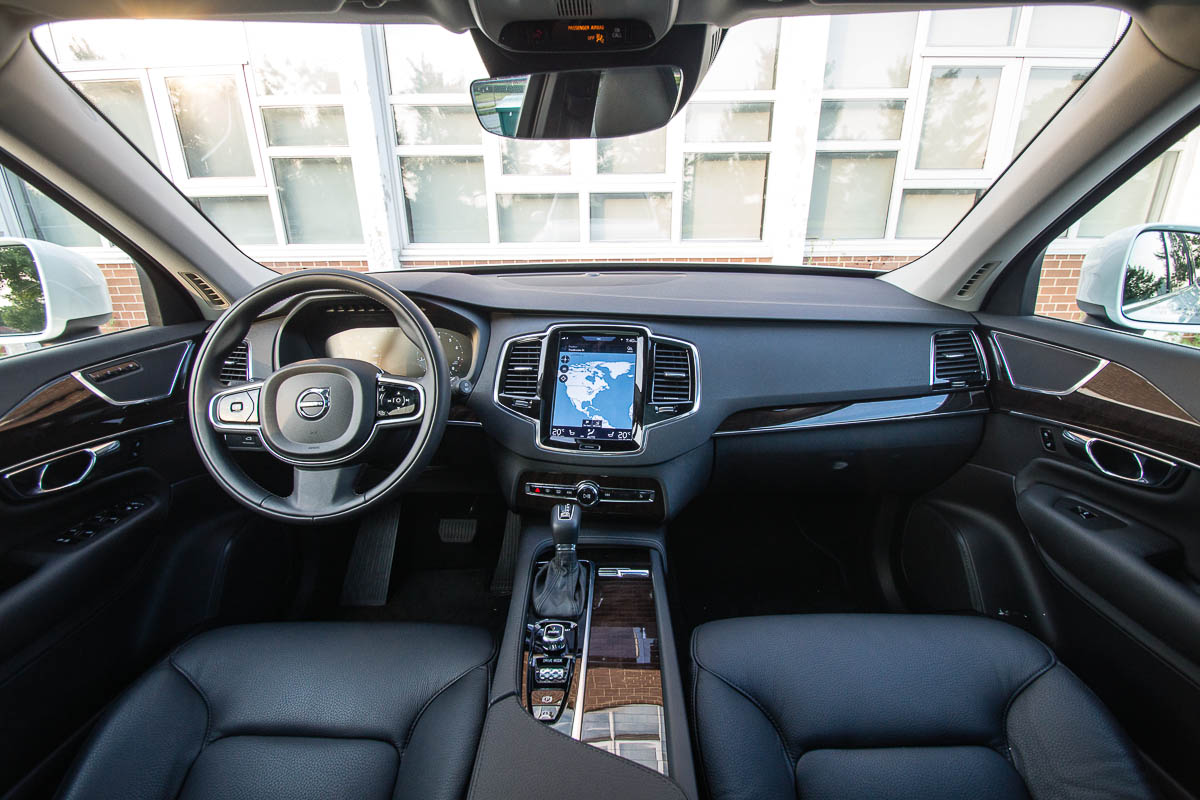 Inside the XC90, the clean, yet utilitarian design touches continue. Volvo's renowned world-class seats make a return, but it is the large 9.3" glossy touchscreen that will get immediate attention from passengers. The system makes liberal use of multi-touch gestures, like your smartphone – swiping down from the top edge of the screen opens various setting menus, and swiping left and right toggles through satellite navigation and current media information. It's a fingerprint magnet – Volvo even provides a little cloth in the glovebox to quickly clean things up. It's a technologically-progressive implementation, but it represents a slight miss in terms of the balance some automakers keep struggling with when it comes to button counts.
I like being able to feel around with my fingers to enable or disable certain settings – heated seats are a good example. As it is, every aspect of the HVAC system is controlled only by the touchscreen, and since it takes several seconds for the system to start up, you can't turn the heated seats or air conditioning on immediately as soon as you jump in behind the wheel. In the 2016 XC90, one needs to take a little more attention away from the road in order to access a lot of common amenities. However, when it comes to looking at instruments and numbers, the 12.3" all-digital graphical driver display handles the speedometer, tachometer, and various other displays. In typical Volvo fashion, it is also configurable with different themes and optional real-time information right in the centre.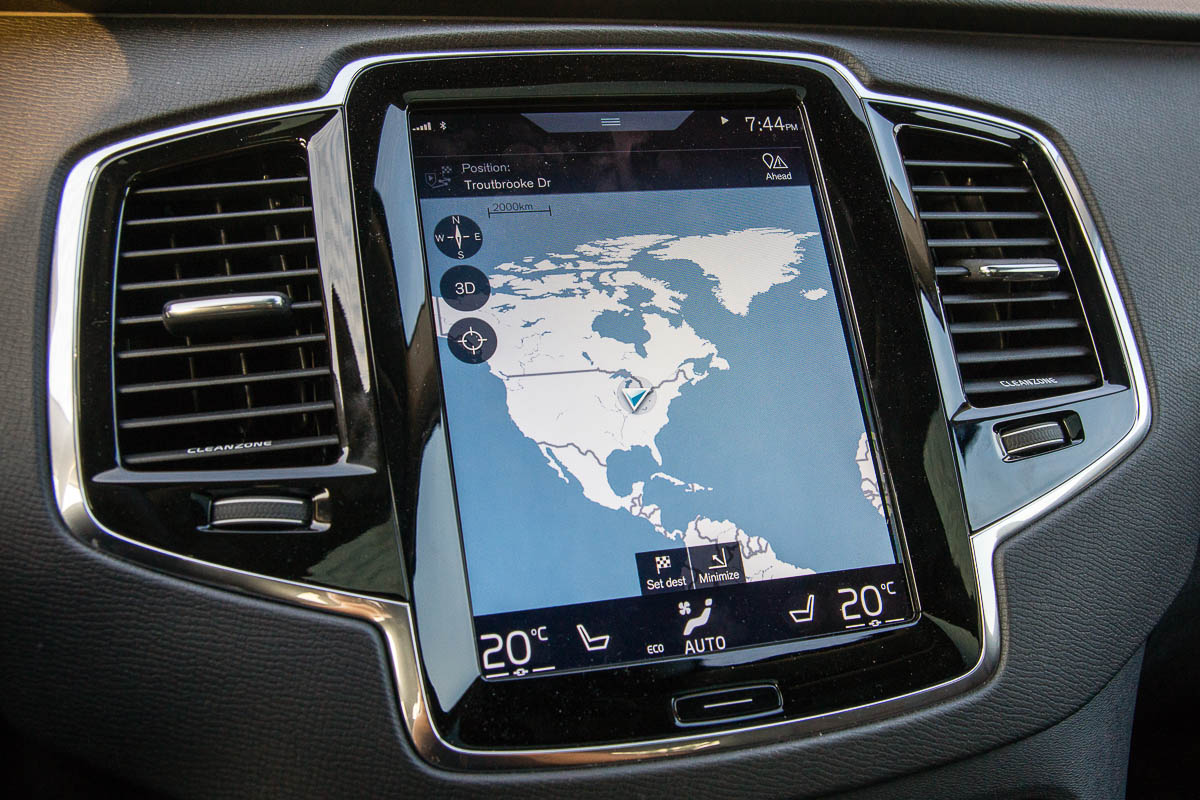 The upside is that since so many functions are integrated into the central infotainment interface, it should be easy to roll out enhancements and fixes via software updates. It may be down to specific cars, but the satellite navigation thought I was swimming in Lake Ontario more than a few times, as I drove down the Gardiner Expressway on an otherwise sunny day. It eventually figured out my true location after some time, but the inaccuracy is worth noting these days. You can tell design plays a strong role in Volvo's products, but I don't think it should take such a huge precedence over function. It's a little unfortunate how much the touchscreen draws attention to itself, because there are so many other little details everywhere that allow the XC90 to stand out – like the little Swedish flag on a tag sown into the passenger seat, or the Saab-like ignition knob located in between the driver and passenger seats. It's these little details that count.
Volvo is famous for its thoughtful designs inside and out, but that alone doesn't represent all the innovations baked into the XC90. The powertrain brings some fresh new thinking and engineering to the table in the pursuit of improved fuel efficiency. First seen in the refreshed S60 and V60, Volvo's new Drive-E architecture is cranked up to eleven in the XC90. Under the hood lives a twin-charged 2.0L four-cylinder gasoline engine. Twin-charging refers to the use of both a supercharger and a turbocharger to help augment power delivery. This methodology isn't used anywhere else outside of Volvo's family, so it's definitely a unique trump card to hold on to. The goal behind utilizing these technologies at the same time is to provide the power delivery of a much larger engine. Strapping a large turbocharger onto a small four-cylinder engine will be great for delivering high-rpm horsepower, but it's quite difficult to overcome the driveability issues that come with it – namely turbo lag.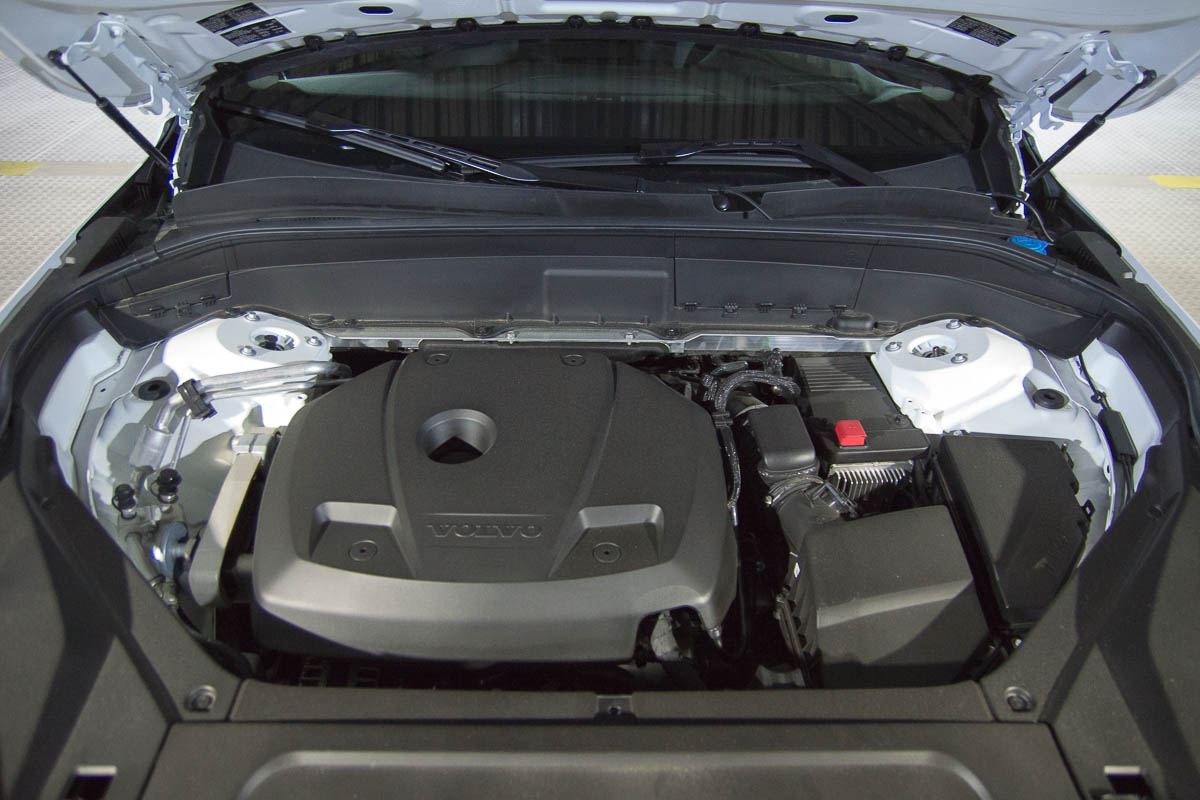 Both types of forced induction help the engine breathe more air by very different means. The supercharger is mostly active at low-revs (where its lag-free nature is an advantage), compressing air into the combustion chamber for low-rpm torque. About midway up the rev range, the turbocharger takes over to deliver high-rpm horsepower. Considering all the complex controls necessary to coordinate the two different types of boost, the transition between supercharged and turbocharged power is fairly seamless. It's interesting to hear the slight supercharger whine when you jump on the accelerator pedal from a stop.
All that being said, this little overachieving engine has some big shoes to fill. It has to be at least as powerful as the outgoing T6 engine. Volvo has retained the T6 designation, even though the XC90 is powered exclusively by four-cylinder engines. The Drive-E engine in the new XC90 T6 is good for 320 horsepower at 5700rpm and 295 lb-ft of torque from 2200-5400rpm. This engine is mated to an 8-speed Volvo "Geartronic" automatic transmission – making the XC90 the first combined implementation of Drive-E, this 8-speed transmission, and all-wheel drive.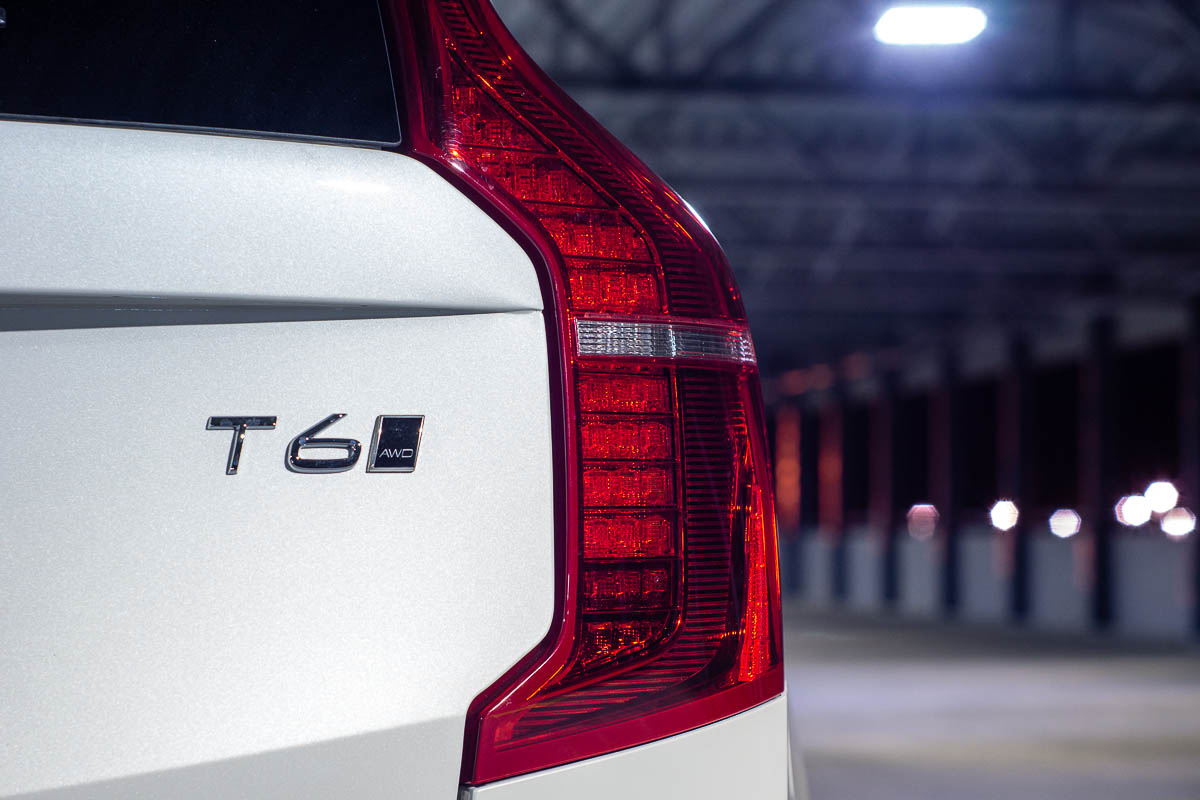 In practice, the XC90 T6 moves really well – one generally doesn't expect a four-cylinder powertrain to move all this mass with this kind of authority. Low-end torque delivery is good off the line, thanks to the supercharger. If you keep your foot in the throttle, you don't really feel the turbocharger boost kick in, but rather just a continuation of power delivery as the transmission goes through its eight gears. What may come down to personal preference is how the engine sounds. One of the (subjective) downsides is that the four-cylinder powertrain simply doesn't sound as good as a V6. The six-cylinder powerplants found in some of the competition (the Audi Q7 and Acura MDX come to mind) simply sound better while delivering similar amounts of horsepower.
Another thing the XC90 is good at is its ability to shrink around you as it drives. Some large family-hauling CUVs never forget to remind you how big and cumbersome they are. I liked how easy it was to drive, in the city, on the highway, and even trying to fit into tight parking spaces. In the driver's seat, visibility is good in almost every direction, though you may want to fold the third-row down if those seats aren't in use. The interior is bright and airy, and that feeling gets even better if you opt for the lighter "Blond" interior colour scheme.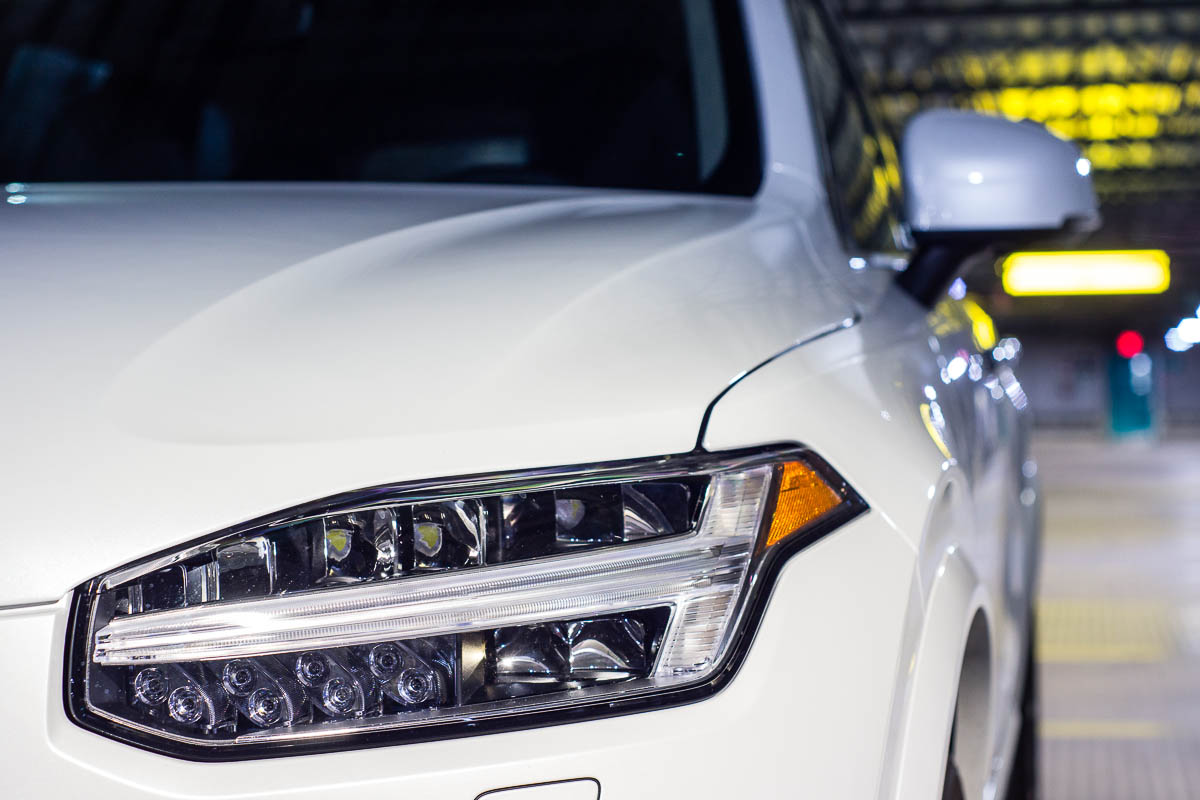 Those not quite convinced by the new Drive-E architecture don't need to worry. It's quite understandable – people don't really expect anything with just 2.0L of displacement to not be overstressed at all times. Volvo rates the 2016 XC90 at 11.5L/100km in the city, 9.5L/100km on the highway, and 10.6L/100km in a combined cycle. In my week of very mixed driving (several commutes to and from downtown Toronto and a trip to cottage country), I managed to hit that combined rating of 10.6L/100km over about 800km. It's impressive how efficient the XC90 is compared to some of the competition – the standard start-stop also helps in urban environments. Fun fact: active grille shutters behind the big upright Volvo grille manage airflow and thermals, only letting cool air enter as needed, improving overall efficiency. One downside for some: the start-stop feature is reactivated by default in most configurations, every time you restart the engine.
My 2016 XC90 T6 AWD tester was of the Momentum trim, which is actually the base model, at $60,700. It comes well equipped, with leather seating surfaces, power everything (including the rear tailgate), panoramic sunroof, and the list goes on. Options equipped included the Momentum Plus package ($2,600), which gets you the full LED headlights and all-important LED daytime running-lights. The Vision Package ($1,800) steps you up to auto-dimming mirrors all around, power-retractable side mirrors, blind-spot information system, and additional cameras that make up the Visual Park Assist system. My particular was not equipped with the Convenience Package ($2,200), which upgrades the standard cruise control system to a full radar-based adaptive cruise control system and gets you some additional proximity-based parking sensors in the bumper, among other things.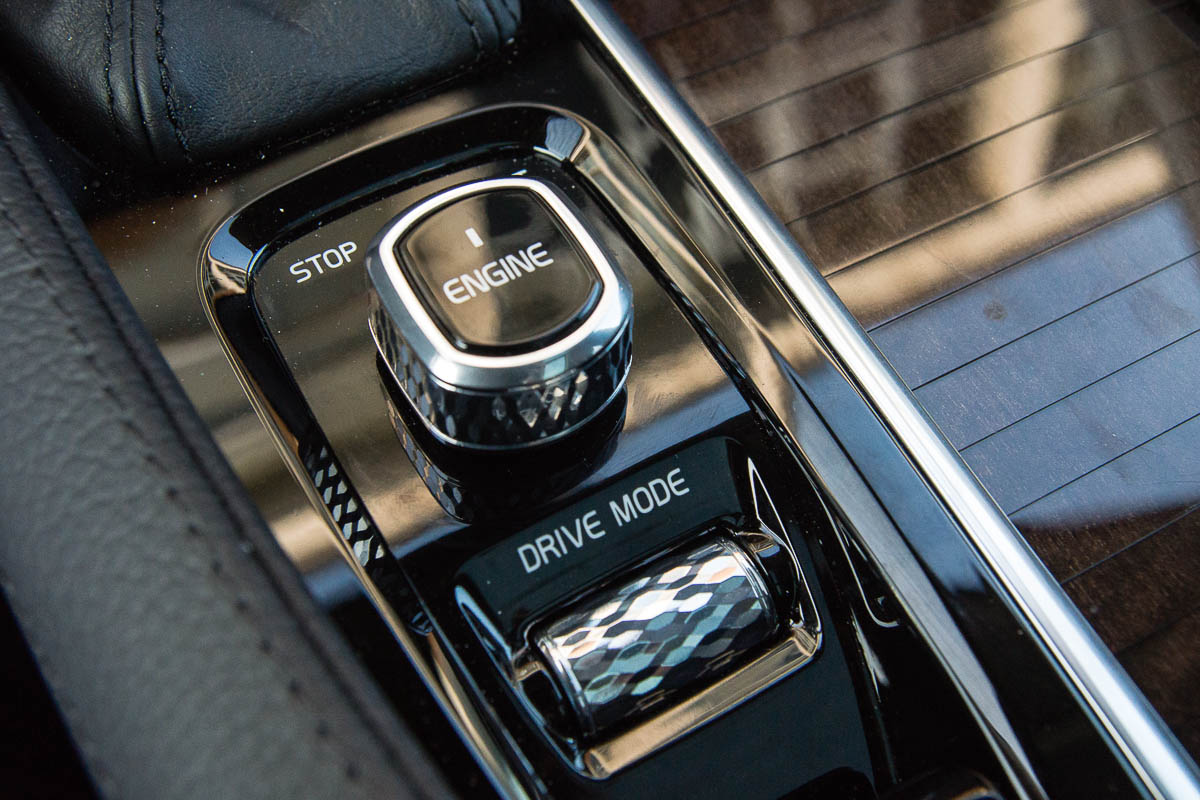 All this being said, this XC90 T6 Momentum stickers at $68,225 as tested, before taxes and additional dealer fees. It represents a decent value in its segment, with a generous list of standard features. In its class, consumers are likely to cross-shop it with the Acura MDX, Audi Q7, and Infiniti QX60. The popular Audi Q7 doesn't offer third-row seating as standard, and is not quite as efficient. The Acura MDX is a well-rounded three-row choice, with good highway efficiency thanks to its 9-speed automatic transmission. The Infiniti QX60 is the value leader by quite a long shot, but AWD is not standard equipment, and some may be turned off by the experience provided by its CVT drivetrain. The Lexus GX460 is the odd one in this bunch with its rugged body-on-frame and V8 engine, but if towing capability is on your list, it may be worth considering if you can live with its slightly tighter interior packaging.
North American families flocked to the original XC90 for its unique blend of roomy versatility, interior accommodations, and the very best ergonomics that Swedish design can provide. The new XC90 definitely builds on those attributes, and modernizes everything by way of a unique Drive-E powertrain and a handsome, understated design. The improved efficiency is impressive for something so large, and it puts the XC90 ahead of a lot of its competitors. The item I was most curious about was the twin-charged engine. It remains a little gruff in the mechanical audio department, but it more than delivers in pretty much every other way compared to the old T6 engine. The 2016 Volvo XC90 becomes a very interesting and compelling entry into the premium three-row luxury crossover utility vehicle market. I'll have mine in Onyx Black Metallic with the Blond leather interior, please.
2016 Volvo XC90 Momentum Gallery
See Also: