Sometimes it's important to disregard all semblances of practicality and modesty in favour of excess. Vehicles like the Audi RS7 and the Alpina B6 Gran Coupe are excellent examples of this. BMW has redesigned their X6 "Sport Activity Coupé" this year, and we've already sampled two of the three models they offer. The only one left for our magazine to review by the time my turn came around was, incidentally, the one I wanted to try the most. I snagged the keys to the 2015 BMW X6 xDrive50i for a week's test; the same week when I had an equally excessive motorcycle to test out.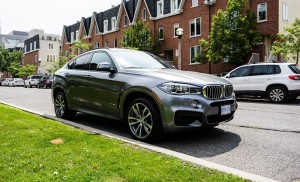 Unlike some of my auto scribe colleagues, I don't have a strong disdain for the X6. In fact, if I shut off the practical part of my brain, the kid inside me is absolutely giddy for this thing. The X6M we recently drove packed 567 horsepower, but it lacked the refinement of the xDrive50i. The 20" M-Sport wheels with their staggered setup (275/40 front and 315/35 rear) are wrapped in Dunlop tires and are an awesome design. My tester was also painted in BMW's Space Grey, which is an iconic colour I fell in love with after the previous-generation (E90) M3 sedan. It still looks awesome here and would be my pick.
What's unique about this X6 over the other models we've driven is the special interior setup, which we'll get to later on, and the powertrain. Under the hood is a 4.4L twin-turbo V8. It's the same motor as the X6M, but detuned a little bit. Rather than keep it in full M-spec, BMW has opted to gear the motor in the xDrive50i to smoothness without sacrificing things like an exquisite exhaust note. In fact, I'm not a huge fan of the faux-noise in the X6M, so the au-naturel sound of the xDrive50i appeals to me far more. In this application, the 4.4L is good for 445 horsepower and 480 lb-ft of torque. Upon startup, "Comfort" mode is engaged, but as in other BMW applications, modes like "Sport+" and "Eco Pro" are also available.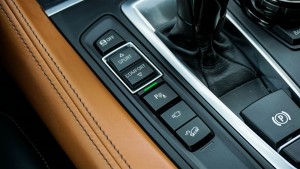 If the X6 is left in "Comfort", the engine is plenty responsive and ride quality is excellent. It honestly doesn't feel too different from its more-practical X5 sibling, but there's an air of sportiness to the X6 that no other competitors seem to have. Perhaps it's the direct steering that BMW has been known for, or the impeccably sharp throttle response. In "Sport+", steering feel is tightened considerably, and response is simply instantaneous. There is a tiny bit of turbo lag as with any turbocharged motor, but by now our friends at BMW know what they're doing. Power delivery is very smooth and the X6 will move with urgency as soon as the accelerator is engaged. The 8HP75 eight-speed transmission from ZF is telepathic and there's a sport option here as well. If left to fend for itself, the gearbox behaves wonderfully and there's no more I could ask from it – it's the closest thing to perfection available in an automatic gearbox (excluding dual-clutch units).
Fancy names aside, I think we all can agree that the BMW X6 is a crossover. As with other crossovers and sport-utility-vehicles, ride quality is important. The Bavarians do this best, as they find the ideal middle ground between sportiness and comfort. The dampers on the X6 work very well, and the independent rear suspension helps considerably. In "Sport+", the whole kahuna firms up and almost feels like a slightly taller 5-series sedan with its excellent road manners, but the beauty is how even in "Comfort", the X6 doesn't wallow about like some other crossovers. Regardless of the environment, it's firm and authoritative.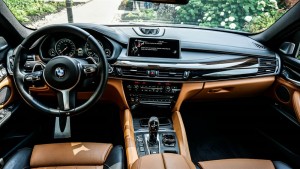 I love this buttery smooth powertrain so much that the fuel consumption didn't bother me in the slightest. As expected, the efficiency from a bi-turbo 4.4L V8 doesn't quite match that of a four-cylinder diesel engine. BMW rates the X6 xDrive50i for 16.1L/100km in the city, 10.9L/100km on the highway and 13.8L/100km combined. I did about 500km with mostly city driving, but did a few longer highway jaunts simply to experience the extraordinary comfort this vehicle offers. My average for this combined cycle was 13.9L/100km on 91-octane gasoline. It wasn't a particularly green week, but there are no complaints here.
A base X6 with the xDrive50i powertrain costs a hair over $83,000. Our tester rang in at a hefty $105,640. This is largely thanks to the aforementioned interior, which, on my particular X6, is something truly special and not unlike that of the 2015 740Ld our editor recently drove. The switchgear and controls are very similar to other BMW models, but upholstery and specific appointments are unique to this X6 and are up to a standard well above the price tag. The seats and dash are finished in a "Cognac" Exclusive Nappa Leather with black highlights, and the whole setup is stunning. They're BMW's more premium Comfort Seats, with the active anti-fatigue function, memory, heat, and ventilation.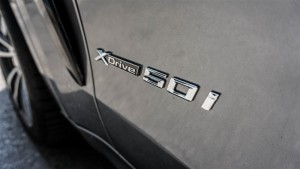 The nicer seats and some of the upholstery is part of the $5900 Premium Package, which also adds Comfort Access keyless go, manual side sunshades for the rear windows, heated rear seats, LED headlights, 4-zone automatic climate control, a surround view parking assistant, heads-up display and satellite radio. The $2500 Nappa Leather Seating Package adds the higher-end upholstery, ventilated seats, and an anthracite roof liner. There's also a $2900 M-Sport Package that adds the 20" wheels, adaptive M suspension, ceramic controls, an aerodynamics package throughout the exterior, and various "M-Sport" bits throughout the interior. Convenience Telephony is an extra $600, Active Steering is $1600, Dynamic Adaptive Suspension is another $3500, and the Bang & Olufsen stereo is $4900.
Technology is at its finest here in the new X6. Even though the iDrive infotainment setup is virtually the same, there's a new instrument cluster with all-new digital gauges. They're crisp to look at and they transform between sporty and "green" as you toggle between drive modes. There's a colour display between the two primary gauges that displays pertinent information such as directions through the navigation system, multimedia and track info as well as a full trip computer. Options and vehicle settings are still done through the primary iDrive display, also capable of a split-screen setup. I really liked the Surround View parking system; it uses front/rear/side cameras to create a bird's eye view of the X6 while navigating in and out of tight spots.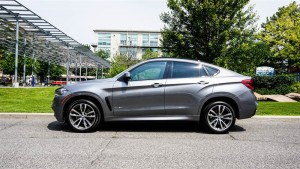 The only flaw I found with BMW's X6 is related to its overall existence. It's not a bad vehicle by any means, but the "Sports Activity Coupé" segment is one that I don't see developing much volume. With choices like the new Volvo XC90, the Porsche Cayenne and even the one-segment-below Audi SQ5, it's becoming more and more evident that the regular crossover or sport-utility-vehicle is capable of elegant looks without the stigma of being devoted to soccer moms. I have a 150-lb Great Dane pup that could definitely benefit from the extra space of an X5, but I respect those who make that sacrifice for a little extra flair.
Short of the 7-series, this X6 is the most loaded-up BMW I have driven in recent years. It gave me a chance to experience the latest and greatest in technology and comfort from the Bavarians, and this is something that's evolving with every passing day. Full disclosure: I wasn't initially a fan of the X6, but after spending a week with the latest one, it grew on me pretty hard. The reality of this vehicle is, purchasing one isn't a decision you make with your brain. The 2015 BMW X6 xDrive50i is a frivolous purchase made by those who know exactly what they want. They're willing to forego the practicality of the X5 in favour of something a little bit more stylish, and just as rewarding to drive.
2015 BMW X6 xDrive50i Gallery
See Also: