The last few years have shown us an emergence in the sports coupe and hot hatch category below $40,000. While some manufacturers have focused on forced induction and rear-wheel-drive, Honda hasn't strayed far from the path they know best. The Accord Coupe was last redesigned for the 2013 model year, and ever since then, it's been entered into my personal hall of fame. I love this coupé, and my editor knows this, so I was assigned every single car in the aforementioned segment over the past couple months. To conclude this evaluation, I grabbed the keys a 2015 Honda Accord Coupe V6 in EX-L trim to see if my love was still there.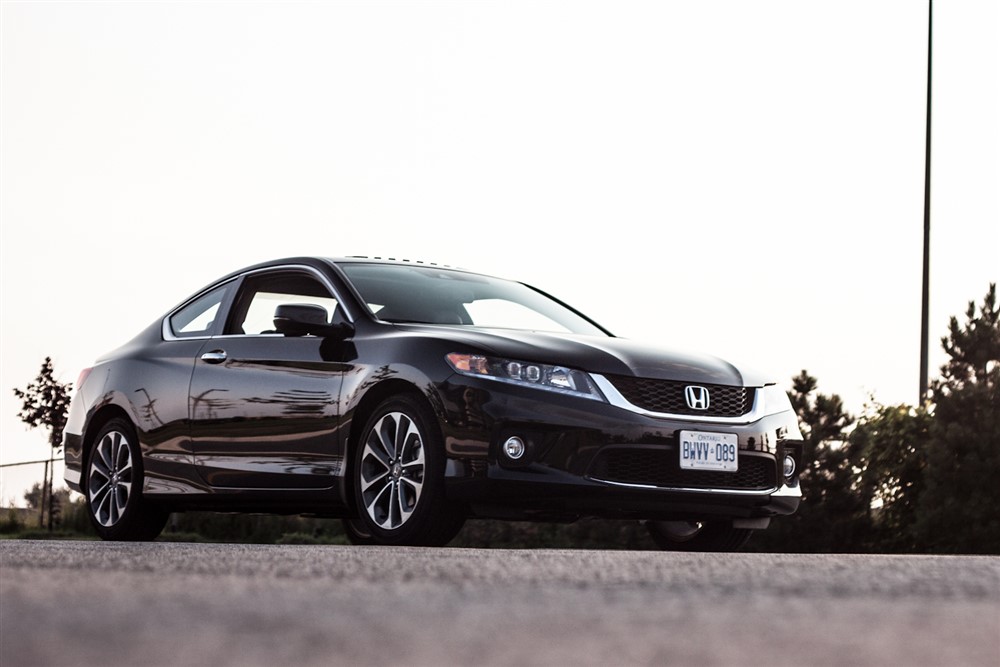 It's no secret that Honda is one of the world's leading automakers, with the Civic that's a worldwide bestseller for many years now. The Accord follows closely, and packs one of the best front-wheel-drive setups out there. Available in both sedan and coupé form, with hybrid and plug-in hybrid motors, and both 4-cylinder and V6 models, the Accord is versatile enough to fit everyone from the young high school kid to the elderly man going to the grocery store once a week. The V6 Coupé is my kryptonite; my version of Eleanor from Gone in 60 Seconds. This is the car that I would buy if I needed a practical daily driver.
The 3.5L V6 is part of Honda's new Earth Dreams family, and is more feisty than its name would have you believe. The only thing that brings a reminder to the "earthy" nature of the engine is the Econ button on the instrument panel, which dulls throttle response and maximizes efficiency. The V6 is good for 278 horsepower and 252 lb-ft of torque. From the butt-dyno, it feels like the Accord is underrated. The six-speed manual is another forté from the Honda family, and there's no manual transmission in this segment that's better. In first, second, and third gears, the Accord is snappy and is capable of wheelspin right through the power band.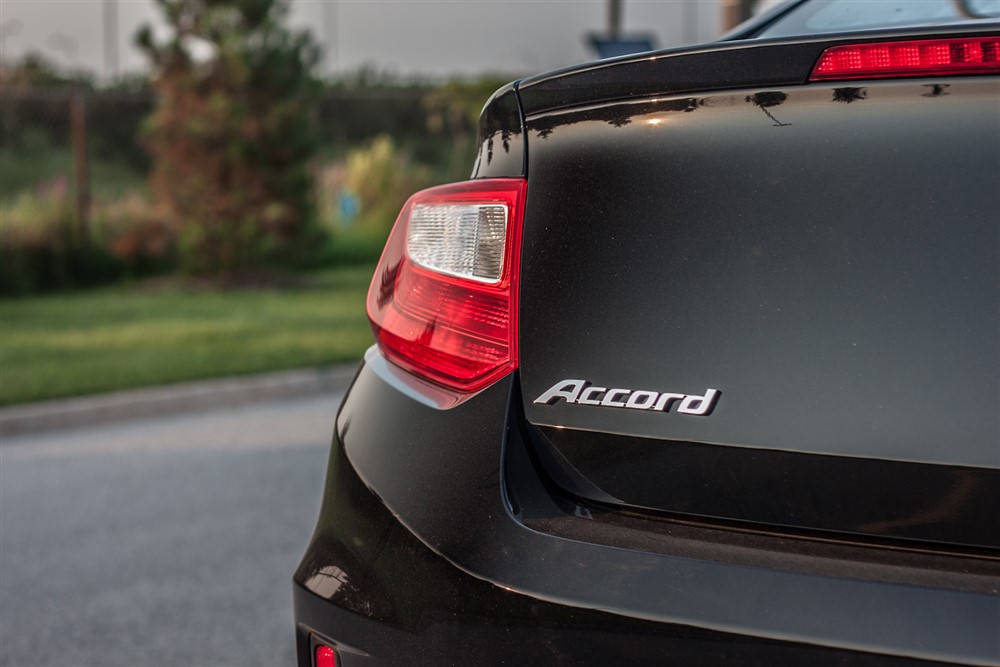 I recently had the chance to drive an automatic Accord V6 Coupé, and I cannot stress enough how important the manual transmission is in this car. It turns a touring coupé into a legitimate sporting coupé just by adding a third pedal and a buttery smooth shifter. The clutch is light enough, and it's incredibly easy to drive this car well. Response from the go-pedal is there, and the steering, though electrically-assisted, is capable of turning the big front-wheel-drive two-door with reasonable respect. Because of the front-wheel-drive setup, the Accord is prone to a good amount of understeer on hard cornering, but this is something that can't be avoided.
Efficiency has never been a strong suit of V6 engines, and the Accord is no exception to this. However, Natural Resources Canada rates the V6 Coupé at 11.5L/100km in the city and 7.1L/100km on the highway. Presumably, this is with a very light foot and the Econ mode enabled. I found that this mode made the car too sluggish for my liking, so I left it off for the majority of my test week. I drove two full cycles with a bout 75% highway driving, and averaged 9.6L/100km. The Accord can get away with regular fuel but I found it performed much better, smoother, and was more efficient overall using 91-octane premium.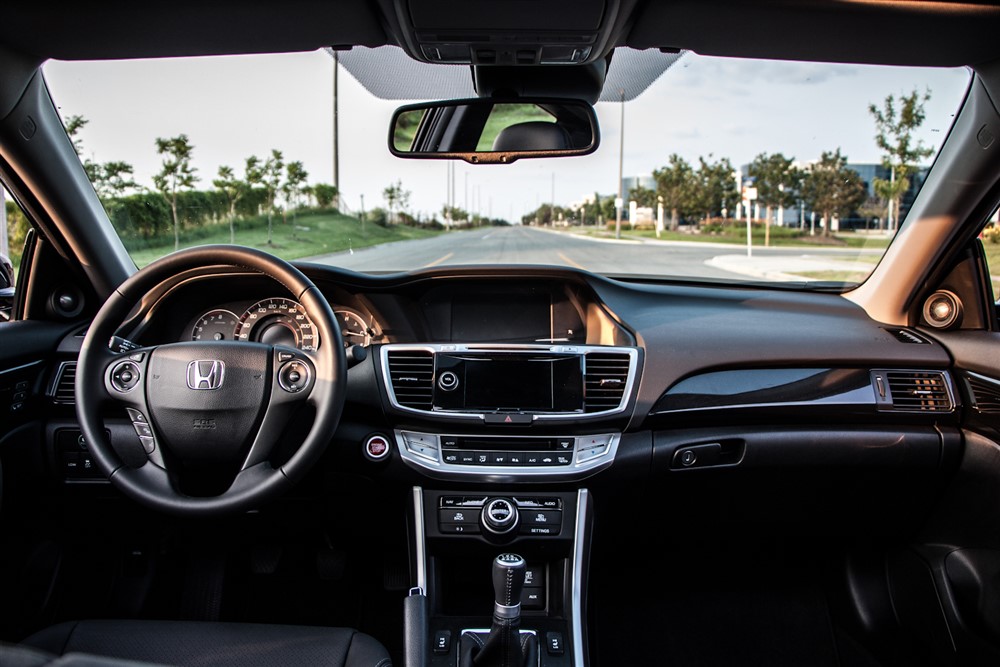 Even though the styling cues of the coupé are unmistakably Accord, it's obvious Honda infused a bunch of testosterone and elegance into this latest model. Even without the optional Honda Factory Performance body kit, the car is great to look at. The proportions are dead-on and the LED lighting at all four corners is excellent. Both four and six-cylinder models get dual exhaust outlets, and there are chrome accents throughout the exterior that add a touch of class without looking tacked-on. Honda has done really well here; I'd go as far as to say it's the best looking car in their current lineup.
With a starting price of $26,630, the Accord holds true to its roots by remaining affordable and offering a variety of trim levels with varying affordability. This top-end EX-L V6 Navi model stickers for $37,599, which seems like a lot compared to the Hyundai Genesis Coupe and Nissan 370Z we just tested, both of which are priced just below $30,000. It's very important to remember that those two are bare-bones models catered towards performance, and the Accord EX-L is a luxury-oriented trim level. On top of this, the car may have an athletic demeanour, but it really is a grand tourer at heart. Highlighted features here aren't Brembo brakes, aggressive sway bars or big wheels.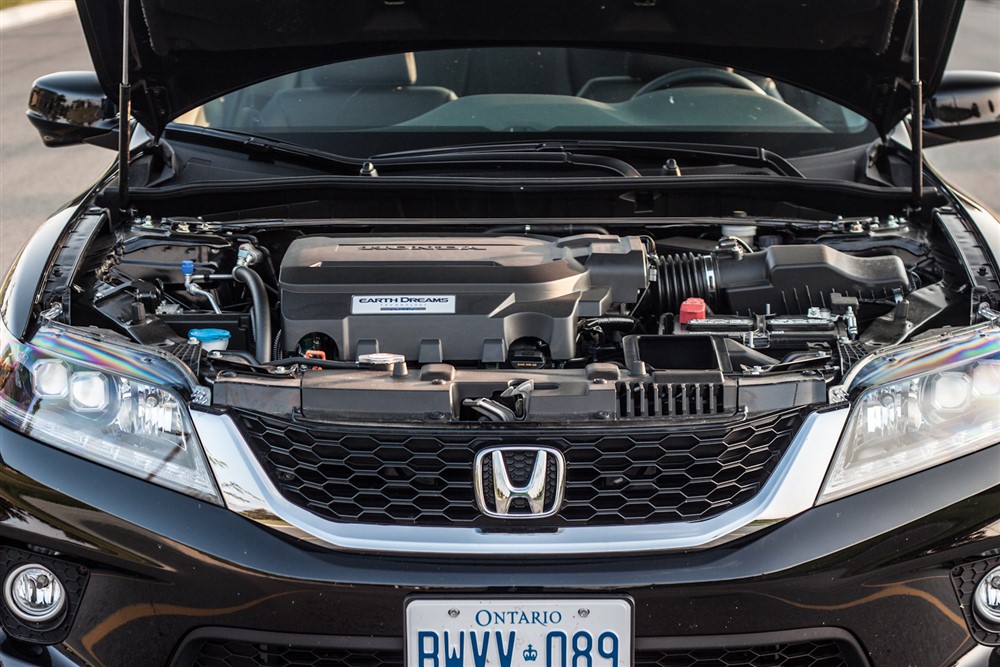 On board the EX-L Navi are excellent leather seats with plenty of support, adjustability, and overall comfort. There are two screens to control infotainment using the latest i-MID system, as well as Honda's HandsFreeLink Bluetooth media interface. The headlights are full LED, including the daytime-running-lights, there's the LaneWatch blind-spot camera system, as well as built-in navigation. I do think it's about time Honda brought the new navigation system we previewed in the 2016 Pilot to the rest of the lineup, because the system is slow and clunky in operation. Media browsing is excellent, and the system is capable of handling high-volume devices without freezing itself.
Over the past few years, we've seen big front-wheel-drive coupés such as the Toyota Solara and Mitsubishi Eclipse disappear, gone in favour of the return of enthusiast vehicles. I'm glad to see Honda stick with this formula, because the Accord Coupe is a very fresh change for me. It's a reminder that a car doesn't have to be a drifter or pack pounds of turbocharging. None of these are things we need during our daily commute, and even without them, the Accord is a real charmer in every sense of the word. Hearing that throaty V6 exhaust growl every time I step on the gas pedal reminds me of my youth, and how great cars like this were in the 90s and early 2000s. As long as enthusiasts like me (who appreciate modern takes on classic concepts) are around, there will always be a market for the 2015 Honda Accord Coupe.
2015 Honda Accord Coupe V6 Gallery
See Also: