I've been doing quite a bit of business travel lately; a lot of it for the purpose of expanding our magazine from primarily Canadian to full North American operations. This time, I was headed across Michigan and Indiana into Illinois; my first time there in almost a decade. Thanks to Canadian media test fleets being nicely stocked this time of year, we were given our pick of many vehicles. We recently did a road trip with a bi-turbo performance car, as well as a full-size diesel luxury sedan. I picked something that's almost certainly going to be added to my personal stable in the coming months – the refreshed 2016 Audi A6 TDI.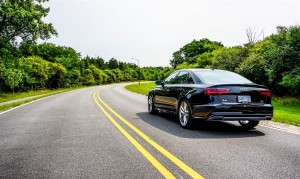 Though the 2016 model is only a refresh, the A6 (and sister A7) has been given a series of upgrades and improvements that essentially go to fix every single qualm I had with the outgoing model. After we spent this past Christmas holiday season bonding with a 2015 S6 over two weeks, there was a lot to like, but a good amount of the technology was becoming obsolete. What has always stood out to me about the A6 over its competitors is the conservative yet elegant styling. Our tester arrived painted in a stunning Mythos Black, matched perfectly with black leather upholstery and sexy 20" S-Line wheels.
Improvements on the exterior of the 2016 model are subtle yet functional, something Audi has been known for. The headlight design, grille, and front fascia have all been freshened. The trademark LED lighting that the four-ringed brand is now known for is present, with an all-new design for daytime running lights as well as the full LED headlight system our car was optioned out with. The rest of the styling has remained the same as the outgoing model, save for the addition of lightly smoked LED taillights and new wheel designs for both the A6 and the S6. The fresh design fits the A6 like a finely tailored suit – over the past few years it has become one of my favourite sedans on the road.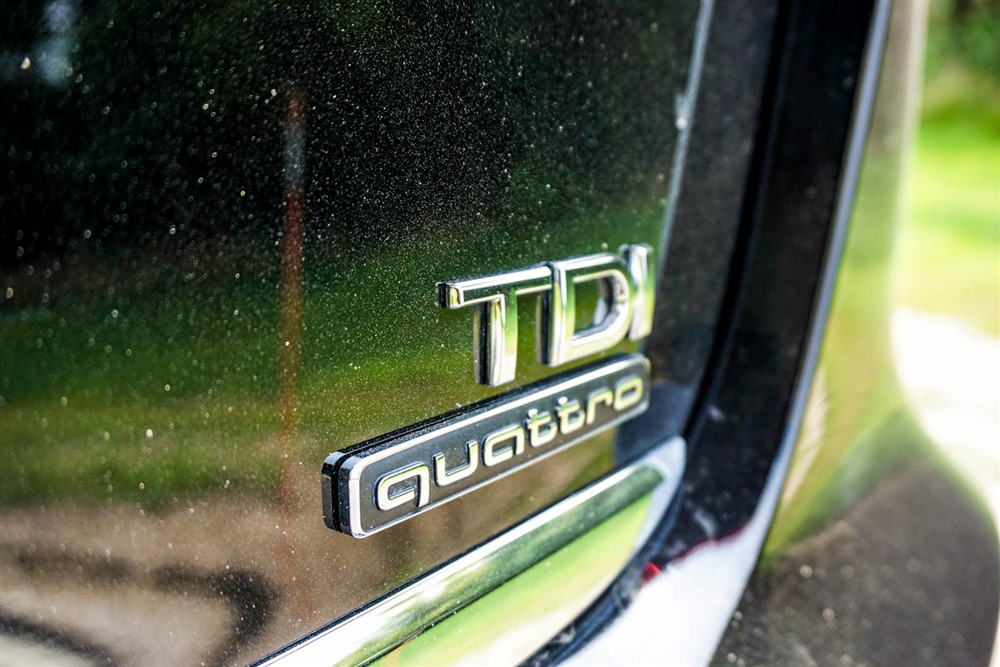 There are three powertrains offered on the A6, and a fourth is added to the list if the bi-turbo S6 is counted. The entry-level 2.0L 4-cylinder and the 3.0L supercharged V6 are both tweaked and receive new tuning for better numbers and efficiency, but the engine I would have is the 3.0L V6 turbodiesel tested here. This six-cylinder TDI puts out just 240 horsepower, but boasts 428 lb-ft of torque, which peaks between 1750 and 2250RPM. As in other Audi TDI applications, this motor pulls hard and strong right through the power band, and the smoothness will deceive anyone that's not auto-savvy into thinking it's a regular gas engine.
Not only is the TDI powertrain smooth, the 8-speed automatic gearbox sourced from transmission mogul ZF makes for effortless power delivery whether cruising steadily on the highway or darting across the city. The A6 is very quiet, and over the 2000km round trip to Illinois, showed no signs of laziness. There is a little bit of turbo lag as with most diesel options available today, but it's noticeably smoother and more responsive than the diesel options from both BMW and Mercedes-Benz.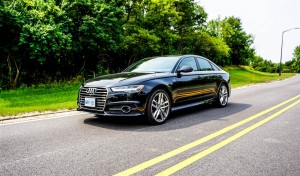 As with most other Audi sedans available today, the throttle response and steering are predictably precise, and the A6 will go exactly where you point it, but there's little available in the way of analog feedback. The electrically-assisted power steering is effortlessly light at parking lot speeds, and tightens up on the highway eliminating the need for overcorrection, but there's virtually no road feel through the wheel. It's a superb car to drive, but it's not exactly full of passion. Then again, what midsize luxury sedan available today is? At least there's no piped-in engine noise or fake exhaust sounds through the speakers…
When conducting fuel mileage challenges on road trips, I become pretty involved in trying to make the most of fuel consumption. I recently got excellent numbers in a BMW 740Ld, but that car was a lot bigger and heavier than this A6 – both cars also have all-wheel-drive. A colleague of mine from a competing outlet took a 2015 A6 TDI to Detroit last year and pre-warned me to not expect overly good numbers, but I insisted that wouldn't be the case here. With only enough luggage for a weekend getaway and generous use of the air conditioner, ventilated seats and massage functions, the 2016 A6 was still able to return a trip average of 5.8L/100km with mostly highway driving. This meant that after starting with a full tank, the car was able to make the 875km (one-way) trek to Illinois with just over a quarter tank of diesel to spare.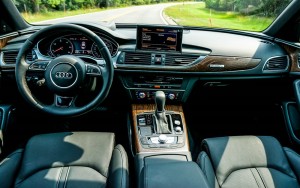 Though the old MMI infotainment system was still very functional and responsive, the display was pretty low-resolution and the use of proprietary cables to connect external devices was becoming pretty agitating. Audi rolled out the latest iteration of MMI with last year's debut of the A3 and S3, and this system has now carried forward into the 2016 A6 and A7, with all-new features never seen before. The system now uses a Tegra 30 processor made by Nvidia, which results in speedy response very similar to that of BMW's latest iDrive. The 8" screen now has a full colour display capable of displaying album art, as well as Google street view for navigation.
Connectivity is at an all-time high with the new A6 – gone is the old proprietary Audi cable. It has been replaced with two card readers, two USB ports, and 64GB of built-in flash storage. The MMI system was able to flawlessly read my archaic iPod Classic using the standard Apple USB cable, but users with newer devices will appreciate the Bluetooth streaming capability as well. Navigation has never been more clear either – there's no touch screen but I'm a fan of this because it also means the screen won't get caked in smudges as experienced with the new Volvo XC90. There's also a colour display in the center of the instrument cluster that's capable of displaying full navigation info including a map, as well as on-board computer, entertainment, and vehicle settings.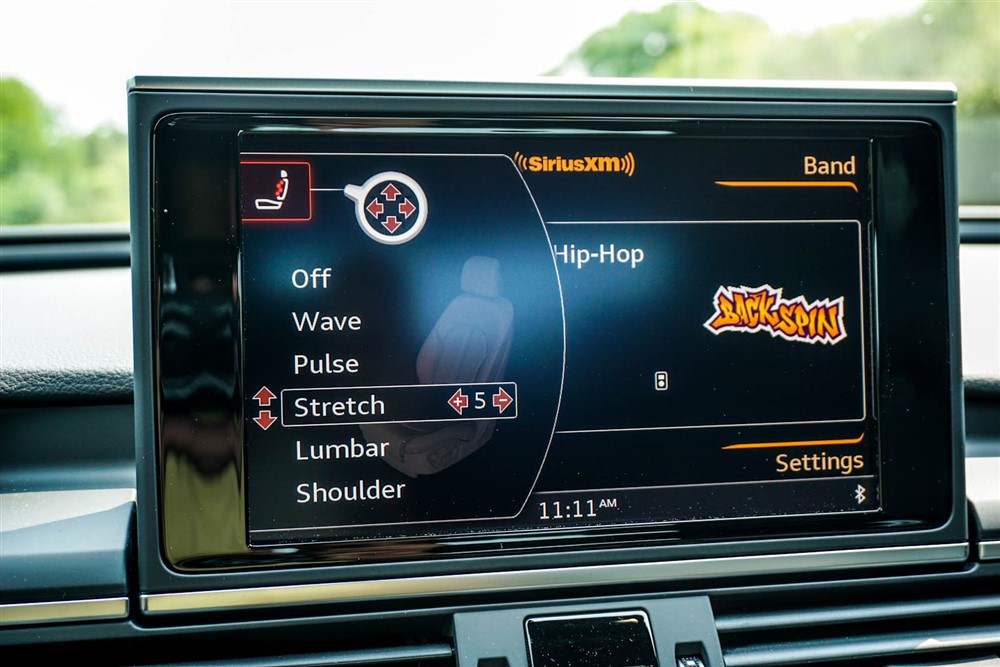 The TDI model sits at the top of the A6 line, and starts at a hair over $72,000. Our tester was equipped with the multi-contour front seats that pack heat, ventilation, and massage functions. This is a must-have option as the massagers are among the best I have experienced in a car, and offer various settings including pulse levels and specific regions. This car also included the Driver Assistant Package, which, for $2900, adds adaptive cruise control, lane keeping assistance, and Audi pre-sense plus (collision mitigating system). The Audi heads-up display adds another $1500 and projects a clear display onto the windshield with on-board information such as turn-by-turn navigation and a permanent digital speedometer. The sticker on our tester was just under the $85,000 mark.
Automotive enthusiasts and critics often shrug off technology such as radar cruise control for being too intrusive and unnecessary. I'm just as much of a sucker for the latest technology as I am a purist, so I often have to search for that middle ground. When I'm on a long road trip in a vehicle designed to eat up the miles of concrete interstate, I'm perfectly fine with a metric ton of technology packed in, as long as my fuel consumption is still at a reasonable level. The adaptive cruise control in the A6 TDI was fantastic, and using the Audi Drive Select, I was able to set it to "Dynamic" and the car behaved exactly as it would have with my foot on the accelerator the whole time. The end result was a lot less fatigue for me, and this is something I'm completely on board with.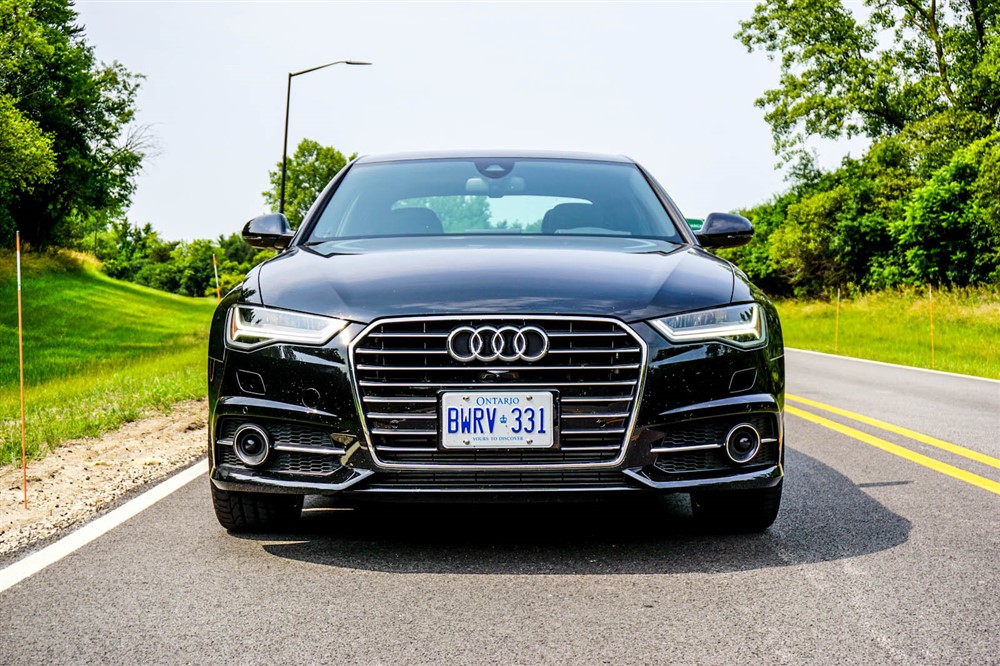 Any and all gripes I found with the 2016 A6 are so minor that they're almost not even worth mentioning. For instance, the volume knob (conveniently located next to the shifter) has track skip buttons located directly below it. I wish Audi opted to use the knob from the A4/S4, which could be tilted left and right to skip tracks, thus saving the need for two additional buttons. Additionally, the main control knob for the MMI system is easy to use, but the hockey puck design from the A3 would be a more elegant touch in the A6's interior. Lastly, the manually-operated rear side window sunshades work exceptionally, but there is no shade for the rear quarter windows. The Acura RLX and BMW 5-series both are capable of this, bringing full privacy to rear passengers.
The vast majority of buyers in the midsize luxury sedan segment opt for either the V6 or V8 models. Audi sells far more A6s with the gasoline V6 than with this diesel, and it honestly baffles me as to why. The reasons most consumers opt for any car in this segment revolve around long-distance touring or overall highway comfort during their daily commute, so why not save a few hard-earned bucks on fuel while you're at it? The diesel model sips literally half the amount of fuel as its gas brethren, and the only real argument in favour of the regular 3.0T model is heavy city commuting. The 2016 Audi A6 TDI is good – so good that there will soon be one with a permanent home in the DoubleClutch.ca garage.
Road Trip: 2016 Audi A6 TDI Gallery
See Also: