Chevrolet's full lineup of 2016 Chevrolet Camaros will run exclusively on Goodyear Eagle performance tires.
After more than 13,000 hours of tire development and testing, Goodyear has chosen three different tires catered specifically for the new Camaro.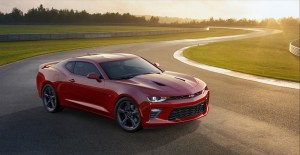 The Camaro's LT trim will feature standard 18-inch wheels with Goodyear Eagle Sport All-Season tires, which offers strong grip in all-season conditions. A pair of 20-inch wheels with Goodyear Eagle F1 Asymmetric All-Season are also available. These tires offer a dual-zone asymmetric tread pattern which include a Dry Handling Zone on the outside shoulder for grip and an All-Season Zone on the inside shoulder to help shed slush and water for better wet traction.
The 2016 Camaro SS will debut a pair of 20-inch Goodyear Eagle F1 Asymmetric 3, offering responsive handling and control in both wet and dry roads.
Both the Eagle F1 Asymmetric All-Season tires and the Eagle F1 Asymmetric 3 will feature Goodyear's RunOnFlat tec, a feature that allows around 80 kilometres of driving on a deflating or deflated tire at a speed up to 80 kph – just enough to get you to the closest mechanic.
Source: Goodyear