The executive saloon class in North America is quite a lucrative one. From the comfort kings, the Mercedes-Benz S-Class and the Lexus LS460 to the sportier choices such as the Porsche Panamera, there is no real poor choice. BMW has just unveiled their flagship 7-series redesign, set to arrive in a few months, and it's been filled to the brim with the latest in technology. We decided to sample the last of the previous-generation model, the 2015 BMW 740Ld xDrive, and take it on a proper road trip deep into New York State, even grazing into New Jersey, to see just how it fares.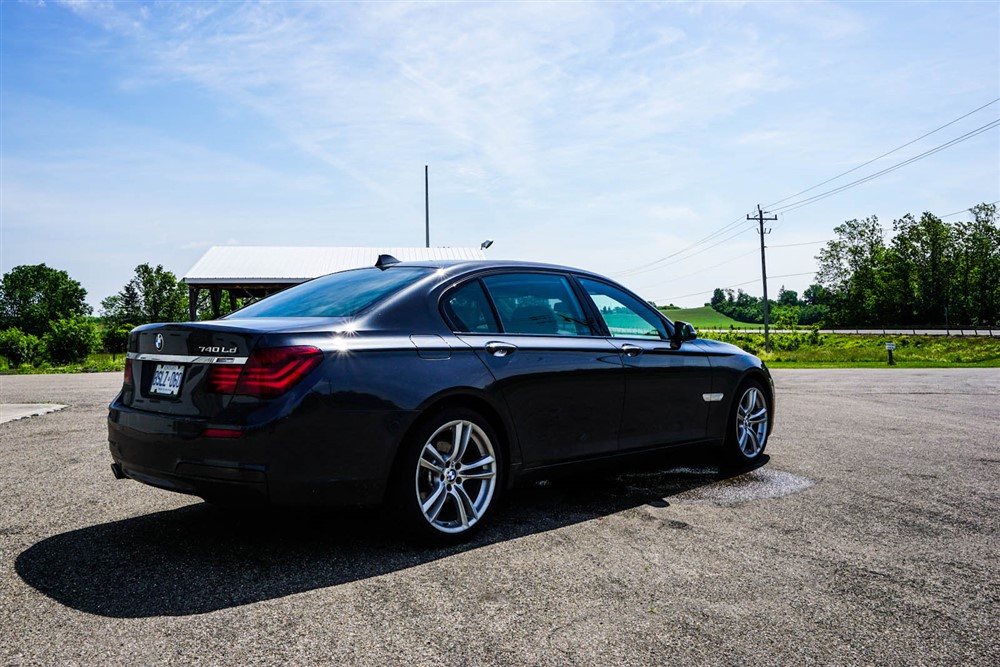 There are a few things that sets the 7-series apart from its competitors. Firstly, thanks to BMW's extensive pedigree with regards to driving engagement and purity, it's one of the sportiest full-size sedans one can buy, the Porsche Panamera notwithstanding. Despite our long-wheelbase tester's 205.3" overall length and sheer size, it doesn't feel quite as large on the road. Additionally, the only rival that offers a diesel option is the Audi A8. Lexus and Porsche offer hybrids, and it's inevitable for Mercedes-Benz to ultimately send a Bluetec model of the S-Class our way, but for now, if you want a diesel in your flagship sedan, BMW and Audi remain your only options.
Speaking of the diesel engine, the 740Ld is the first modern North American application with it BMW has ever offered in this segment. In Europe, there is a triple-turbocharged M750Ld that's a little bit faster, but I personally would rather sacrifice power in favour of overall efficiency and smoothness. The 740Ld is powered by the same bi-turbo 3.0L inline-6 diesel engine we sampled in last year's 535d. This mill pushes 255 horsepower to all four wheels at 4,000rpm, and a healthy 413 lb-ft of torque available between 1500 and 3000rpm. Though the numbers may not suggest it, the 7-series hauls like a freight train to 100km/h in just under six seconds.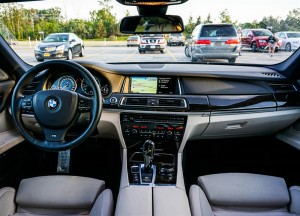 Acceleration and overall momentum is helped by the 8-speed automatic transmission sourced from ZF, also seen in most other current BMW models. This gearbox is telepathic in operation and it's simply unnoticeable as it shifts. BMW's drive mode selector is present here, with modes labeled "Eco Pro", "Comfort", "Sport", and "Sport+". What's different from other models though is the addition of a "Comfort+" mode, which dials in the chassis, suspension, engine, transmission, and everything else applicable to give you the supplest ride imaginable. We observed this while comfortably cruising down Interstate 90, watching the gorgeous scenery coast by and feeling nary a bump or road imperfection.
Not only is the car smooth in operation, but it's surprisingly quiet too. Upon a cold start and idle, the 7 definitely sounds like a diesel, but not as noisy or odorous as diesels of the past. At highway speeds, there's a faint hum from the engine area, but the cabin has been isolated so well it's hard to notice. The 7-series has electric power steering, so feedback is reduced considerably from previous models. This has been a complaint of mine in the past, but in a full-size German sedan, isolation and serenity is more of a priority than driving enjoyment. However, there is a good amount of meatiness to the wheel's operation, and the 740Ld's handling smells strongly of BMW quality.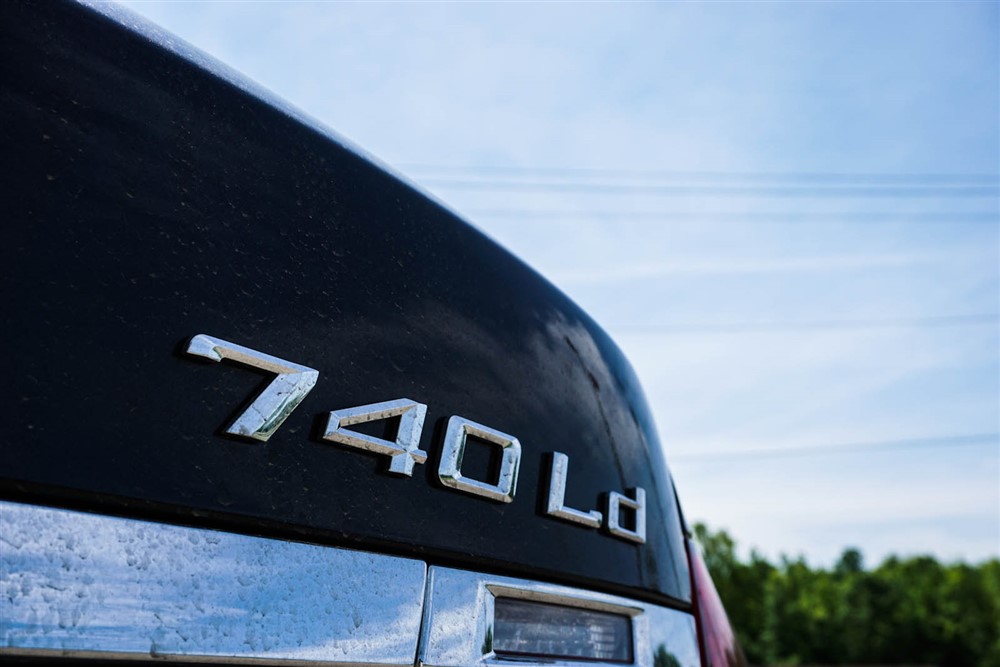 As with any other diesel-powered vehicle, one of the most important factors is good highway fuel efficiency. City numbers are typically not so hot, and urban commutes is where hybrids have the upper hand. Despite colleagues and friends advocating hybrids, I'm a big believer in diesel engines. BMW's own ActiveHybrid7 is more expensive and slightly thirstier than the 740Ld, and lacks certain features and option packages. Over about 1700km, with 80% highway driving, we averaged 6.2L/100km. City-only numbers are in the 10L/100km range – still considerably better than a comparable V8-powered model. The 80L fuel tank means the 740Ld can theoretically travel nearly 1300km before running out of fuel. Conveniently, this is nearly the distance to travel from my home in Toronto to New Jersey and almost make the entire return trip home.
On the inside, the 7-series reeks of comfort and opulence, not unlike the Alpina B6 Gran Coupe we sampled back in the spring. This really is a proper choice for a road trip for three. All four seats are power adjustable, and the broad shape will fit most body types with ease. The front and rear seats are also heated, ventilated, and have a massage function. Even the front headrests are butterfly-style and can be fiddled with to suit occupants' respective head shapes. Thanks to the longer wheelbase, identified by the "L" in the vehicle's model name, rear legroom is basketball player friendly. The leather appears to be stitched with the utmost precision, and every single panel your fingers may touch is of high quality. Included in one of the many packages equipped on my test car are the Ceramic Controls that every 7-series buyer should opt for. This ensures that many of the switchgear is finished in fine ceramic, and only goes further to enhance the interior of the car.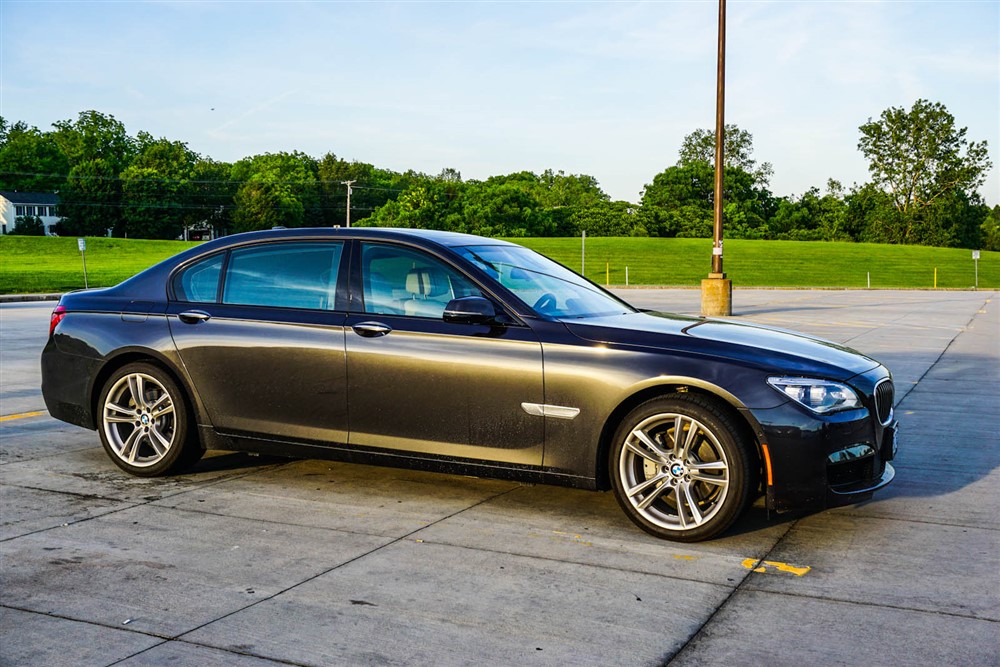 Adding to the base price for the 740Ld xDrive of just over $101,000, my tester came positively loaded with nearly everything I would want, and more. The $3,500 Multimedia Package adds two screens on the headrests for the enjoyment of rear seat passengers, as well as a six-disc changer compatible with DVD and other forms of multimedia. For $5,000, the M-Sport Package adds Dynamic Drive, unique M aerodynamics body fitting, ceramic controls, 20" wheels, M-Sport steering wheel and doorsills, and an anthracite headliner. The $5,950 Executive Package adds ventilated seats, soft-closing doors, reverse camera, automatic trunk, rear side window sunshades as well as a full shade in the back, as well as the "Active Seats". Along with a few other unique options, the total sticker on our 2015 740Ld xDrive came to just under $128,000.
BMW's infotainment system is definitely due for a "most improved" award of some sort. Since the premiere of the iDrive system in the 2002 7-series (E65), it has slowly but steadily developed into being one of the greatest automotive multimedia setups in the world. This was particularly helpful on my long drive as it allowed me to seamlessly browse through multiple playlists, albums, and artists on my iPod (connected via USB) while the 7-series simultaneously navigated me to my destination quietly. The multi-touch iDrive controller also allows for "handwriting" of letters or numbers when inputting destinations, something we have seen before in other applications, but it feels sharper and more responsive here. The large display can also handle a 60/40 split-screen setup, allowing for the navigation information to display on one side while audio information is shown on the other – very slick.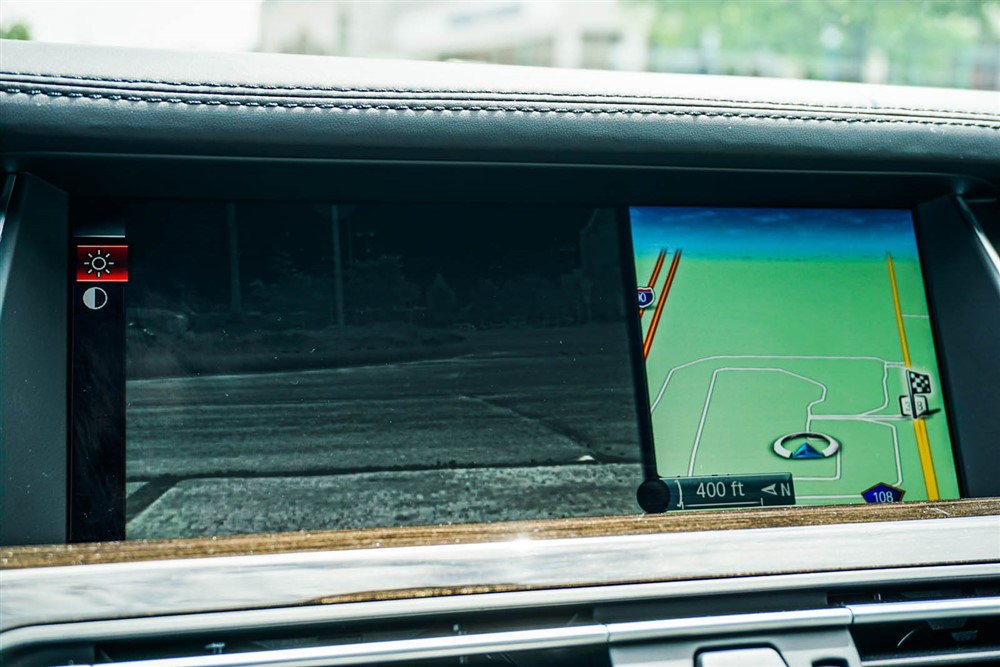 Even more interesting traits of the iDrive infotainment system begin to surface after I spent one lazy afternoon during my test just sitting with the car parked, trying to uncover more gadgetry. There's a duplicate controller for the iDrive system located on the rear center armrest, which allows you to customize what is displayed on the rear entertainment system. Not only can these screens be used to watch movies or display what's playing on the Harman/Kardon audio system, they can easily display a map as well as in-depth navigation information.
I consider myself a moderate audiophile, and have an appreciation for a good-sounding system. I also do a ton of driving, and most of my listening is done on the road, where I am in my element, especially on road trips such as this one. Despite cars not being ideal soundstages to begin with, the Harman/Kardon application in the 7-series is fantastic. This system not only sounds excellent, but provides ample tweaking settings (far more than the usual bass/midrange/treble) to achieve that perfect sound quality. The 7-series does have a Bang & Olufsen option available, but I was more than satisfied with this one.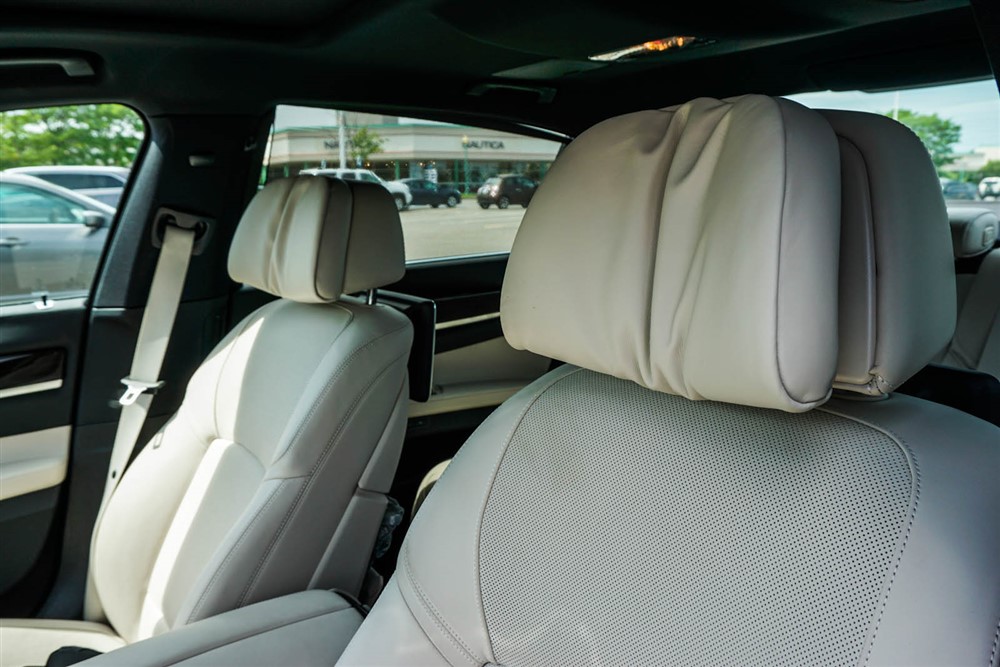 What's not to like here? BMW's stop/start technology, a fuel saving measure that shuts off the engine at stoplights or in heavy traffic, and restarts it upon letting go of the brake pedal (or jiggling the steering wheel ever so slightly), isn't as smooth as that of some competitors. It's a bit loud in operation and the car occasionally shudders upon the engine firing up again. Additionally, the massage function for the front seats is a bit slow and inconsistent. In comparison, the new S-Class allows you to choose between a few different settings depending on the style of massage you want, whereas the 740Ld only gives you one button for on/off.
As with any car riddled with this much technology, there is a slight learning curve, but I would give most buyers approximately two weeks to master operation of their new 740Ld. What's truly brilliant about the 7-series is that it does everything you ask of it without batting an eye. Even with the new diesel engine and slightly clunky stop/start technology, the car is incredibly smooth, planted, and quick. The $128,000 price tag may seem steep, but keep in mind our 2015 BMW 740Ld xDrive is loaded with nearly everything, including the diesel engine, all-wheel-drive, and extended wheelbase. After factoring in fuel savings, this not only makes the 7-series one of the sportiest choices in its segment, but one that also provides a serious amount of value. This is a sedan that the elite can be chauffeured in, as well as be a treat when the time comes to take the wheel.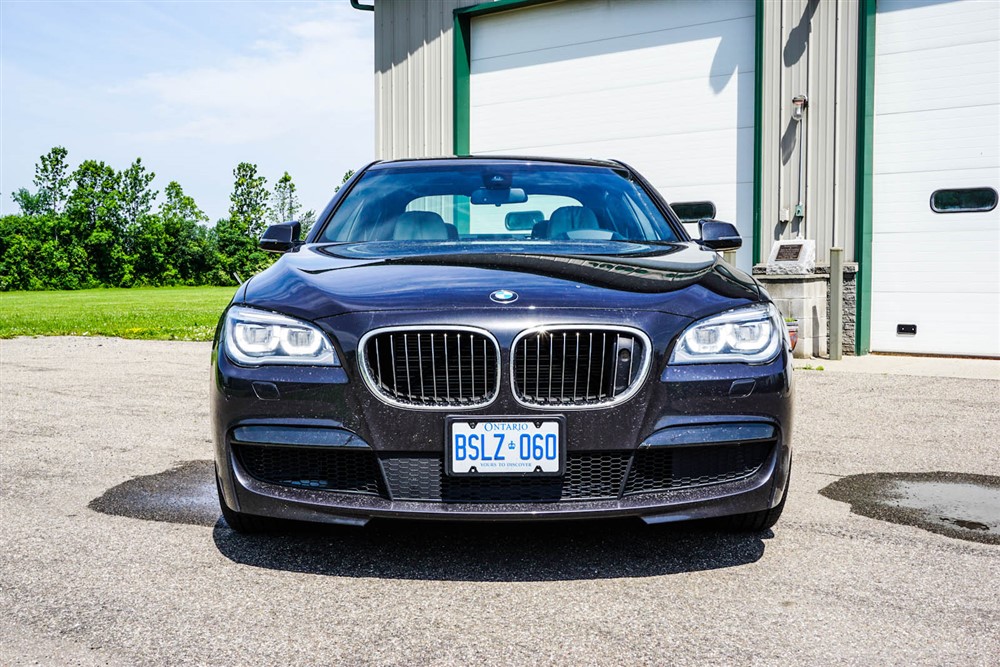 The last time I did a similarly long road trip, I drove a bi-turbo Audi S7 with a blistering 400+ horsepower. The time before that was in a Lexus LS460 AWD. Both of these cars returned satisfactory fuel mileage, and like this 740Ld, were buttery smooth in operation. I may still be in my mid-twenties, but there's a certain appreciation for large luxury cars for long road trips. Their supreme comfort minimizes travel fatigue and stress, allowing passengers to actually bond with one another and do something that, thanks to social media, we don't do much of anymore – talk. I thoroughly enjoyed this voyage, because it allowed me to spend a few days in the company of my wonderful parents, away from each of our daily grinds. This is an experience I will not soon forget, and subsequently, a car I'll remember for years to come.
Road Trip: 2015 BMW 740Ld xDrive Gallery
See Also: