Our editor and boss-man, Adi Desai must think he's a pretty funny guy.  Why else would he assign a Harley-Davidson to the one reviewer who loves small, light, and nimble bikes? Maybe it's because he's hoping for an honest account of what spending a few hundred kilometers on some genuine American-made two-wheeled iron is really all about.  Maybe he wanted to get that account from someone not wearing any Harley orange-coloured glasses.  Well if it's honest he wants, it's honest he'll get from Mr. Anti-Cruiser here.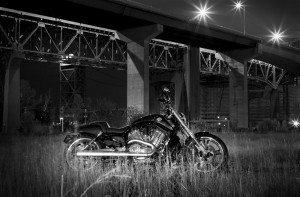 You don't need to be a Harley fan to appreciate the looks of this thing.  It's about as butch and macho as you can get.  It's Vin Diesel in a tank top waving the Stars n' Stripes while shooting a rifle into the air.  Appropriate then that Harley-Davidson calls this model their V-Rod Muscle  – a low, wide and mean-looking beast of a bike that represents the performance pinnacle of the brand.
This particular bike is black and polished aluminum all over – no flashy colours, no flamboyant graphics; just all business.  That said, this is Black Quartz – a metallic new colour for 2015– that features a charcoal inlay on the tank and rear fender (other colours are available too, of course). This is the sort of bike that makes you grow a beard just by looking at it.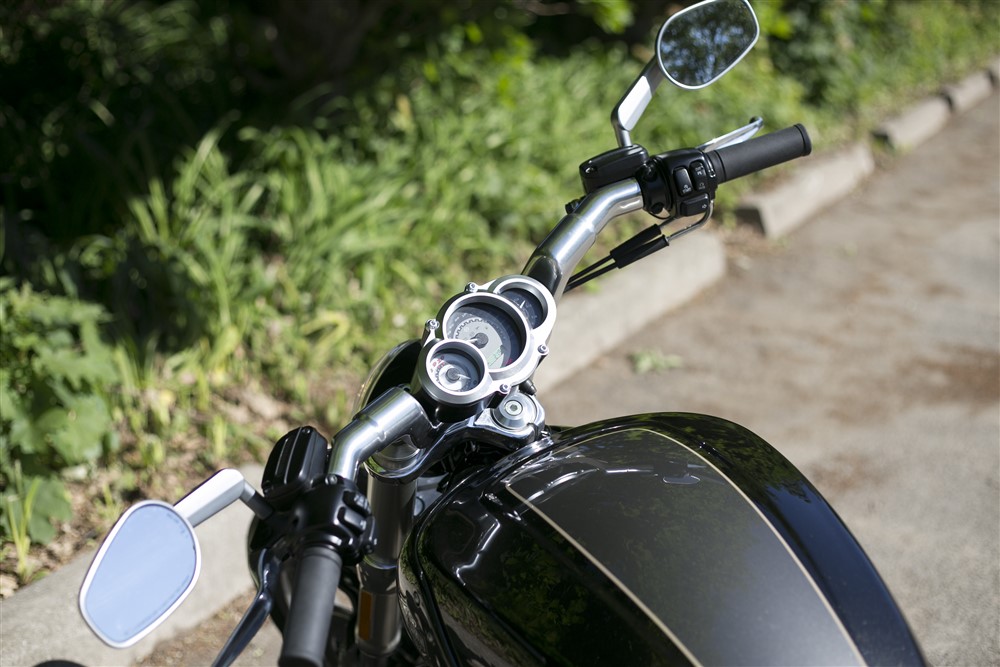 Before parking your posterior on the wide, comfortable saddle, it's worth walking around and soaking in the details of the V-Rod muscle.  The inverted forks and wide, serious-looking drag-style handlebars speak to the seriousness of the V-Rod's sporting intent.  The paint finish is flawless with a richness I've seen only on very expensive cars and custom bikes.  And of course the mesh-grilled airbox that mimics the gas tank position of most bikes (the tank on the V-Rod is beneath the seat) also adds to an overall aesthetic that is carefully styled within the Harley image. Special note about those gorgeous mirrors with the integrated turn signals:  I have never had bike mirrors give such a comprehensive and unobstructed view before.
Fitted with a keyless ignition, if the V-Rod's plastic fob is in your pocket, simply reach down and twist the rotary dial to "Ignition", then light those 1,247cc of v-twin authority.  This engine – dubbed the Revolution – ain't your typical H-D v-twin that's all grumpy low end torque and a gruff voice.  This mill is shockingly refined, and with the stock, satin-finish pipes, strangely quiet too – though I can't imagine any owner actually keeping it that way for more than a few hours before replacing them with something that will wake the neighbours three blocks over.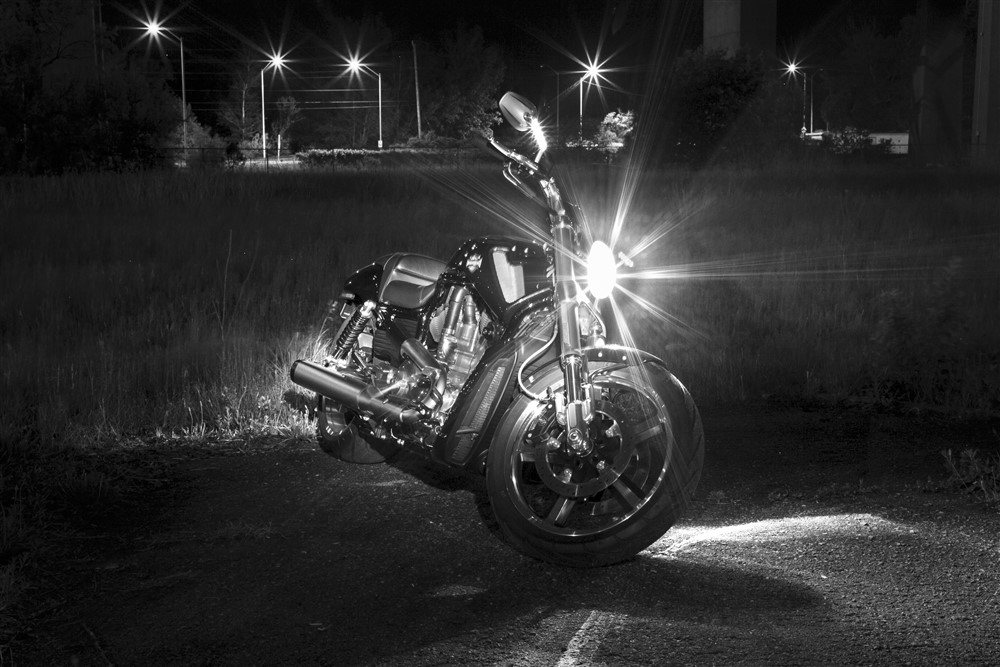 Harley partnered with legendary sports car authority, Porsche, to help develop the Revolution engine – the first liquid cooled Harley mill, pre-dating the new pip-squeak 500 and 750 "Street" bikes.  Within 10 minutes of picking the bike up, I was stuck in Toronto traffic, and glad I didn't need to keep an eye on the temperature gauge (of which there isn't one on the V-Rod anyway).  As the big engine got warmer grunting along in the urban slog, the only signs of it heating up was the periodic telltale rad fan coming on and the significant heat emanating from the right side pipe and through my jeans.
The throttle calibration is superb on the V-Rod, measuring out just enough fuel, even at low revs in stop-and-go-misery to keep the Harley idling smoothly along.  The precise clutch has a pleasing spring weight to make you believe it can handle the Muscle's 86 lb-ft of torque for many miles to come, and complements the solid, true action of the shifter. Not that you need to shift much, anyway.  Whether loafing along in second gear at just-above-idle speed, or in fifth gear at 120 km/h on the highway, the V-Rod eagerly obeys a twist of the throttle without the need to downshift.  But it's the smoothness of that engine that impresses and if I'm honest, completely surprised me.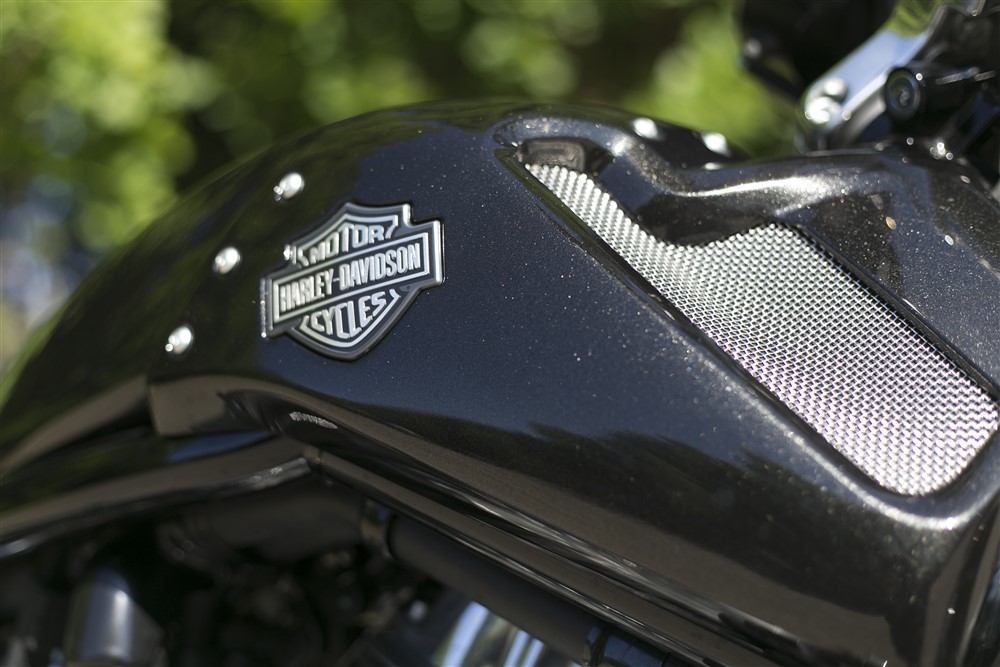 It's a good thing the Muscle has so much… well, muscle, since it weighs in at a grotesque 307 kg (that's damn-near 700 lbs)!  Once underway, this titanic heft isn't a problem, but it's a lot of bike to muscle around while trying to park. Even when motoring around, turning is not the V-Rod's forte.  A 1,700 mm wheelbase is long, but the bigger issue comes from an obscenely large 240/40R-18 rear tire.  To put the size of this meatball into perspective, the standard size tire on the new Ford Mustang GT is a smaller 235/50R18.  This means that while there's lots of width to help give the V-Rod a drag-bike style amount of rubber at the back (not to mention an ability to soak up some bumps), making the bike lean over for turns requires considerable effort.  Cruising around and maybe a few stoplight-to-stoplight rips is where this bike is happiest.
The mass and size do enable the V-Rod to remain stable and planted even at elevated speeds on the highway (and the Brembo brakes make short work of slowing it down when needed), but the without any sort of windscreen or fairing, the wind blast is considerable and grows tiring after a while.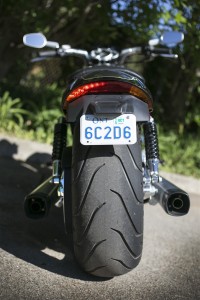 The bigger problem for me – and this isn't limited to the V-Rod but to any cruiser that puts the pegs / foot controls ahead of the knees – is the discomfort it provides to the lower back.  Without allowing your legs to take any of the pressure off your back, and with your spine forced into a giant C-shape as you reach for those wide bars, this control layout is an ergonomic nightmare in the name of tradition.  The proportions of an orangutan would help. This form over function means the rider has less control for steering and stopping the bike when things really get dicey. Harley-Davidson offers a mid-position for the pegs that are an absolute must-do for me.
Harley-Davidson's V-Rod Muscle is a much more refined and well-built machine than expected.  The fit and finish is in line with the nearly $20,000 premium cost of admission for this ride and mechanically, it's truly impressive.   But if your riding is going to feature roads that turn, or you plan to use your muscle bike for more than short jaunts, Ducati's Diavel offers more torque and a whopping 40 more horsepower than the V-Rod, and weighs in at 68 kg less.  This translates into a bike that outperforms the Harley in every respect but costs virtually the same.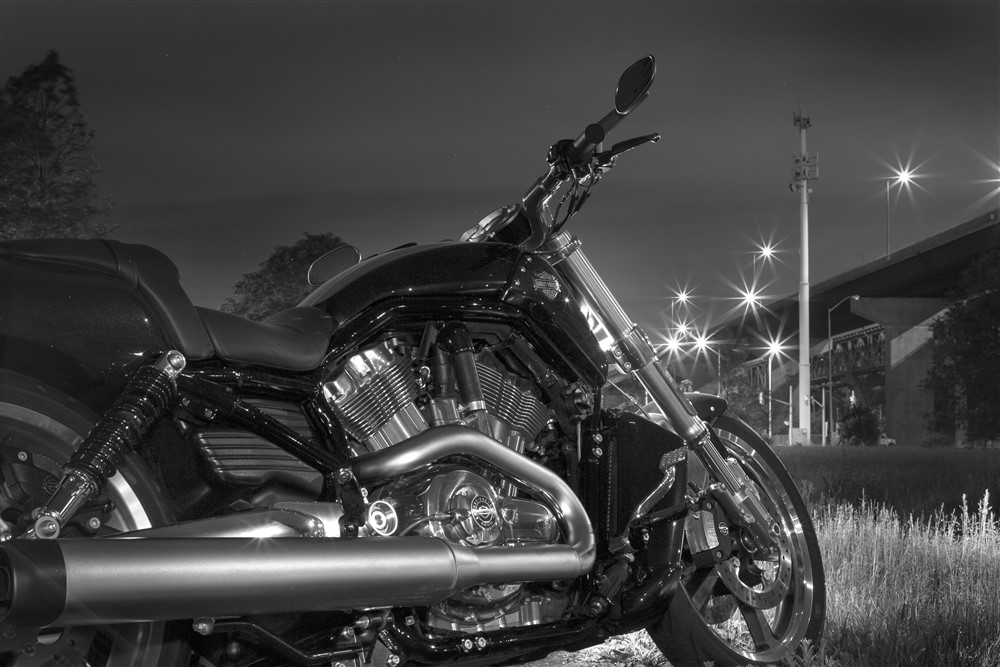 Sometimes honesty equates to tough love. However, the Italian bike does not look as good as the V-Rod Muscle, and much more importantly, it doesn't have the Harley-Davidson name attached to it.  For most buyers of the V-Rod Muscle, I suspect that name is all it needs.
2015 Harley-Davidson V-Rod Muscle Gallery
See Also: