The stepping stone into the Mercedes-Benz lineup has always been one that sparks controversy within our market. Ever since it popped up in North America, the B-Class has been a Canada-only model, save for an electric model the US has started getting over the past little while. As a mid-cycle refresh, the B-Class now has received a series of features that should go a long way in helping boost sales. I spent a week with a 2015 Mercedes-Benz B250 4Matic to analyze as many of these features as I possibly could, to see how it stands against similarly priced entries such as the Audi A3 and the Lexus CT200h.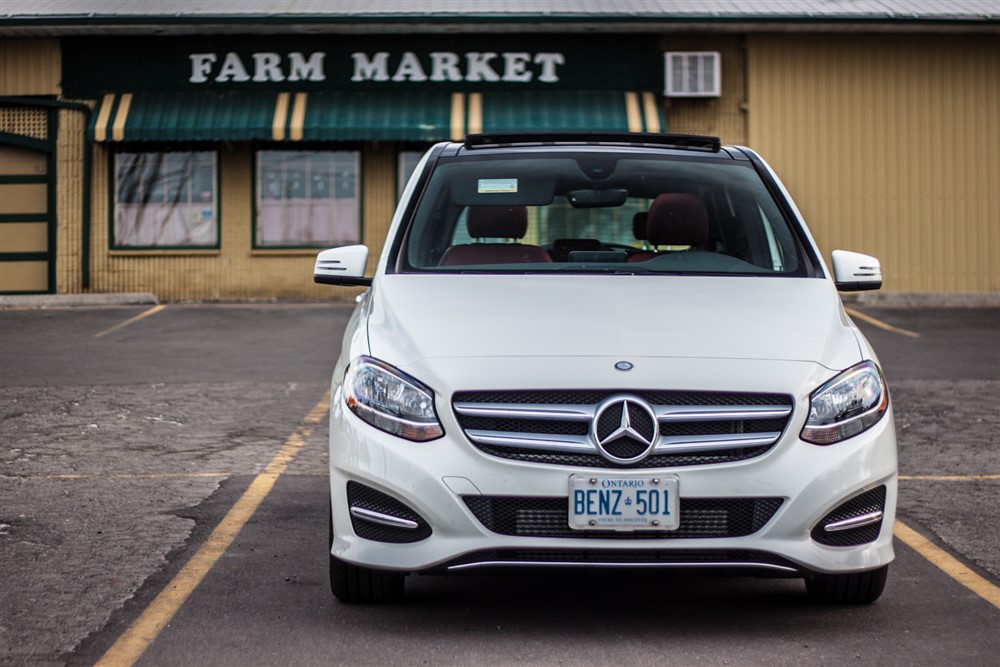 Most interesting this year is the addition of 4Matic all-wheel-drive to the B-Class lineup, a car that was previously offered as a front-wheel-drive car only. However, we must remember that despite sharing a name, there are a couple of different 4Matic systems available. The one in the B250 is a primarily front-wheel-drive system that only sends some torque to the rear wheels when slip is detected. On the rear axle, a clutch pack distributes the torque to the left and right, controlled by a system Mercedes-Benz calls 4ETS, an electronic traction system.
The fine folks at Benz don't like to refer to the B250 as a hatchback. On the contrary, it's known as a Sports Tourer, which is a name I rather like. Starting at $31,200, the B-Class is a starting point into the Mercedes-Benz family. Adding $2,200 takes you to the base price of the 4Matic model, which we predict most Canadian buyers will opt for. Simply put, it's a small price to pay for the peace of mind that our nation's climate has caused many consumers to depend on. A vehicle that appears close to the B in price and relative size is the Volkswagen GTI, but this is a comparison we don't really recommend making. The GTI is performance-oriented and is targeted specifically to the hot hatch consumer, whereas the B250 is aimed at elegance, efficiency, and overall refinement.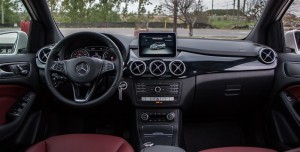 Beneath the hood of the Mercedes-Benz B250 is a 2.0L turbocharged 4-cylinder engine. Much like other German rivals, the alphanumeric naming scheme doesn't specifically refer to engine displacement any longer. It pumps out a healthy 208 horsepower and 258 lb-ft of torque, more than adequate for this application. Zipping around the city is completely effortless and the B's light steering rack makes it one of the most agreeable daily drivers around. The transmission is a seven-speed dual-clutch unit that provides decent highway efficiency, but is not very smooth in low-speed operation. I noticed quite a few jerky downshifts as the B250 became confused about which gear it should be in.
The efficiency is one area in which the smallest Mercedes-Benz excelled on our watch. Through a weeklong test using a good mix between city and highway driving, including lots of idling in the city, we observed 7.6L/100km running on 91-octane premium fuel. The B250 does implement a start/stop system, which, like in other Mercedes-Benz products, works very well and is effective in overall fuel savings. We've heard of a couple of owners of previous-generation B-Class' who have used regular-grade fuel, but this isn't recommended and could compromise warranty coverage should something go wrong.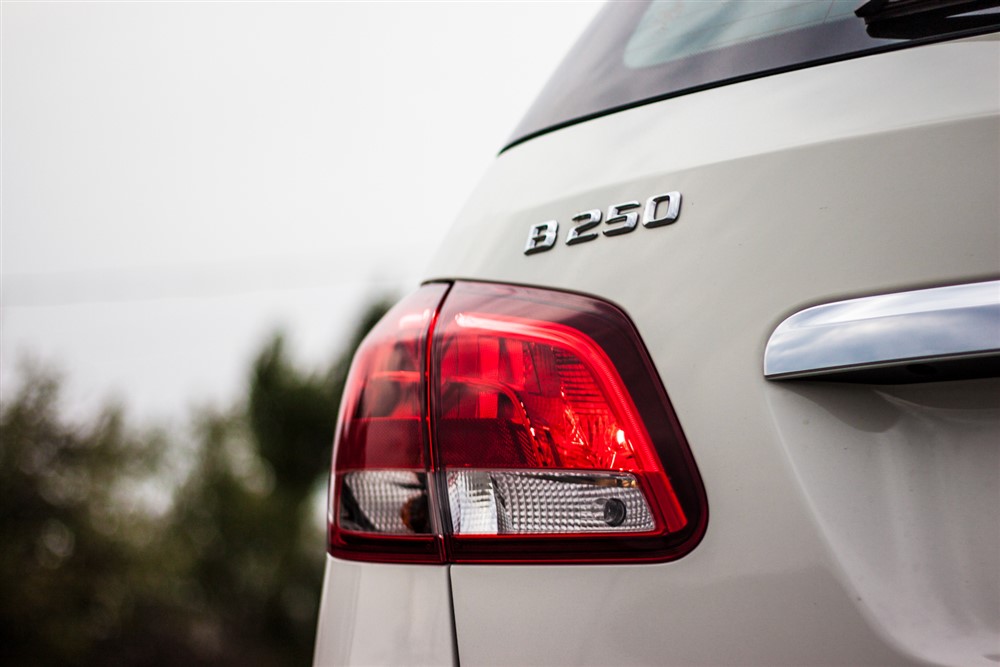 One of the biggest improvements on the interior of the 2015 B250 is the addition of the same new COMAND infotainment system we've seen on the new W205 C-Class. It utilizes a much larger screen (7") to control navigation, entertainment, vehicle settings, and your mobile phone via Bluetooth. Thankfully, Mercedes-Benz has also done away with forcing use of their proprietary media cable to stream devices; I was able to connect an iPod by using the regular white Apple-branded cable to the USB port in the center console. I found the system very good to use, and I expect the next full redesign to include the same mouse-like controller for COMAND as seen in the recently updated C and S-Class models.
Adding to the starting price of $33,500 for the 4Matic model, my 2015 B250 came loaded to the gills. The $4,000 Premium Package adds Parktronic parking assist, blind spot monitoring, a panoramic sunroof, COMAND with navigation, dual-zone automatic climate control, and a black roof liner. The $1,800 Versatility Package (awesome name!) includes a power driver's seat, garage door opener, keyless go, power folding mirrors, auto dimming mirrors, lumbar support, and a couple of other small things. A few other small packages and options brought our B to just over $40,000, about the same as a fully-loaded GTI or a mid-range Audi A3. One slight disappointment I must address technically applies to the entire Mercedes-Benz lineup – the intelligent key is the exact same key they've been using for over a decade. All competitors have changed it up a tad for fresher, sexier keys; Mercedes needs to stay ahead of the pack, not lag behind it.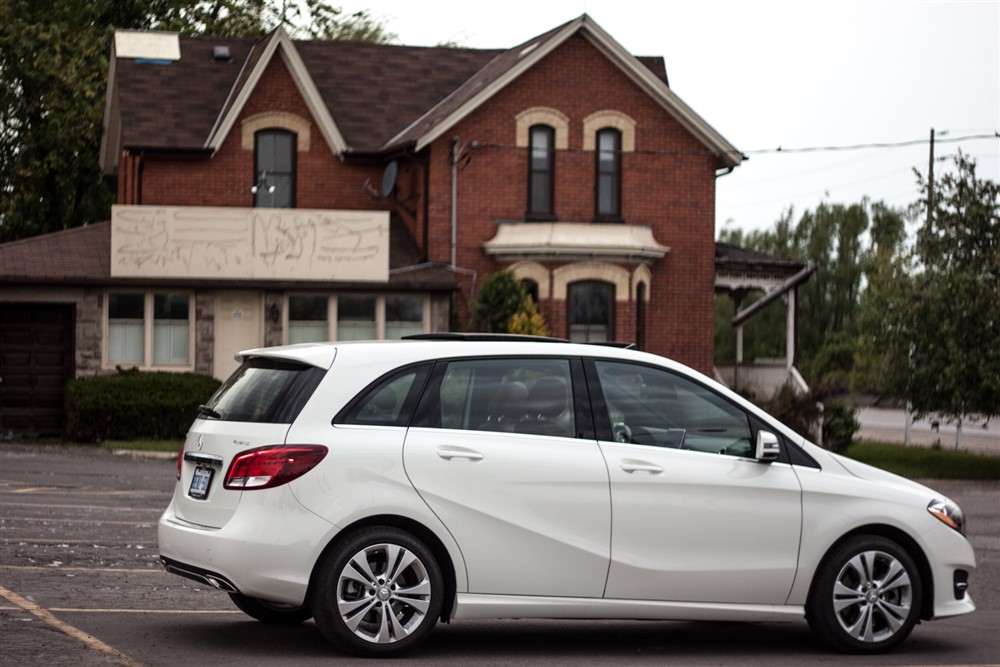 Looking handsome in Calcite White, the B250 uses the same corporate styling cues as far more expensive Mercedes-Benz products. The high and flat roofline helps maximize headroom for both front and rear-seat passengers; I was able to travel in comfort with four six-footers on board, something I found very difficult in the Volkswagen GTI and bordering on impossible with the BMW 2-series. Our car also had the Cranberry Red interior upholstered in Artico leatherette. The naked eye would be hard-pressed to differentiate this material from genuine leather, so there's no disrespect on this cost-cutting measure. After all, avoiding use of fine leathers allows Mercedes to keep the overall price low enough for more buyers.
The B-Class' starting price that's dangerously close to the $30,000 mark is why people refer to it as the "Baby Benz", but there are now three vehicles in their lineup that can qualify for this status. Although slightly more expensive, the CLA250 four-door coupé starts at $34,600 for those who don't really like the B's hatchback body style, and for buyers who want a crossover with a low starting price, the GLA250's base sticker is $37,200. Some negotiation may allow these to be had slightly cheaper, but it's important to remember that Mercedes-Benz dealers typically don't carry base models in inventory.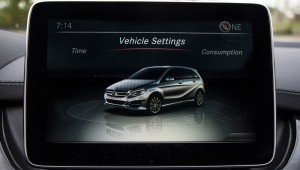 Interior quality overall throughout the B250 is fantastic; everything is nice to touch and all materials feel premium. There's no mistaking this Sports Tourer for anything but a Mercedes-Benz product. However, the greatest obstacle to face for this car will be those who don't understand it – the B-Class' overall size and pricing puts it right in line with the best hot hatches, including the aforementioned GTI and the Ford Focus ST. Though it's pleasant to drive, the B250 doesn't deliver the focused enthusiast-oriented driving dynamics unique to this recently-grown segment. Despite not being a hot hatch, the 2015 Mercedes-Benz B250 4Matic is exactly what the Canadian premium buyer wants – elegance and versatility at a price low enough for the young urban buyer.
2015 Mercedes-Benz B250 4Matic Gallery
See Also: