The family SUV and its close cousin, the crossover, has become a staple in the North American household. Gone are the days of large domestic sedans and station wagons having a monopoly over the market, as today's car-buying public has a new set of priorities. The requirements within Ontario at least include but are not limited to all-wheel-drive, stability control, three rows of seating, and an appearance that's slightly more premium than the neighbour's dated minivan. The 2016 Kia Sorento SX+ V6 fits this bill and does much more as well, so I borrowed one for a weeklong evaluation.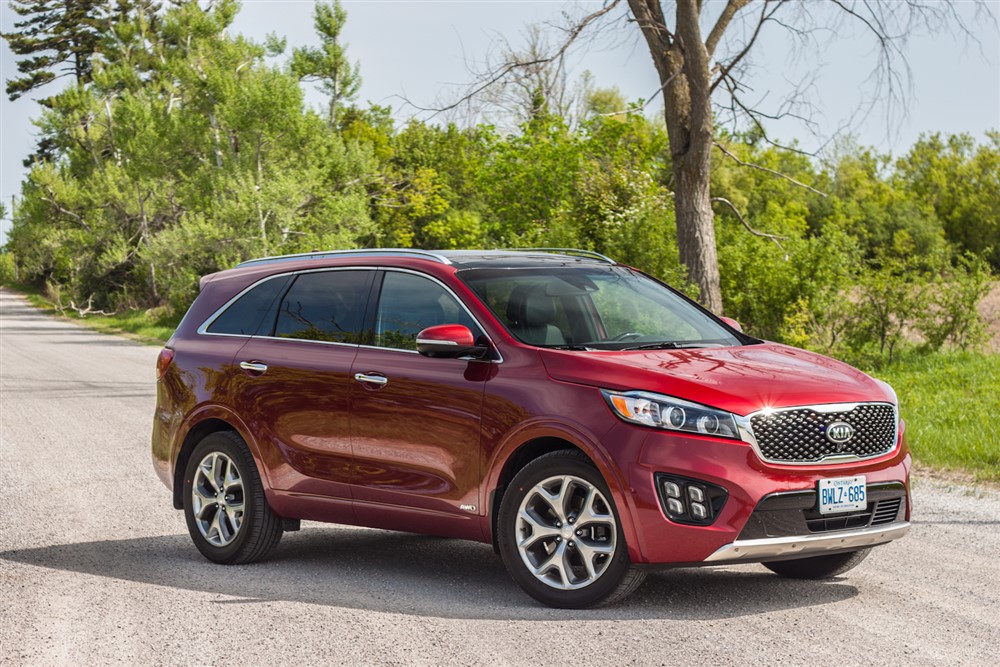 At first glance, the 2016 Sorento doesn't look all that different from its predecessor. I last drove one when it was given a mid-cycle refresh for model year 2014, and I came away thinking it was one of the best facelifts I had seen in a very long time. The Sorento is all new for 2016, and is more than just some botox. Its face is fresh, and the gorgeous new headlights are reminiscent of some British luxury cars. The side profile is very similar to the previous Sorento, and the rear end has been finely crafted to resemble the rest of the Kia lineup, namely the new Sedona we drove earlier this year.
Kia's SUV has now grown enough to play in the midsize SUV class, leaving the smaller Sportage to compete with the likes of the Toyota RAV4 and Mazda CX-5. The Sorento goes head-to-head with its cousin, the Hyundai Santa Fe XL, as well as the Ford Explorer, Toyota Highlander, and GMC Acadia. Our SX+ V6 trim featured a third row of seats, totaling the potential occupant count to seven.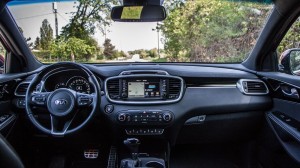 There is a four-cylinder available on the base five-passenger Sorento LX, which starts at a touch over $30,000. Our SX+ V6 comes with some bragging rights in the power department – it sports a 3.3L V6 with direct injection that's shared with the Hyundai Santa Fe XL. This flawlessly smooth motor is good for 290 horsepower at 6400RPM and 252 lb-ft of torque at 5300RPM. The only available transmission is a 6-speed automatic with manual shifting ability and a sport mode. This powertrain setup isn't ideal for the typical enthusiast or gearhead, but it's important to understand that it's aimed towards smoothness, efficiency and overall ease of use – these are all things it does very well.
During our week with the Sorento, we actually had the chance to let it stretch its legs, and do a variety of things. Other than the daily commute for a week, we also drove it out to beautiful Niagara-on-the-Lake for dinner one evening. This SUV is remarkably smooth and effortless on the highway, and is quiet as a mouse while it eats up the miles. The seats are comfortable and the driving position is akin to a king's throne, something I never thought I would say about a Kia SUV. If anything, I'd like for the steering to be a bit sharper; the Sorento is a bit lazy when it comes to cornering and lane changing, but the body roll around corners is so minimal the numb steering is forgivable.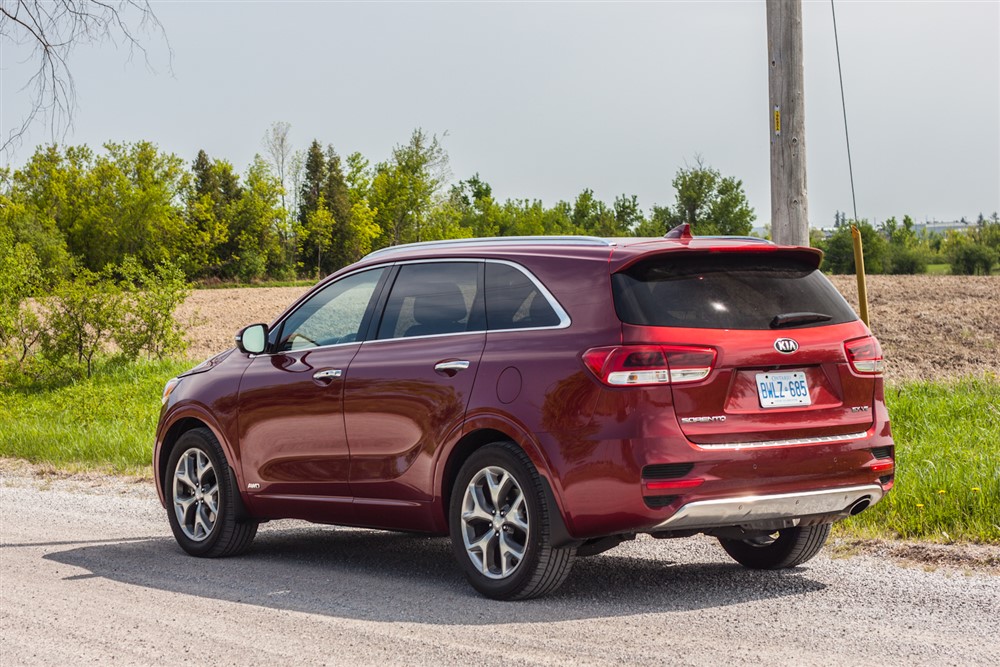 Fuel economy for the week was surprisingly good – one of our team has seen numbers as high as 15L/100km with a previous-generation Sorento V6 in winter conditions. Including our trip to Niagara, we had a weekly average of 10.8L/100km, and highway numbers were dipping below the 9L/100km mark. Kia suggests 11.6L/100km combined, so I wasn't complaining at all. The Sorento will also happily take regular 87-octane fuel, rendering it a decently green choice for hauling the whole family.
The SX+ V6 is at the top of the Sorento trim sheet, and comes with everything you can expect from a Kia, or even a Lexus. The wheels are polished 19" alloys, there's a panoramic sunroof, premium Nappa leather seats (ventilated as well as heated), radar cruise control, 360-degree camera system, LED taillights and fog lights, xenon headlights, and a whole suite of collision avoidance systems including a front collision warning system and blind spot detection system. The entry price for this model is a steep $46,695. My tester also came painted in a great shade of metallic red that Kia wants an extra $200 for.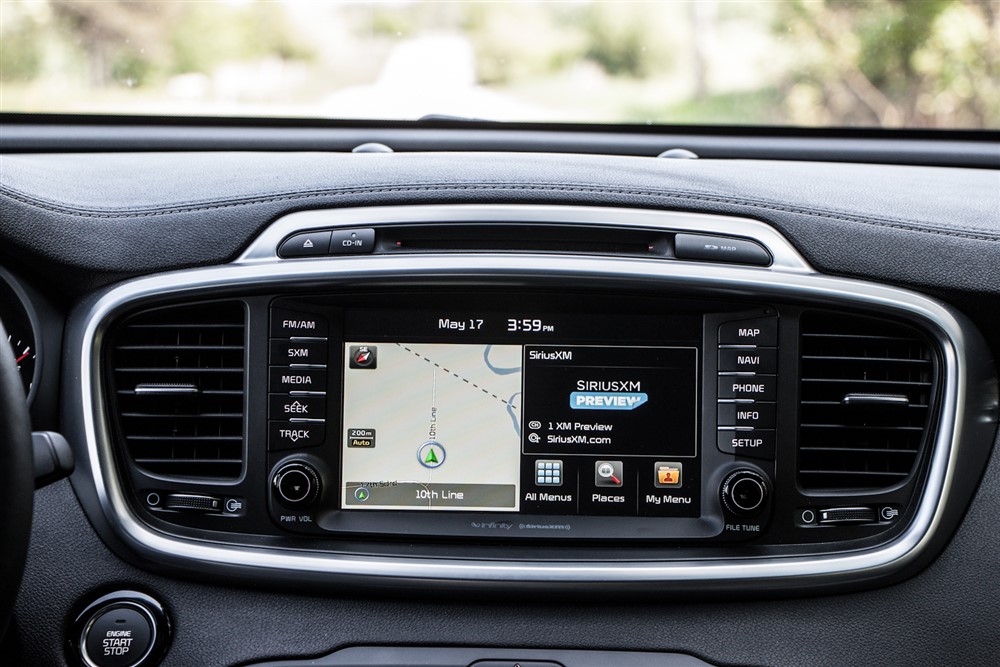 Infotainment within the 2016 Sorento is provided via an 8" touchscreen that utilizes an advanced version of Kia's UVO interface. It's quite similar in operation to the current Hyundai unit in that the touchscreen is responsive and tasks are accomplished pretty quickly. Additionally, Kia no longer requires you to use their proprietary cable to hook up media devices such as iPods; standard USB cables now have full functionality and I was able to stream from my iPod flawlessly.
Before you start scoffing at the thought of a Kia SUV with a sticker just shy of $50,000, please allow me to give a brief history lesson. The Sorento nameplate dates back to 2003, when it was nothing more than a forgettable entry from Korea. Over the past 13 years though, the brand as well as its sister brand Hyundai has come leaps and bounds in research & development, safety advancements, and implementation of high quality materials. This became particularly evident a few years ago when Hyundai introduced the Genesis, and this 2016 Sorento has only furthered that impression more.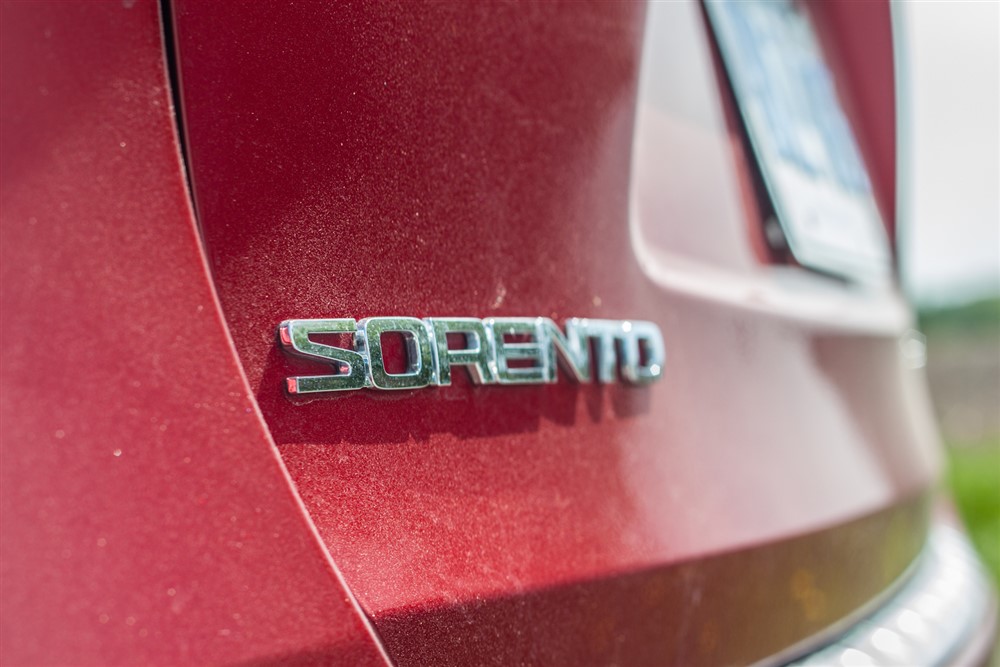 There are a few reasons to opt for the Sorento over its competitors, and they're all based around the overall aura the SUV exudes. It may have a Kia badge on the steering wheel, but the interior quality is unmatched by anything else in its price range. The Sorento also has a decent amount of character when driving it; the three driving modes differentiate the driving experience enough to optimize for either fuel conservation or sporty maneuvers.
The Toyota Highlander is one of our favourites in this segment, but it lacks a bit of character, a flaw also seen in the Hyundai Santa Fe XL. The Mazda CX-9 is dated to a point of obsolescence now, as is the GMC Acadia and its sibling, the Chevrolet Traverse. The 2016 Kia Sorento is classy, comfortable, and thanks to a great all-wheel-drive system, versatile enough for most Canadian families as long as they can get over badge fever.
2016 Kia Sorento SX+ V6 Gallery
See Also:
2014 Toyota Highlander XLE AWD