It has now been nearly a month since we received our AGV GT Veloce Sport Touring helmet, and we have no doubts in our minds that it's one of the best all around choices for everyday riders. The GT Veloce utilizes a series of racing technologies and brings them to everyday use on the street, and remains usable for light track use as well. This lightweight helmet is also relatively affordable at $649.99 CAD, and is available through a series of retailers in Canada that carry the AGV brand.

AGV has developed the GT Veloce using AGV Extreme Standards, which uses wind tunnel testing, Finite Element Analysis, as well as Computational Fluid Dynamics. This technology was initially developed to make Valentino Rossi's race helmet, so we know that AGV means serious business here. The helmet itself is extremely light and is made of composite fiber, carbon fiber, and aramid. Ventilation within it is fantastic, and there is plenty of adjustability for airflow.
We used the AGV GT Veloce on a series of different motorcycles, including the naked Suzuki GSX-S750, the supersport Honda CBR1000RR, and even the badass Harley-Davidson VRSC Night Rod. While on naked bikes, wind buffeting is present but it's clear AGV has worked hard on ensuring that noise is at an absolute minimum. On the supersports with full fairings, the GT Veloce's aerodynamic nature becomes evident as it simply slices through the air without the slightest complaint.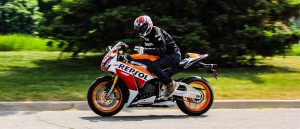 The awesome red/white colour scheme looks a little awkward when on an all-black cruiser, but the helmet functions in fantastic fashion and looks the part to match its premium price tag. We were able to snap on the tinted visor quite quickly thanks to the quick release technology, and everything just feels extremely well built. However, when riding, it can be cumbersome to flip up the visor as the lock button can be a tad fidgety for those with fat thumbs.
Overall, for the price AGV charges for this product, it's a great choice with stylish looks and performance that can match its sexy lines. We have now clocked over 2,000km on two wheels with this helmet and it's already one of our top picks, along with the Shoei Qwest and Arai Vector2.
Features:
Price:              $649.99 CAD
Sizes:               XS-XXL
Weight:           3lbs 4oz
Inner Liners: Removable and fully washable, machine friendly
Visor:              Non-scratch
Retention:      Double D
Certification:  DOT/ECE