Cincinnati, OH – There's a distinct reason that Honda Canada's sales are up more and more with each passing year. With exciting new products such as the new Honda Civic Concept, the upcoming Acura NSX, and more volume sellers such as the new Honda HR-V, there's no doubt that these numbers are going to increase even more. Vehicles like the HR-V provide existing Honda clientele with a different option, as well as bring in new clientele. Bread and butter product such as the Pilot are always a thing of great pride for the brand, so I was invited to Cincinnati, Ohio to drive the 2016 Honda Pilot and gather initial impressions.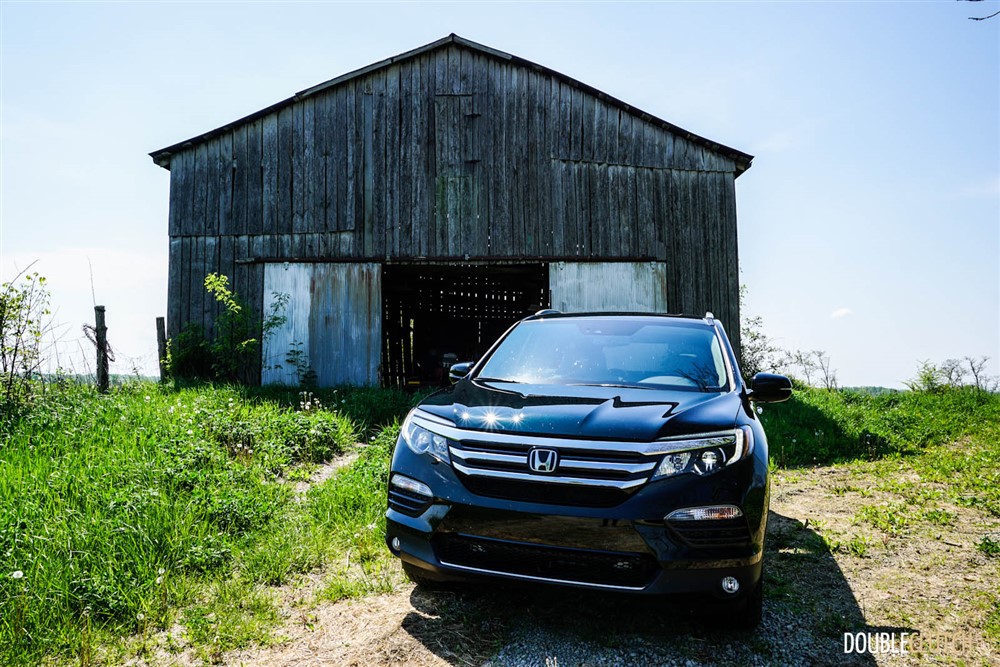 We recently sampled the 2015 Pilot, and while it's still a perfectly competent family transporter, it was definitely getting a bit long in the tooth. The new one is completely new from the ground up, and is intended to be more refined, efficient, powerful, and stylish. Of course, that's taken directly from Honda's press release, so our impressions may very well be a bit different. The reality is, the first-generation Pilot was one of the first unibody midsize SUVs and simply set a new standard for how an SUV of its size should behave. The second-generation brought in some more versatility as well as more towing capability, but it was never perceived as "stylish".
Firstly, the styling is significantly updated. Honda has implemented LED daytime running lights on most trim levels (EX and up), as well as LED taillights, LED projector headlights (Touring grade only), standard 18" wheels and 20" wheels on higher trim levels. It's a handsome vehicle and appears authoritative and now makes a statement. It's 90mm longer in length, with 45mm added to the wheelbase. The overall height of the Pilot has been reduced by 25mm, as well. This speaks to me personally as I always found the proportions of the outgoing Pilot to be a bit goofy.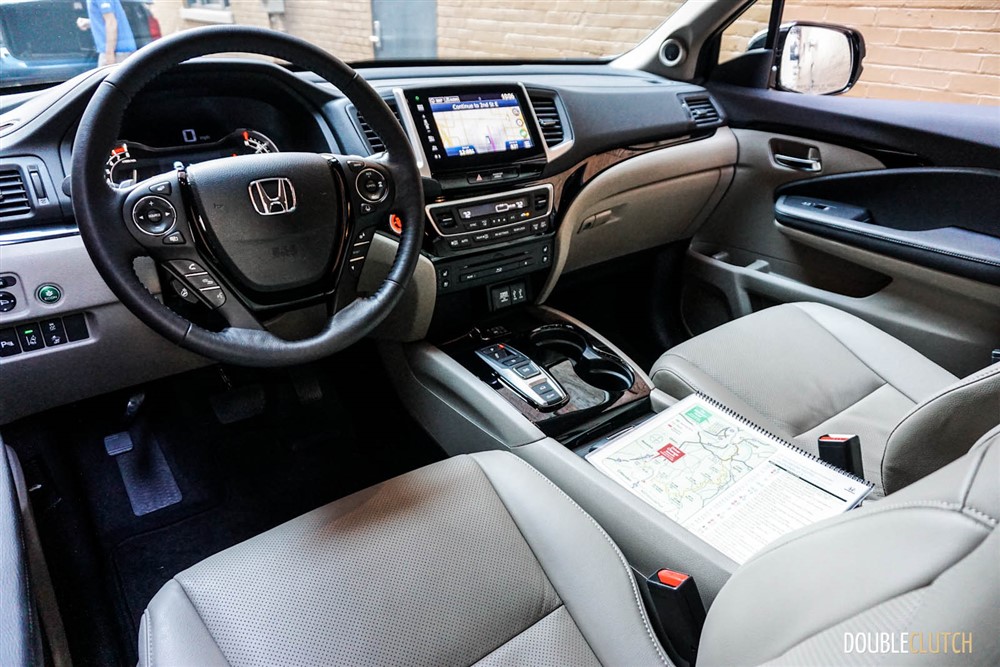 Exterior developments are pleasant but only evolutionary; it's on the inside where the Pilot's newfound premium nature begins to show its colours. There's a full-colour 4.2" TFT display within the new instrument cluster that provides trip computer functions, a full panoramic glass roof, five USB ports (4 with 2.5 amp charging capability), and obviously a full rear entertainment system. The new system has Blu-Ray disc capability, an HDMI port, improved resolution, and full inputs and outputs including compatibility with older devices.
Interior comfort is improved even more with thicker sound insulation and drastic measures to eliminate road noise. The 7-speaker 225-watt audio system is standard, whereas higher trim levels get a 540-watt 10-speaker system. Honda has paired with Garmin navigation for their new setup, which is brilliant to use. The new navigation system with 8" touchscreen has all-new graphics, live traffic updates, 3D maps, as well as speed limit information. Canadian-spec systems are still not compatible with live traffic updates, but we've been assured this feature is coming soon. The 2016 Pilot is also available with Siri Eyes Free integration.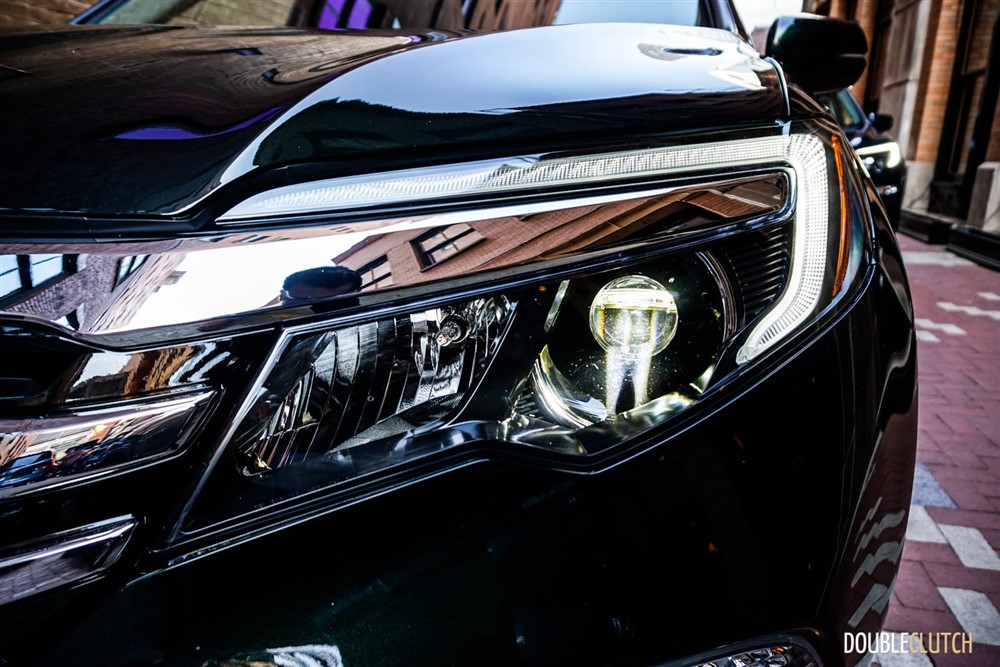 The second-row seating is a three-seat bench, but captain's chairs are optional as well. Access to the third row has been simplified by the addition of a one-touch folding second row seat. This is done via a button (that illuminates at night!) which folds the seatback and slides it forward to provide easy access into the third row. This whole setup has been specifically designed so it's easy for kids to do themselves, making the third row of the Pilot surprisingly accessible and adding to the overall versatility of the vehicle.
Performance for the Pilot has been improved via increased body stiffness and reduced weight in the body – the 2016 Pilot is 131kg lighter than the outgoing model. NVH has been significantly reduced, and the big SUV rides comfortably without feeling as firm as the big SUVs from GM and Ford. The engine is an updated 3.5L Earth Dreams V6 with direct injection and i-VTEC. Maximum horsepower is 280 at 6,000rpm, and torque is up to 262 at 4700rpm. As expected, there is only one powertrain option and Honda hasn't implemented a V8 or a turbocharged 4-cylinder (thankfully). Throttle response is sharpened significantly over the 2016 Pilot's predecessor, and the power numbers are competitive for the segment.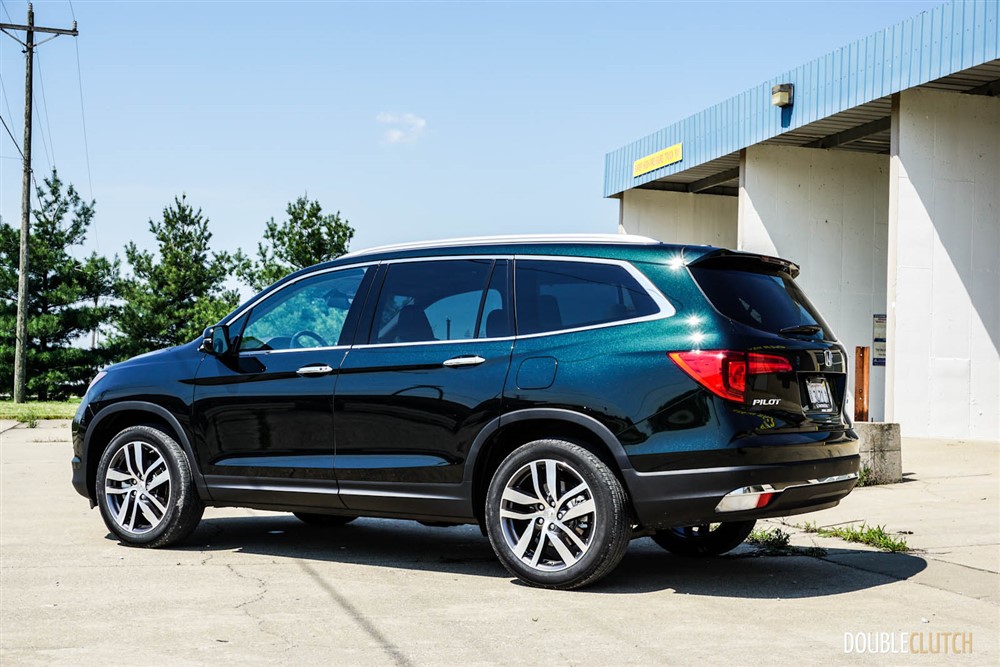 Most trim levels of the new Pilot use the 6-speed automatic that was new a couple years ago, while upper grades get the 9-speed ZF unit that we have now seen in the Acura TLX, as well as certain Fiat-Chrysler applications. Although this 9-speed transmission is still in need of some perfecting, I have no doubts that within a couple years after necessary fine-tuning, it will be one of the best units in the industry. It's only been out for just over a year now, but we are already seeing significant improvements – it's significantly better here as well as in the TLX than it is in the Jeep Cherokee, which adapts a differently tuned version.
To save fuel, the new Pilot also features it's own start/stop technology, which is known as Idle Stop. As in vehicles from other brands, this system automatically turns the engine off at traffic lights, and seamlessly turns it back on when the brake pedal is released or the steering wheel is moved. We'll conduct our own fuel economy test when we have the Pilot for extended testing in a few months, but Honda predicts a combined 10.8L/100km for the 2WD model, 11.3L/100km combined for the 4WD with the 6-speed transmission, and 11L/100km with the 4WD and 9-speed. This is a huge improvement over the outgoing model, which had an archaic 5-speed automatic that was not efficient in the slightest.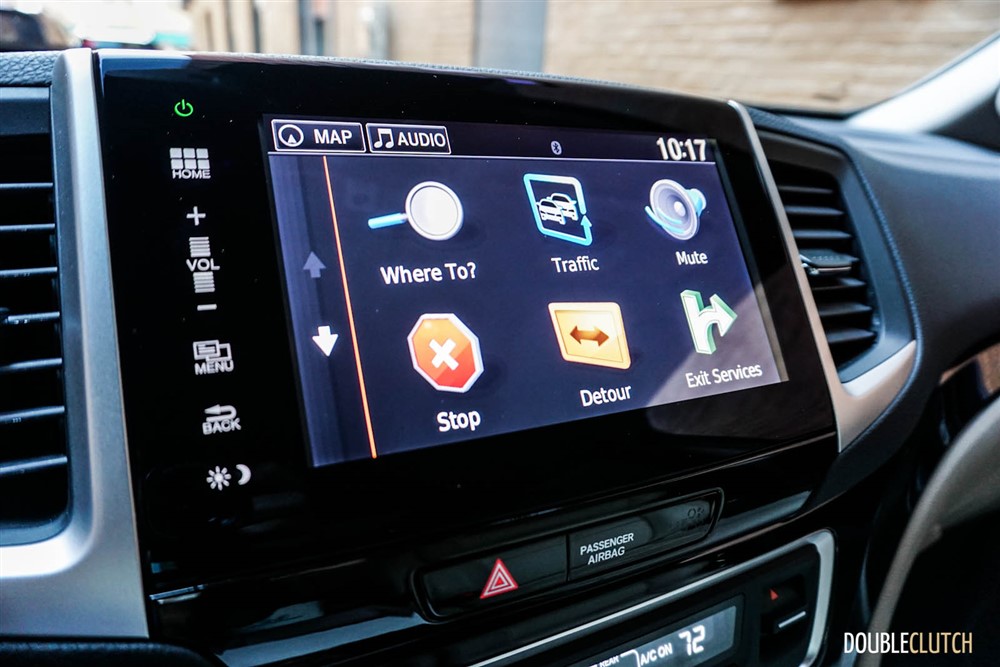 The new Intelligent Traction Management system allows the driver to choose between Normal, Snow, Mud and Sand modes. This setup adjusts the throttle response, all-wheel-drive system, transmission and stability control systems according to conditions and ensure that the Pilot behaves optimally under specific circumstances. Honda's goal has been to make the Pilot as easy to drive as possible for any driver's individual style or environment, and they've done quite well here.
Being a big family hauler, the Pilot prioritizes safety over all else. The HondaSensing suite of driver aids goes a long way to help this, and Honda predicts the Pilot will be an IIHS Top Safety Pick+. The HondaSensing setup includes adaptive cruise control, lane keeping assist, road departure mitigation, forward collision warning, collision mitigating braking system, and lane departure warning. The Touring grade also includes full blind spot information as well as cross traffic alert. Competitors such as the Mazda CX-9 and Toyota Highlander still don't have full safety suites like this one, so there's a huge advantage towards the Honda here.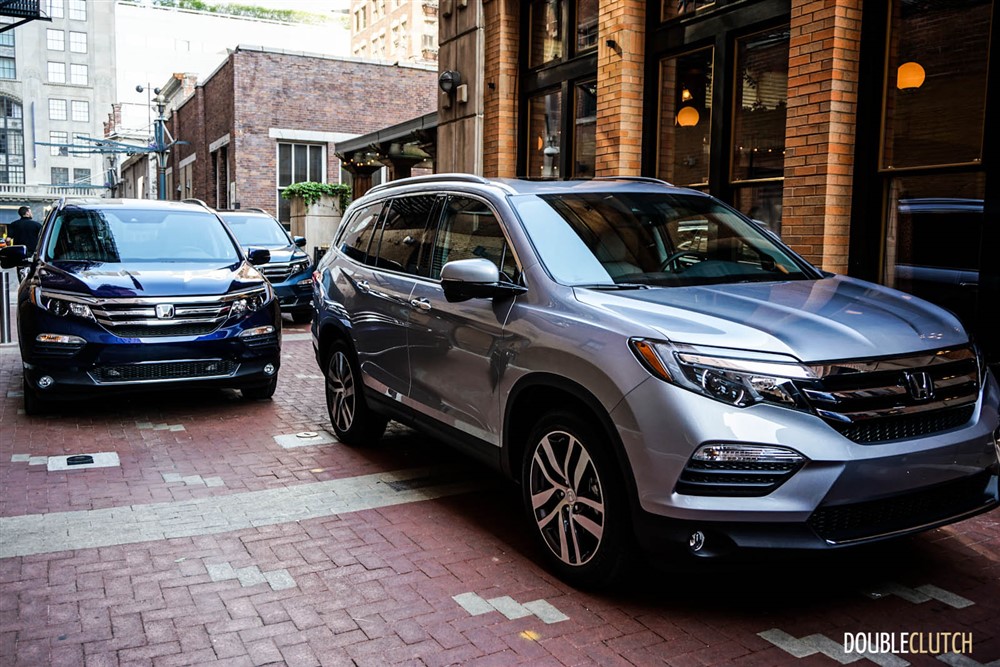 Trim levels start with the base 2WD Pilot LX, which is excellent value. There are also EX, EX-L, and EX-L Navi trims in the middle, which gives buyers a good variety of models to choose from. The top-trim Touring model should still be considerably less expensive than the Pilot's cousin, the Acura MDX. Unique to Canadian trims are things like heated steering wheel, remote starter, and heated rear seats. If anything, the improved interior materials, structural rigidity and overall improved feel from the new Pilot brings it even closer in overall behaviour to the MDX, which is a very good thing.
The Honda Pilot has been around for over a decade now, and over the course of this time has been a loyal friend to thousands of families. Throughout this time, technology has come a long way, as has the overall image of the Honda brand. With recent entries to this segment including the Hyundai Santa Fe XL, the redesigned Toyota Highlander and Kia Sorento, the big Honda faces some tough competition. However, the 2016 Honda Pilot comes in with some serious artillery that sets it apart from the rest of the crowd. A family transporter doesn't need to be incredibly boring, nor does it need to be a penalty box – thankfully, the new Pilot is neither of these things. Built in Honda's Lincoln, Alabama factory, the 2016 Honda Pilot will go on sale in late July of 2015.
First Drive – 2016 Honda Pilot Gallery
See Also:
2015 Honda Pilot Special Edition