If the Tesla Model S as well as the slew of autonomous vehicles being experimented on are any indication, electric vehicles are definitely the way of the future. As much as purists (like myself) complain about them, and moan and groan about the future state of the "fun" sector of the automotive industry, the trend is still pointed straight into that direction. Most major manufacturers have now experimented with either hybrids, diesels, or full electric vehicles on a mainstream level, giving us plenty of options. Nissan premiered their version a few years ago, and we genuinely believe that it's one of the best options out there. I spent some time in California, home of Tesla as well as what seems like 99% of the EVs and hybrids ever sold, to see how a 2015 Nissan Leaf fits into this rapidly growing segment.
About 40% of electric vehicles sold in the United States are registered in California, and given I spend a considerable amount of time there every year, I'm not the least bit surprised. Everybody I know in this state drives either a Prius, or has "upgraded" their aging Prius with either a Leaf or a Tesla Model S. I also know former owners of Camrys and Accords that have upgraded to either the plug-in Prius or the Accord PHEV (sold exclusively in the US). Given the horrendous traffic situation in both Los Angeles as well as the San Francisco area, the California government has given EV/hybrid buyers a huge incentive that makes a ton of sense. Lessees or buyers of partial-zero or zero emissions vehicles, such as the Leaf, are eligible for a special sticker that goes on the rear bumper of the vehicle. This sticker allows the driver to use the HOV lane with a single occupant.
The particular Nissan Leaf I tested was equipped with this sticker, and I was able to see firsthand what sort of advantage it resulted in. A commute from San Jose to downtown San Francisco, a 35-mile drive that would normally take between 35-40 minutes, took just under two hours in a Ford Mustang EcoBoost. I did the same drive in the Leaf and made it (in the peak of rush hour!) in 41 minutes flat. Here in Ontario, the HOV lanes do allow single-occupant use provided you have a Green Vehicle license plate.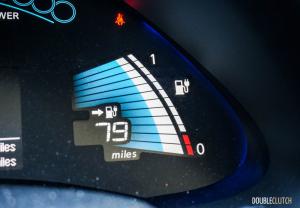 Despite contrary belief, the Leaf isn't slow. Of course, because it's an all-electric setup, peak torque is always available, instantly. What powers it is an 80kW AC electric motor with a 24 kWh lithium-ion battery. I don't really like mentioning power/torque numbers on an electric vehicle, because these cars are deceptively quick. This Nissan supposedly has 107 horsepower and 187 lb-ft of torque, but seriously, don't listen to these numbers. It feels considerably quicker than the numbers would have you believe, and almost like a little Versa Note-sized rocketship. It's also so eerily quiet that you can't really feel the power until you're already going.
One of the biggest goals Nissan had during development of the Leaf was to ensure that it could be used just like a conventional gasoline-powered car would be. Statistics say that the average Canadian's commute is less than 42 kilometers per day. The Leaf's range is estimated at 140km in ideal circumstances. Factors that influence this range aren't limited to driving style; use of the stereo and air conditioning also impact overall range. I observed a pretty similar range during my test, and this particular Leaf has been used for this very commute throughout its 5000-mile (so far) life.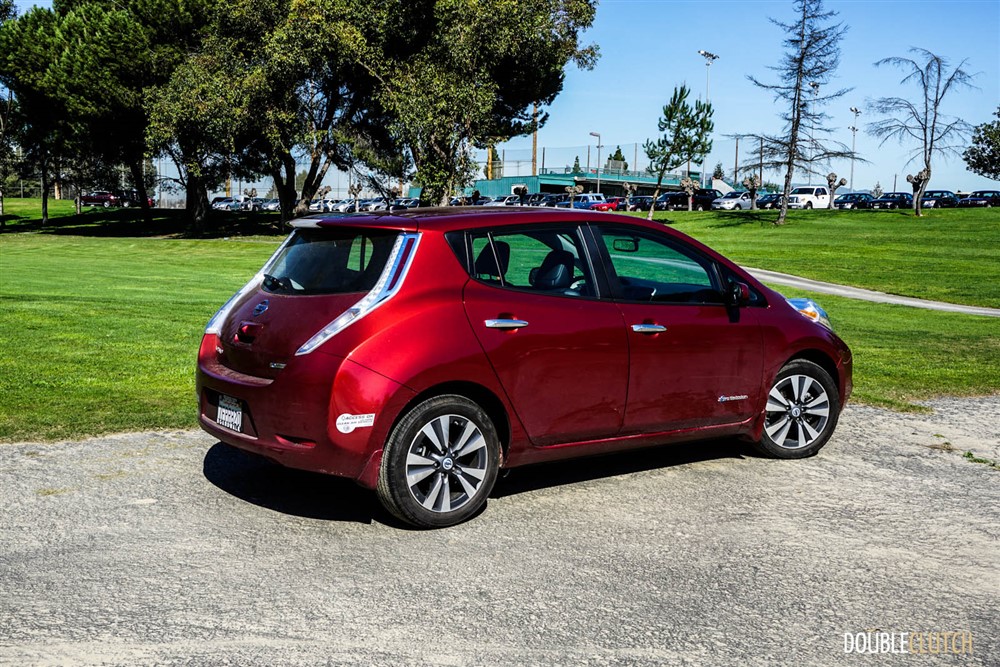 It's in city driving where the Leaf really excels; it's very well mannered and easy to maneuver. The aforementioned instantaneous torque makes quick moves very simple, and there is no weirdness or quirks that could be expected from stereotypes of the electric car. It handles pretty well, and the steering response is very good. I must emphasize that this car doesn't behave any differently in the handling or ride quality department at all. It's just as pleasant as any other compact hatchback with that added premium touch.
The Nissan Leaf comes with a considerable amount of standard features. These include but aren't limited to front and rear heated seats, Bluetooth connectivity, keyless go, iPod compatibility, 16" wheels, 60/40 split folding rear seats, and the usual suite of power options. This particular model was also equipped with navigation, which actually alerts you if a particular destination is out of your available range, and also gives you a list of charging stations nearby. Aluminum wheels are also an available option, along with Nissan's neat Around-View camera system for the utmost in parking simplicity. The seats are eco-friendly but surprisingly comfortable and they heat up quickly and are nice and toasty when warm.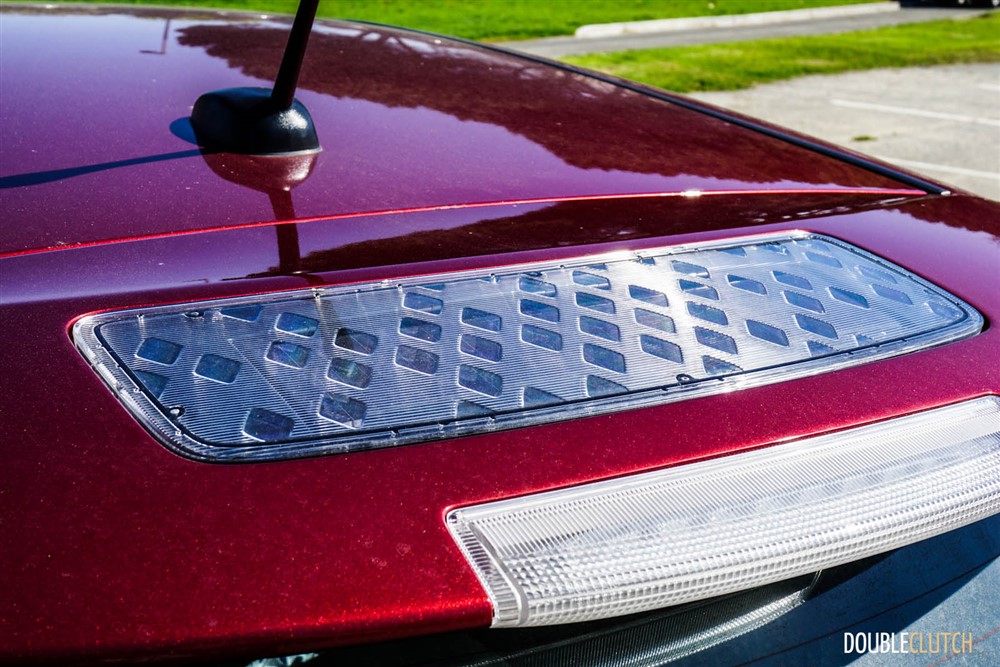 One thing every potential buyer should ensure before buying though is whether or not the Leaf is suitable for his or her lifestyle. I personally live in a condominium and there's no power outlet anywhere near the parking spot I own in the garage, so the Leaf really wouldn't suit me. If I lived in a house though, I could opt for Nissan to install a charging unit that could fully charge the Leaf's battery in four hours flat. In a traditional outlet, the car could take up to 20 hours from empty, and of course, the new quick charger stations are popping up around the country that can charge the car up to 80% in under 30 minutes. Recharging the battery costs only a fraction of what a tank of fuel will cost, and from what I hear from a few owners, they love the feeling of never having to visit a gas station.
The Nissan Leaf, or any other electric vehicle for that matter, doesn't suit everybody's lifestyle. There are quirks with the current infrastructure that presents some limitations for certain users. However, in California, it's almost as if the EV is becoming a way of life. I know some diehard petrolheads that insist on having a Leaf or Chevrolet Volt as a daily commuter, because they're just that brilliant at the daily grind. The base 2015 Nissan Leaf starts just under $32,000, and it comes in at just over $38,000 for a fully-loaded one. The Canadian government programs will give you up to $8,500 in rebates for buying one, so that's something that brings the overall purchase price down significantly. If you have the ability to charge it at home and a commute that fits within the range, I don't really think there's a better option as an everyday vehicle for the urban lifestyle.
2015 Nissan Leaf Gallery
See Also: