After being in production for 6 years, it is finally time for the second-generation Honda Pilot to be laid to rest. Being the outgoing model in the Honda Pilot lineup, the 2015 Honda Pilot can perhaps be called the pinnacle of a long production run. Saying goodbye to the boxy looks, the all-new third-generation 2016 Honda Pilot was unveiled at the Canadian International Auto Show in Toronto this past February. Featuring sleek lines and updated styling, the new Honda Pilot will be a contender in the looks department. Though a bit dated now, the outgoing Pilot is still selling very well, so I decided to sample a 2015 Honda Pilot SE for the last time.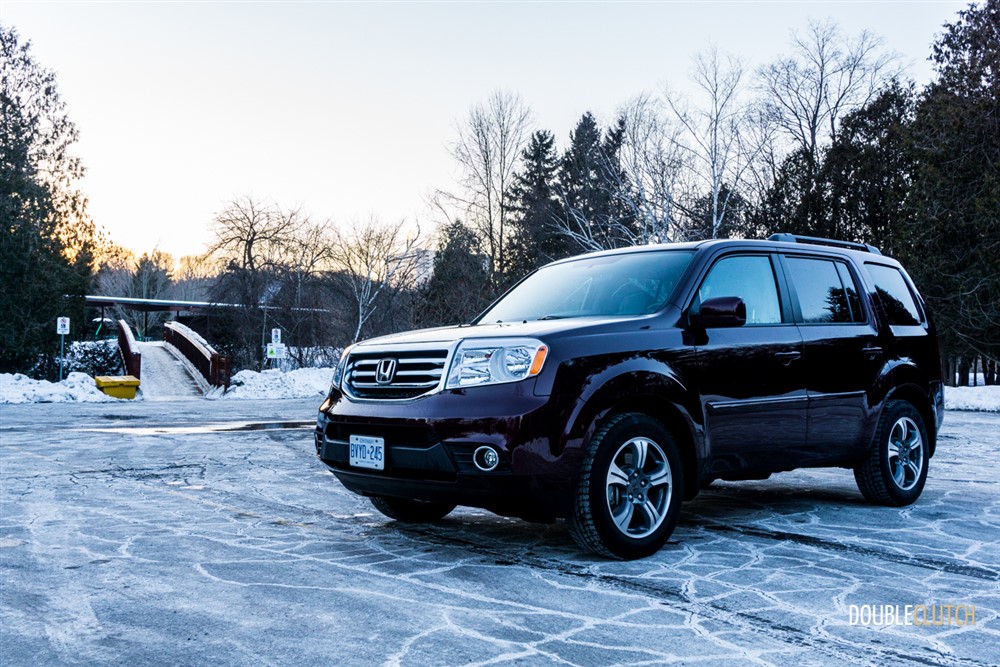 My large and boxy 2015 Pilot came in the Special Edition (SE) trim. Despite what the name suggests, this trim is mid-range for the Pilot lineup. It adds a rear entertainment system for the kids with a 9-inch display, wireless headsets, and an integrated remote control. Further, the Special Edition adds in standard seating for 8, a second-row folding centre armrest, and heated front seats adorned in a beige interior. But these changes are so minute; you would have to be a Pilot expert in order to spot them. Unique for the higher trim Pilots including the Special Edition is the interesting Dark Cherry Pearl paintjob. The colour worked well on this otherwise innocuous representation of Honda's function-over-form mentality that was clearly evident for the second generation Honda Pilot.
The cumbersome 2015 Pilot Special Edition features the same 250 horsepower, 3.5-litre V6 that has been around for a while. This motor has been paired to a 5-speed automatic gearbox that also has been around for a long time. Powertrain wise, the Honda Pilot has begun to feel a little long in the tooth compared to Honda's Earth Dreams offerings. Hard acceleration is confident but not particularly urgent, and I found the steering wheel to be too light. Further, turning the steering wheel from lock-to-lock felt like I was the helmsman of the Titanic trying to avoid the iceberg. It was seemingly never ending, but this would be highly beneficial when off-roading, something the Pilot could actually do competently.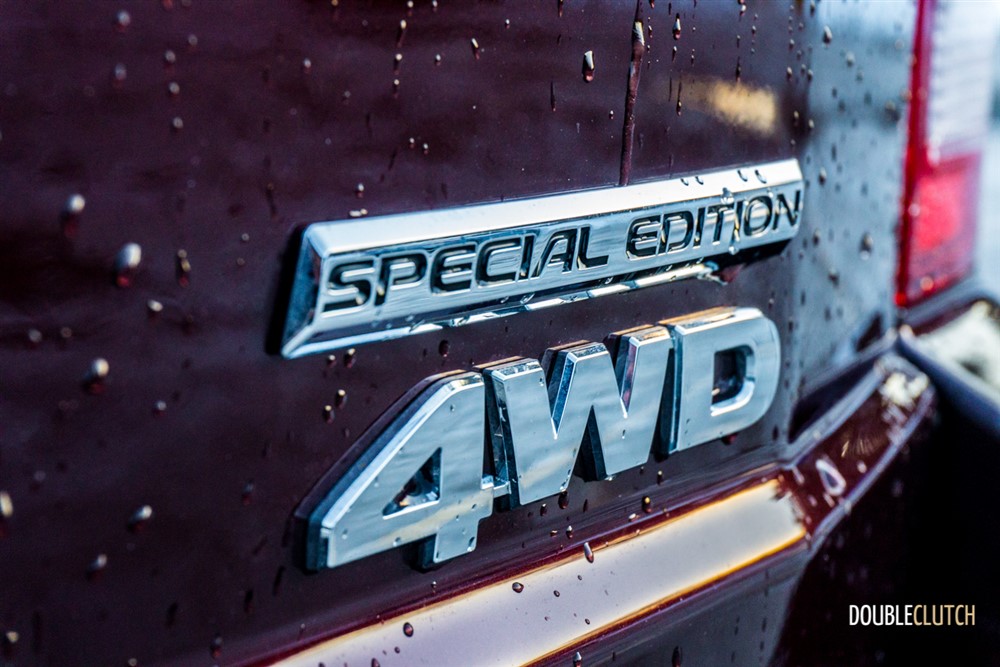 Road and wind noise while driving was also very noticeable. It is important to note that unlike a lot of other 2015 Honda models, the Pilot does not feature an 'ECON' button. The Pilot simply decides that when your foot is off the drive-by-wire throttle, or if you are using a small percentage of that throttle on the highway, the dash will flash a green 'Eco' light letting you know that your instantaneous fuel economy is below ~12L/100km.
Make no mistake, the Honda Pilot SE is not exactly fuel efficient, but it is comparable to other vehicles in its segment, such as the Mazda CX-9. Over my time with the Pilot, I was able to average 15.1 L/100km in freezing temperatures with a good amount of city driving. The Pilot does not require premium fuel, and is more than happy with regular. Undoubtedly, on longer highway runs, the Pilot will be able to manage lower numbers. The Pilot suffers in this department due to its weight and less-than-stellar aerodynamic profile.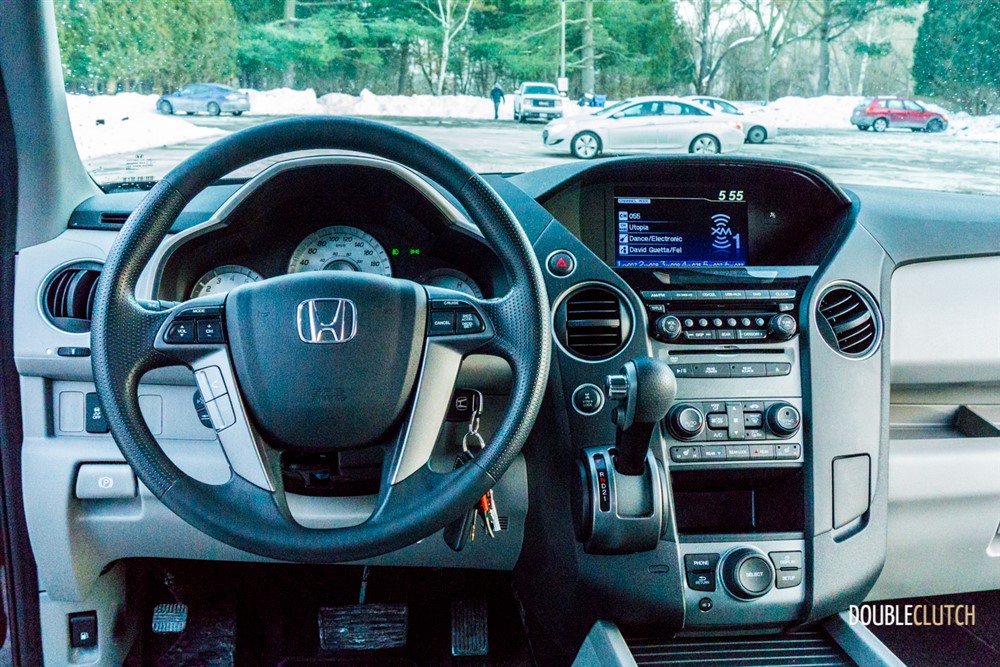 The 2015 Pilot needs to be looked at from a different perspective, because now that it's getting long in the tooth, it's lacking a few things that we've known Honda to deliver in this day in age. For instance, it lacks LaneWatch, an "ECON" mode, and push-button start. However, I put myself in the position of the head of a family of four, who has a large amount of stuff to carry on a weekly basis, and needs his or her daily driver to be ready for whatever a family can throw at it. This Pilot is absolutely everything a family needs. With more storage and packing space than I could ever utilize on my own, (2464L of cargo capacity, to be exact) it is the reliable family mover that can keep your entire family entertained and comfortable on long trips, all the while ensuring that you will never have to hear the phrase "are we there yet?".
For a truck that is going to be replaced quite soon, the Pilot is still able to hold firm to its roots. It is the unsung hero for big families and large SUV enthusiasts, and it does not receive enough credit for what it does. At $39,800 for this Special Edition trim, it's a bit pricier than a Mazda CX-9. For this price difference, it does offer a considerable amount more than the Mazda, along with the long-term assurance of owning a family-oriented Honda product. It's not quite perfect, but the second generation Pilot is a car that will go to rest knowing that at the end of the day, it got the job done very well.
2015 Honda Pilot SE Gallery
See Also:
2014 Toyota Highlander Limited