Just under a decade ago, I was in the market for a certified pre-owned BMW 335i. My closest friend and I ventured into a local Bavarian dealership and that's where I had my breath taken away. A brand spanking new Alpina B7 (chassis code E65) was sitting on the showroom floor, roped off from the public. Even as a teenager, I knew that it was something special. Then again, I was never the kind of teenager to go nuts over a yellow Lamborghini parked on the street – I'd like to think I appreciate the finer things in life. I was recently given the opportunity of a lifetime; BMW sent me a 2015 Alpina B6 Gran Coupe to enjoy the first few days of spring.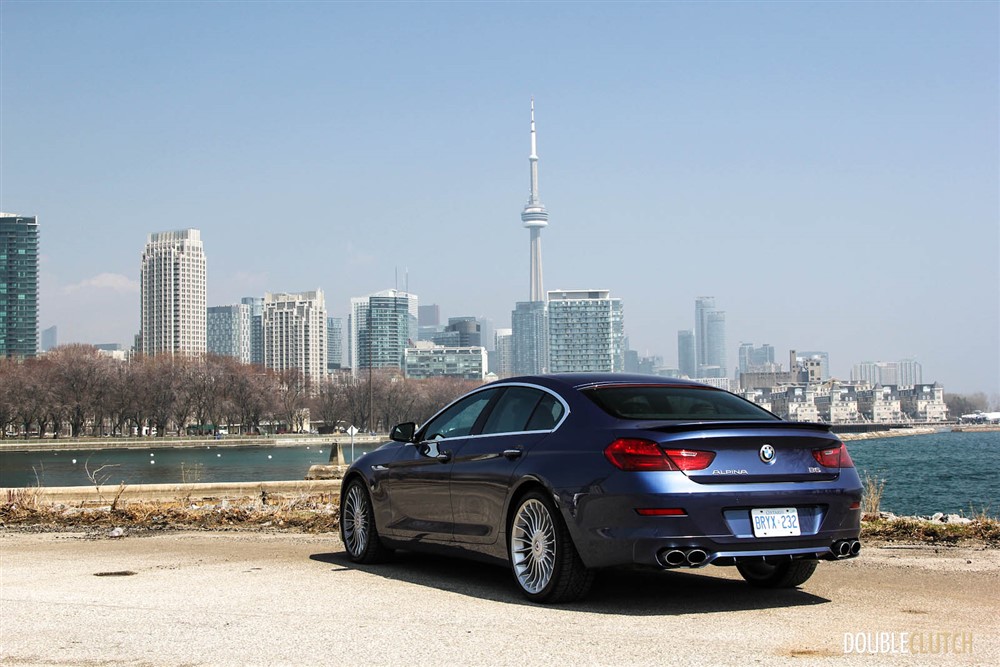 Alpina, also known as Alpina Burkard Bovensiepen GmbH, is a third-party manufacturer that's known for selling its own products, each largely based on BMW's existing lineup. Their first well-known venture was in 1962, when they created a Weber dual carburetor for the BMW 1500. The company was founded by one Burkard Bovensiepen, who formally established the BMW tuning business in 1965. Since then, there have been a series of astounding vehicles that celebrate the elegance, precision, and beauty behind BMW's existing lineup, but offer a more unique and individualized choice for out-of-the-box thinkers. Now, the company consists of 210 employees that proudly build approximately 1500 cars per year, each with high-performance Mahle pistons, unique turbochargers, and specialized cooling systems.
The Alpina B6 Gran Coupe shouldn't really be compared to the M6 Gran Coupe, which still remains one of the more interesting cars I've had the pleasure of driving. It's a more subtle, discrete and luxurious experience without compromising the beauty of the Gran Coupe. Even though there's no real point to a four-door coupé in my eyes, the 6-series Gran Coupe remains my absolute favourite four-door available for sale today. The swooped roofline, unmistakable kidney grill setup, and stunning rear end make for a truly gorgeous car that will undoubtedly age gracefully. Upon receipt of an order for a B6, BMW sends a regular 6-series Gran Coupe to the Buchloe Alpina factory, where all of the unique bits that make this car so special are applied by hand.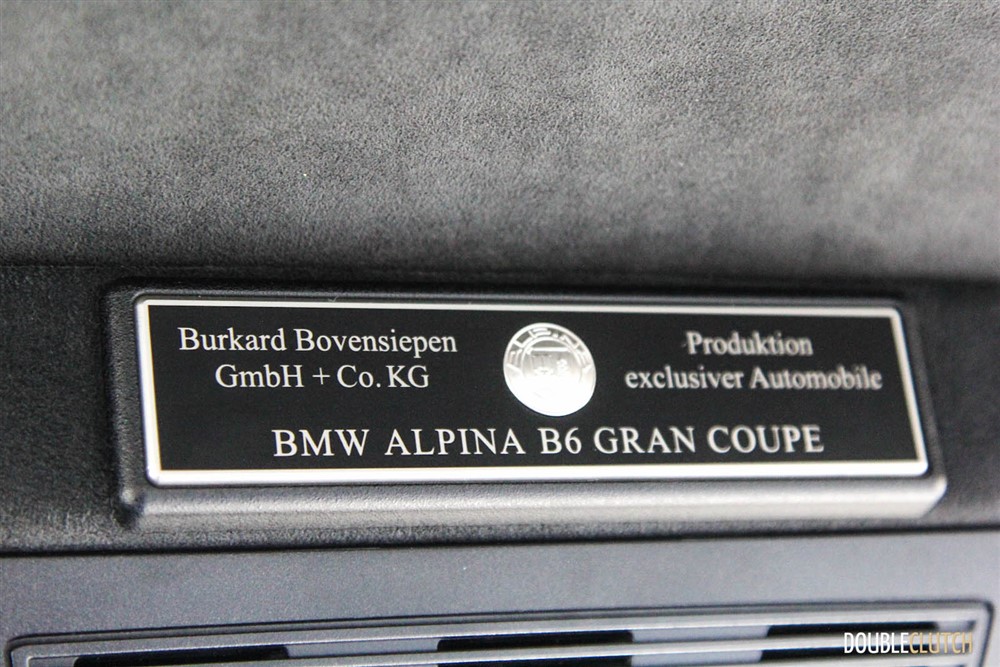 Under the hood of the Alpina B6 is the same biturbo 4.4L V8 that powers the BMW M6. It's a torque monster, good for 540 lb-ft of torque. The keen reader will notice that this is 38 lb-ft more than the M6, because along with adding that extra touch of luxury, Alpina takes pride in producing torque monsters. Horsepower is down 20 from the M6, for a total of 540. Now, the B6 is insanely fast, reaching 100 km/h in the blink of an eye, and if given enough space, is capable of a 318 km/h top speed. Throttle response in "Sport Plus" is very good, and the ZF-sourced 8-speed automatic doesn't feel too different from a dual-clutch unit. The B6 simply flies off the line effortlessly and truly eats up the miles when cruising at highway speeds. It's deceptively quick – almost like a missile.
Yes, you read that correctly – Alpina has done away with the dual-clutch transmission in the M6 in favour of a traditional automatic. Don't think of it as a downgrade though, because it really isn't. They've tuned this gearbox for the utmost precision, and the perfect combination between luxury and athletics, without making compromises on either side. Rather than making use of traditional paddle shifters, the B6 takes self-shifting to the next level. There are suede-esque caps on the back of the perfectly shaped steering wheel that are positioned perfectly without having to stretch your fingers. Right for upshifts, left for down – it's quite simple really, and it's similar to the old setup in the first-generation Lexus IS300. In sporty drive modes, the shifts are crisp and quick, and when left in "Comfort" or "Eco Pro", they're comfortable and seamless.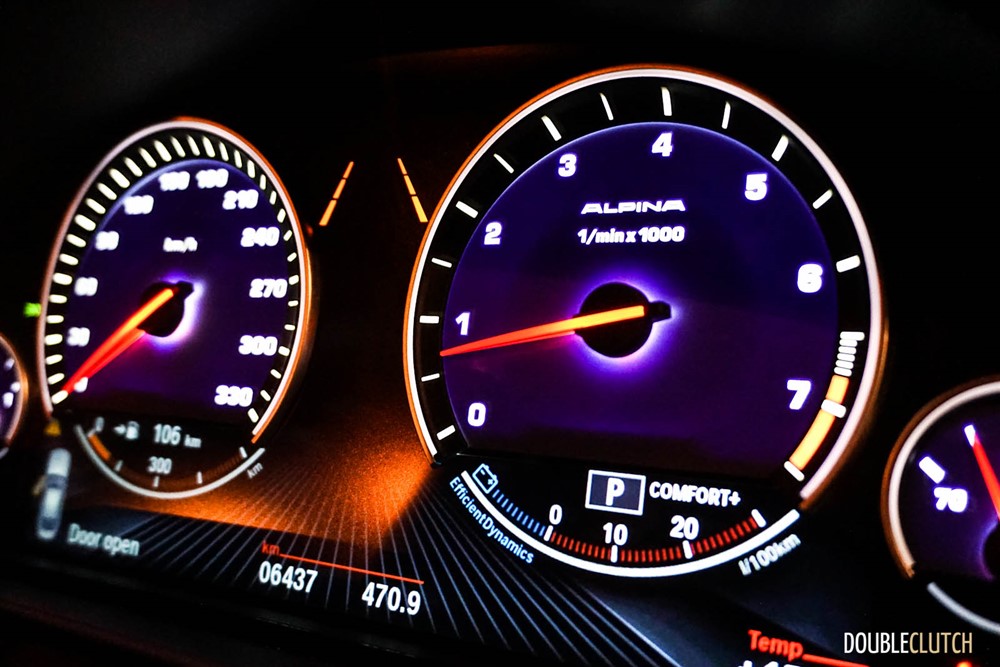 The Alpina is definitely special, but does it handle well? The suspension, steering, and wheels are all calibrated to deliver that perfect driving experiences that BMW owners take pride in. With recent transitions to electric-assisted steering, many fans are moaning and groaning, hoping to see the infamous traditional BMW rack make a return. However, the B6 delivers that exceptional experience that makes owning this car so special; it carves the corners just as seamlessly as it soars down the highway, asking you for nothing but some fuel in return. The steering sharpens up in "Sport" and "Sport+" modes, and these are obviously the modes that more spirited drivers will choose to make use of.
The "regular" BMW M6 is rear-wheel-drive only, so Alpina's implementation of the xDrive all-wheel-drive system is a bit of a pleasant surprise. Sure, it results in slightly worse fuel consumption than a rear-drive model would, but it also means the car can be driven year-round (but really, why would you?). In this car, the xDrive system, dampers, and rear axle are all reinforced, and they've even added some negative camber for better cornering grip. BMW's variable rate dampers are adjusted specifically to make sure the ride is not compromised even when riding on the 20" Alpina wheels my tester was equipped with. Potholes, bumps, and road imperfections be damned; the big B6 just glides over them as if they don't exist. The car is just so buttery smooth at any given point; it's almost surreal.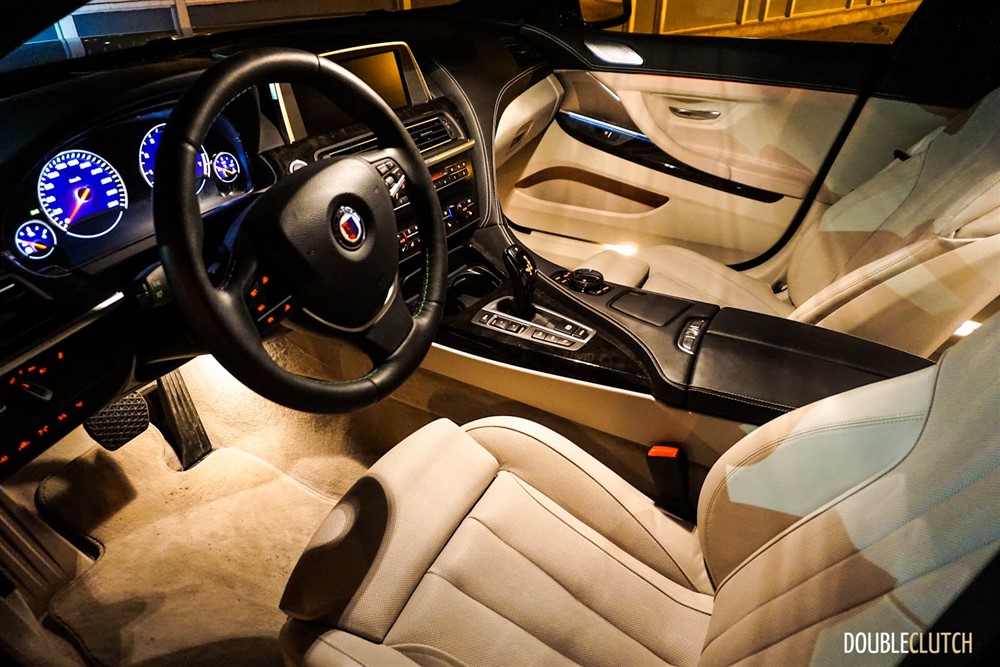 Those wondering about fuel economy should probably venture over to either the 5-series or 7-series, both of which offer diesel or ActiveHybrid options. The Alpina was designed with no compromises, and that includes fuel consumption. As one can imagine, a twin-turbo V8 isn't exactly efficient, so we averaged about 13.6L/100km in combined driving with an equal mix between city and highway use. We filled the Alpina with 93-octane fuel just because we love and respect it so much, but I assume it would get away just fine with standard 91-octane premium. Though "Eco Pro" mode is tempting for its fuel savings, I found "Comfort+" the most ideal middle ground between consumption-frugality and overall serenity within the B6.
On the inside, the Alpina B6 just screams business. Actually, scratch that – this car can't "scream", it calmly acknowledges your intentions, and then carries them out with the utmost composure. The interior, fully equipped on our test car, is among the nicest in the BMW lineup, and oozes sophistication and class in the most tasteful way possible. Our car was upholstered in ivory leather of the most supple variety, and it looked fantastic. The rear seats of the Gran Coupe are only meant for two, as evidenced by the console that lines up perfectly with the seats. Rear seat occupants may have to compromise on headroom (but really, isn't that obvious because of the gorgeous lines of the Gran Coupe?), but legroom is plentiful. They are also treated to individual climate controls (four zones in total) as well as heat/ventilation in the seats. Buttons on the doors control the electric side window sunshades as well as a big one on the rear window.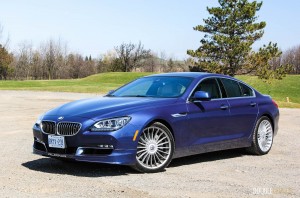 The driver's seat is where the magic happens. At 6'1/175, I fit perfectly, and the seat contoured my body perfectly. There are virtually unlimited adjustments, so it's hard to imagine anybody being uncomfortable in this car. The regular BMW gauges in the instrument cluster are replaced with stunning blue dials with the "Alpina" badge, to indicate that you've purchased one of the rarest vehicles on Canadian roads. The top half of the steering wheel is finished in blue stitching, while the bottom half has green stitching, a contrast representing the Alpina brand's colours. There's also a plaque by the sunroof controls that indicates that this vehicle was hand-built by Alpina, adding to the extraordinary attention to detail that has gone into the development of the B6.
Controls for the electronics and infotainment won't be unfamiliar to those used to driving late-model BMW products. The iDrive system is virtually unchanged, and offers the same split-screen layout as other models. The main iDrive controller is perfectly positioned for the driver's hand to reach, and supports handwriting for address/phone number input. In lieu of the standard Harman/Kardon stereo on this model, my Alpina B6 was equipped with the Bang & Olufsen sound system. In previous BMW applications, I've mentioned that I'm not a huge fan of the B&O setup and much prefer the Harman/Kardon instead. However, the tuning and clarity of this B6's stereo is so dead-on that it's hard to find any sort of flaw with it.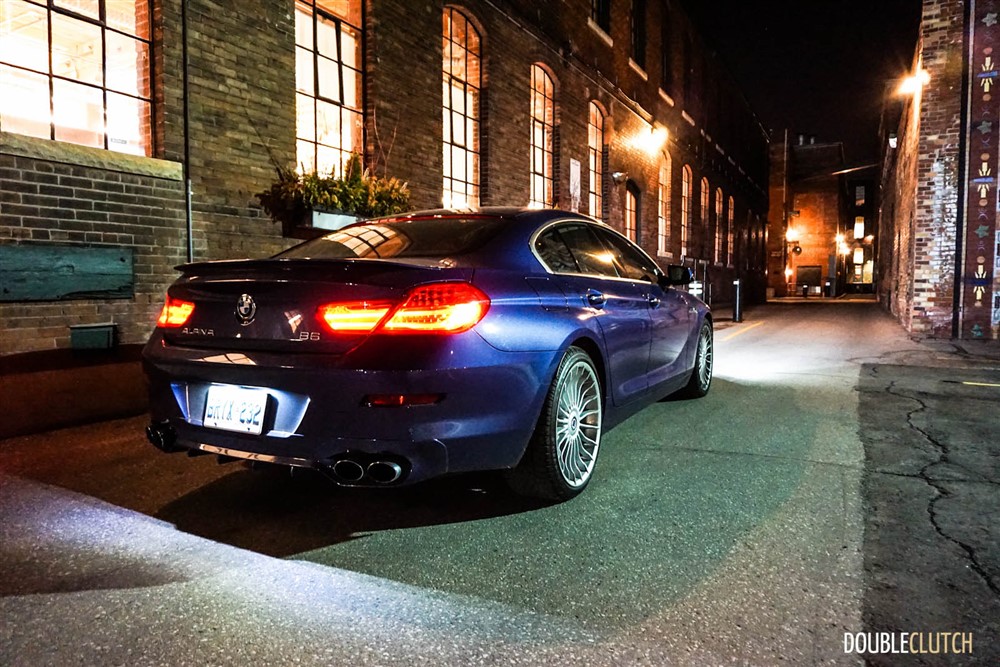 One neat anecdote worth sharing is that our Content Editor was driving the new BMW M235i xDrive at the same time as I was testing the Alpina B6. The M235i was equipped with the ridiculous M-Sport exhaust, while the B6 Gran Coupe utilizes Alpina's in-house stainless steel exhaust with quad tips. The surprising outcome was that even though the B6 has the throaty roar of a V8, the M235i's pops and crackles are far louder. This only goes to show the subdued yet noticeable excellence that exudes from the B6; it's a powerhouse that fits in without being a huge attention seeker, and that's what Alpina buyers want.
With an as-tested price north of $150,000, my 2015 Alpina B6 Gran Coupe was loaded to the brim. Of course, Alpina customers won't sweat at this price, because they'll understand the true meaning and heritage behind the brand. This isn't a "souped-up" 6-series Gran Coupe; it's so much more than that. It's a vehicle that represents a small company that puts in their own blood, sweat and tears to make sure that their customers experience the very best that the motoring world has to offer. The asking price isn't really that high when you consider the exclusivity and uniqueness that this car has to offer. Anybody can spend a quarter-million dollars on a flashy Lamborghini or Ferrari, and at the end of the day, there will be plenty of those running around Toronto's financial district. I have yet to see another Alpina B6 Gran Coupe on the road, and I'm not sure if I will again anytime soon. For the rarity and sublime motoring experience it offers, this car is truly one of a kind.
2015 Alpina B6 Gran Coupe Gallery
See Also: