An updated version of the Hussarya has made its reveal at the Poznan Motor Show by Polish maker Arrinera.
Arrinera is one of many unknown supercar companies which released its first-ever prototype about five years ago.
The Hussarya's carbon-fibre body, designed by Lee Noble, is equipped with with redesigned headlights, a new front splitter, lightweight wheels as well as new exhaust outlets.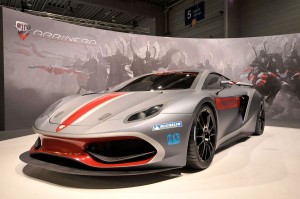 Under the hood of this rumbling beast is a naturally-aspirated 8.3-litre V8 engine, delivering approximately 789 horsepower and 663 lb-ft of torque. It is a significant improvement from its predecessor, which produces 650 hp and 604 lb-ft of torque with its General Motors-sourced 6.2-litre V8 engine.
Source: LeftLaneNews