The growing popularity of full-size pickup trucks in the Toronto area is actually quite impressive. Think about how many people you see every day commuting to work in a big honking V8 pickup trucks hauling nothing but air in the bed. Sure, maybe they use it on weekends to haul stuff, tow a boat, go hunting, or whatever challenges and adventures owners tackle with their trusted pickups. However, short of buying a cheap secondary commuter car, there has to be a viable alternative for these loyal owners. It's that proposition that has brought about a renewed interest in the mid-sized pickup truck market, and the leader of that rebirth has been the 2015 Chevy Colorado and its close cousin, the GMC Canyon.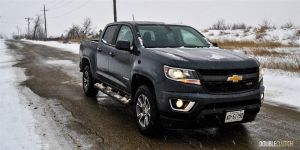 Naturally, I was pretty excited for the launch of these twins. I was one of the first in the country to have a chance to drive a GMC Canyon a few months ago and I came away feeling really good about this new contender in the market. My biggest complaints about my Canyon tester were that it was lacking a few important amenities and looked a little plain compared to some of the big muscular pickups out there on the road. Happily, GM has an answer to my qualms and that is the Chevy Colorado tested here, with the infamous Z71 package.
For me, the Z71 badge has always been associated with rugged off-road capability, so naturally the Colorado Z71 needs to look the part. Its unique 17" rims wrapped in aggressive all-terrain rubber, taller off-road suspension and Z71 specific projector beam headlamps with LED accents go a long way in helping the Colorado look much more aggressive and tough compared to any of the six other trim levels available.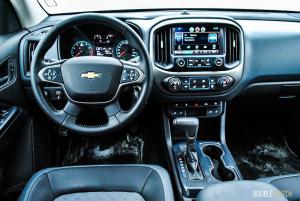 When it comes to trucks though, looking the part simply isn't enough. That's where the Colorado really surprised me, and where I suspect it will impress a lot of potential buyers. My February week with the Colorado was filled with nothing but loads of snow and bitter cold. Despite the adverse conditions, I rarely ever found a need to use the truck's 4×4 option. The locking rear differential and well-mannered traction control system kept the Colorado effortlessly rolling through deep snow and ice without any drama at all. When I finally decided to exercise the 4×4 system, the Colorado proved unstoppable through large snow banks and even down heavily rutted and snow covered dirt roads. On dry roads, this Z71 proved just as smooth and refined as the Canyon SLE I drove back in December, meaning you really don't need to compromise to have the extra capability of the Z71. Best of all, the Z71 package is only about $2000 on top of a 4LT trim level truck- well worth the money in my opinion.
Getting around in the city can be tricky even on the best days, so throw a snow storm into the mix and the downtown's tight streets and alleyways become all the more difficult. I've driven the city in plenty of full-sized trucks and every move does require an extra bit of caution. With the Colorado though, I was able to get around the winter-weary city with incredible ease. The Colorado's high ground clearance and capabilities made parking in snowbanks and navigating through poorly cleared streets a breeze, yet it's smaller dimensions meant I could still squeeze through narrow laneways and traffic without fear of whacking my mirrors into everything.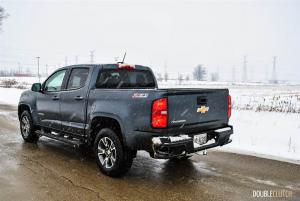 Whether I was battling city traffic or barreling through mucky backroads, the Colorado kept me in complete comfort. The seats in the Z71 are a combination of cloth and leatherette, which not only look tough but are also very supportive and heated. One of the things I've noticed about people who own trucks, myself included, is that we always want to be prepared and therefore tend to carry a lot of stuff around with us. The folks at GM know this and they've built the Colorado's interior with that in mind. The cab offers plenty of hidden storage and cubbies, while the rear seats in the crew cab fold up to reveal large storage bins. While those rear storage bins are great for small items, my personal preference would be a flat floor for loading bulky yet delicate items that I wouldn't want to risk in the bed.
Though the Colorado's cab is focused on practicality, it's still a very nice place to be. All the controls are easy to use, even with gloves. The Chevy MyLink infotainment with optional navigation system is as good as always, and the Bose audio is a nice luxurious touch. Another interesting touch GM has included in the Colorado is OnStar-powered 4G LTE WiFi; it can be programed to start and connect automatically whenever the truck is on, and can be used by up to 7 devices at once. It is a small feature, but it shows that GM is really thinking about their market.. 4G LTE might not mean much to an older farmer, but to a city-dwelling adventure seeker, it may just be the ticket. While my $38,100 Z71 tester came with all the important option boxes ticked off, a heated steering wheel is not yet available on the Colorado. Given the conditions these trucks are likely to be used in, it would be a very welcomed addition.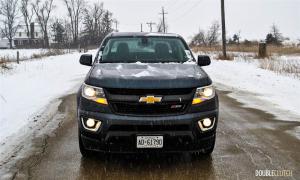 Now, you can't talk about trucks without talking about fuel economy. In December I averaged 12.5L/100km in the Canyon with the same 3.6L V6 and 6-speed automatic. Two months later, the temperatures have dropped considerably, snow has fallen and commuter traffic has slowed to a crawl. Bearing that in mind, my average for the week was 13.0L/100km. If you're comparing that number to a typical commuter sedan, it might not look very impressive; but compare that to the numbers most full-size truck owners are seeing and it starts to look pretty good.
Decent fuel economy doesn't mean that the engineers at GM have had to trade off any capabilities. The 3.6L V6 delivers 305 horsepower and the 6-speed automatic does a fair job at making sure you get to feel it. My only gripe with the powertrain is that, much like the GM full-size trucks, the throttle response isn't all that sharpl and the transmission can often be slow to downshift. The Colorado is also good for about 1600lbs in the bed, and can tow up to 7000lbs. Those numbers are far superior to anything else in the mid-size truck market today, and are more than enough for almost any typical light-duty truck task.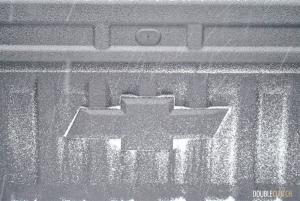 The big reason I am excited about the GM twins and their return to the market is that we finally have an excellent well-rounded and versatile truck that can do everything that the typical light-duty truck buyer would want, without having to be awkwardly big and inefficient in the city. It's all about the idea of "right sizing". This truck is small enough to commute to work in and capable enough to do everything you could ask of it. Towing your boat to go fishing or your race car to the track? Camper to the lodge? What about hauling your Kayaks up north to the lake? A Honda Civic makes a great commuter, but it won't do any of those things.
2015 Chevrolet Colorado Z71 Gallery