Ford has officially released details for the  2016 Ford Focus RS.
Underneath the hood of the third-generation Focus RS is the same turbocharged 2.3-litre EcoBoost four-cylinder engine found in the 2015 Ford Mustang, delivering over 315 horsepower. The Focus RS also has an all-wheel drive system and a six-speed manual.
The all-wheel-drive system includes a pair of electronically controlled clutch packs. They also use sensors that monitor conditions 100 times per second to distribute torque – up to 70 per cent is possible- between the front and rear axels as well as between the left and right sides.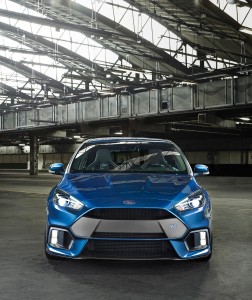 In order to upgrade its suspension, spring rates, bushings and anti-roll bars as well as a set of adjustable dampers with road and track settings have also been installed into the new Focus RS. The 19-inch wheels come wrapped in either Michelin Pilot Super Sport 235/35 tires or semi-slick Pilot Sport Cup 2 for track use.
To improve steering response and feedback, the RS has been equipped with an electric power-assisted steering system that works in combination with a more rigid front suspension knuckle design and shorter link arms.
While the last Focus RS was a three-door model, the new RS has a five doors as well as a roof-mounted spoiler, chunky side sills and a rear bumper integrating dual-exhaust tips and a diffuser. Four colours have been announced: Nitrous Blue, Stealth Gray, Absolute Black or Frozen White (seems like a certain someone was inspired by Disney's Frozen!).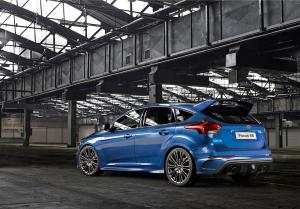 The vehicle's interior features a flat-bottomed leather trimmed steering wheel, a pair of front Recardo bucket seats, alloy pedals and a standard 8.0-inch touchscreen with Ford's Sync interface. The gauges above the centre console displays turbocharger boost pressure, oil temperature and pressure.
Can't wait to see the RS in all its dazzling beauty? The car will make its debut on March 3rd at the 2015 Geneva Motor Show.
Source: MotorAuthority