Remaining one of the bestselling crossovers on the North American market, the Honda CR-V is based on a pretty bulletproof formula. Families across the world have purchased hundreds of thousands of these capable little trucks since its introduction for the 1997 model year. Its last redesign was a bit on the conservative side in my eyes; the lines were rather bland and the overall profile just wasn't as sharp as its predecessor. For 2015 though, Honda has done a heavy mid-cycle refresh. I decided to sample a 2015 Honda CR-V SE for about 10 days and see just what all the fuss is about.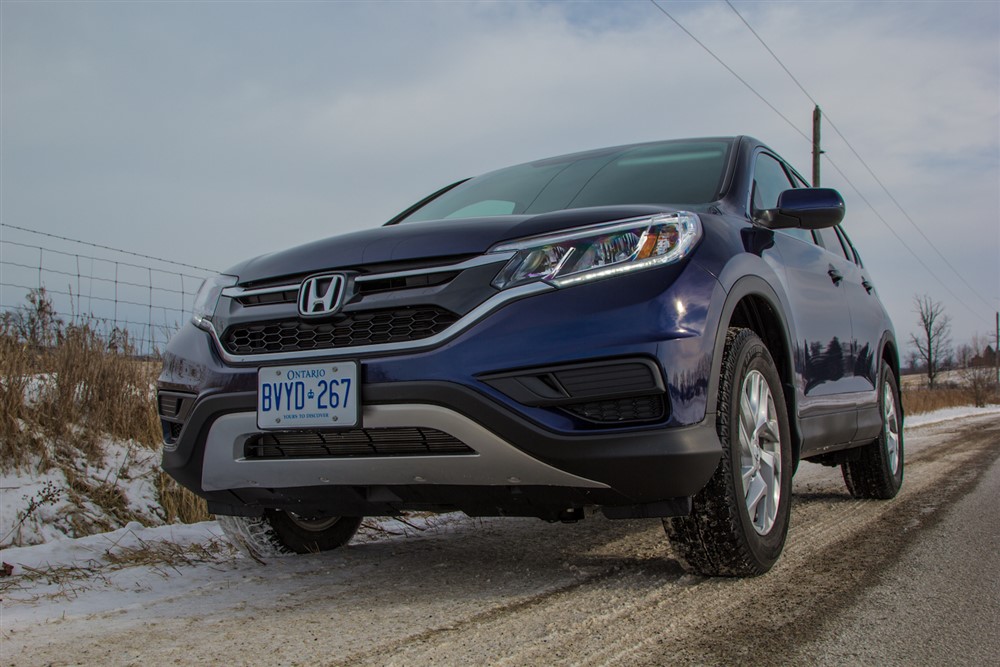 The most obvious change to the CR-V SE's front end is the new headlight design, highlighted with LED daytime running lights. They've taken a boring-looking fascia and morphed it to have a rather stylish look to it. A few little trim bits here and there have been changed, and Honda tells us that there have been over 60 modifications to the CR-V to ensure maximum structural rigidity. As we know, crossovers and small SUVs with their taller ride height are more prone to rollover accidents, so Honda has prioritized safety here. This will definitely give potential buyers some peace of mind when shopping for a safe, reliable family hauler.
Under the hood of the CR-V is a 2.4L inline 4-cylinder motor. Contrary to popular belief, this isn't the same 2.4L that was in the old car. It's a new Earth Dreams-series engine with a bunch of new parts. Horsepower is a modest 185, and torque has been bumped to 181 lb-ft (up from 163 in the last model). This is my first time spending an extended period with a CR-V, but I definitely remember just how slow and anemic the old one felt, and I partially blamed the aging 5-speed automatic for that. This one now has Honda's awesome new CVT, and the added torque to the engine helps the crossover move along with more confidence than ever.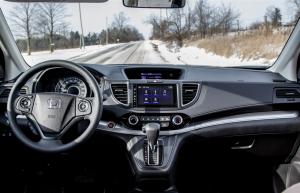 Even though it's a crossover, the CR-V hasn't forgotten the roots of the manufacturer it hails from. The steering is pleasant as in everything else Honda makes. It's linear and direct, and there's no nonsense with regards to handling. The CR-V doesn't bounce around on the highway, and tracks surprisingly well even in deep snow. My SE trim tester was equipped with Real Time AWD with the Intelligent Control System, allowing for exceptional control through a couple snowstorms I was able to guide it through. All-wheel-drive is actually standard on all trim levels except the base LX, which can be had with 2WD.
I've been lucky enough to drive literally every crossover on our Canadian market right now, a segment that's already crowded and still growing. A few of them, like the Kia Sportage and previous-generation Toyota RAV4 were available with V6 engines or turbocharged 4-cylinders. Now though, they all seem to have similar 4-cylinder powerplants with outputs around the 185-200 horsepower mark. The Subaru Forester XT is still a noteworthy player in the forced-induction game. As such, fuel economy is always similar; I managed 9.9L/100km in combined conditions over about 850km. This was in extremely cold temperatures, with a heavy mix of highway driving. Honda does allow the CR-V to use regular-octane fuel.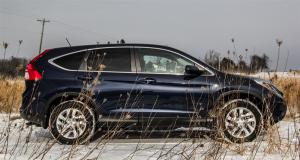 Introduced with the CR-V's plethora of updates for the 2015 model year is this new trim level, the SE. Slotted directly above the LX and below the EX, the SE is expected to be a volume seller. It takes the base all-wheel-drive LX, already available with things like a rear-view camera, heated seats, Bluetooth integration, and hill start assist, and tacks on a few things Honda feels most buyers will opt for if packaged right. For $1540 over the LX AWD, the SE gives you 17″ alloy wheels, the more premium infotainment screen with HondaLink, the LED daytime running lights, as well as the HondaLink emergency response system. Total price for the SE, you might ask? $29,840.
Infotainment has been a bit of a weakness in Hondas over the past couple years. They've been using the same setup on navigation-equipped models that has been around for almost a decade, and it's become rather long in the tooth. Starting with the new Accord in 2013, we saw a series of changes on newer models that included the implementation of a second screen, this one with touch capabilities, that helped a little bit. This latest system is actually pretty good; it leaves buttons for commonly-used features while implementing a responsive touch setup for other functions. It works very well and I think the majority of buyers will appreciate it.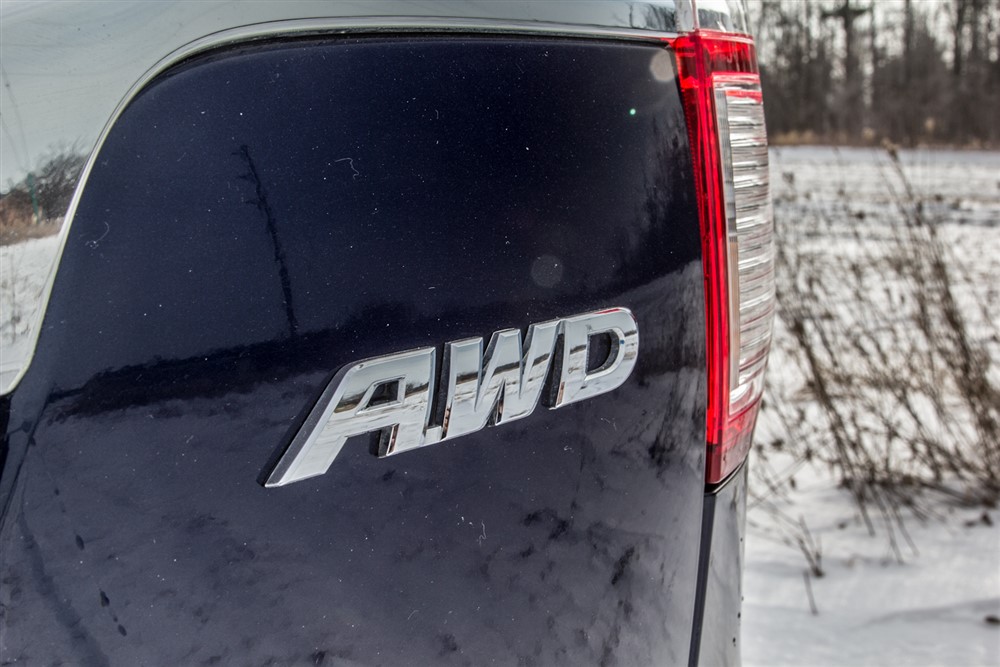 I did find a few small flaws with the new CR-V, but it's nothing that would really stop me from recommending it. The cloth seats in my dark blue tester were a light grey, way too reminiscent of the 1990s. The steering wheel isn't leather-wrapped, something the competitors do for less money. Lastly, the sleek 17″ alloy wheels on my SE do impact ride quality. I noticed this tester was a bit harsher over bumps than the base LX AWD we tested a couple years ago that was riding on 16″ wheels. Then again, most buyers wouldn't notice the slight difference over another model they're likely to not try out first.
The CR-V manages to sell unit after unit effortlessly, and it's because it uses a similar formula as the Accord. Honda learned soon after the CR-V's introduction that they had a hit, so they just continued on with the format that they knew worked well. I really like the Subaru Forester as well as the Mazda CX-5, so I'd recommend that anybody shopping in this segment to at least take those two for a spin before making a decision. However, both Mazda and Subaru have been notorious over the last decade for rusting issues, something that definitely is a very relevant factor for Canadians purchasing their vehicles. The Honda provides a level of comfort, simplicity, and peace of mind that nobody else seems to be able to touch, and for that it's worth definite consideration.
2015 Honda CR-V SE Gallery