A very unassuming missle. |
There's something to be said about cars that are truly understated. Some refer to them as sleepers, while I simply like to refer to them as "cars I'd actually buy". A Chevrolet Corvette Stingray will give you well over 400 horsepower. That's great and all, but that's a two-seat weekend and/or track car that will get a ridiculous amount of attention wherever it goes. I like cars that are classy yet unassuming, so it was only fitting to spend this year's holiday season with the 2015 Audi S6.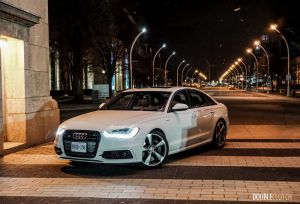 The S6 is getting a significant refresh for the 2016 model year, so this is my last chance to spend some time with the outgoing car that was the star of our most-read review of 2013. Audi has really worked wonders here; the S6 was one of the first S-cars I'd ever driven, and I've since driven all of its competitors. Somehow, this large German saloon still has a place in my heart. This was the first car to use the twin-turbo 4.0L V8 that's easily my favourite 8-cylinder on the market. This engine mated to the 7-speed dual-clutch S-tronic transmission allows it to sprint to 100 km/h in 3.7 seconds, a number very similar to its bigger brother, the S8, despite having 100 horsepower less. The S6 is a missile.
This 4.0L twin-turbo is good for 420 horsepower at 5500rpm, and 406 lb-ft of torque at 1400rpm. Simply put, the S6 feels like a rocketship. Not only is its power and speed worthy of praise, it's how the car behaves as this power is put down. The car sails to the desired speed without any hesitation whatsoever, and it makes a glorious rumble from under the hood as it does it. The engine sounds monstrous, but it really is quiet and doesn't attract attention; just my style. The larger S8 and RS7 use the ZF 8-speed automatic to handle the ridiculous torque, but the S6 uses the superior (in my opinion) S-tronic. It shifts crisply and quickly, and despite being applied in a proper performance sedan, never leaves you missing that third pedal.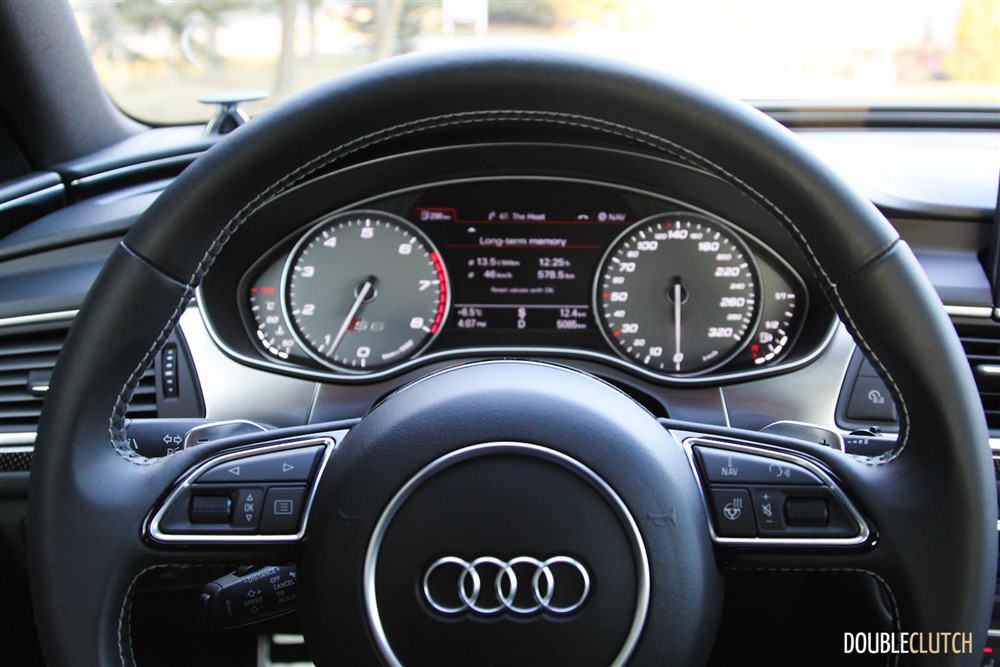 I used Audi Drive Select in the MMI interface to configure the "Individual" setting to my liking. For daily driving, I left the Engine/Transmission, Sport Differential, Suspension, and Adaptive Cruise in the "Comfort" setting, while leaving Steering and Engine Sound in "Dynamic". If the entire car is put into "Dynamic", it's surprisingly lively for such a large car. The S6 is one of those chameleons; it really does adapt to the driver's liking. I couldn't get over how athletic it is when taking it through some of my favourite driving roads, even in the winter. Audi's quattro permanent all-wheel-drive and the Pirelli SottoZero winter tires both do an excellent job of keeping the S6 planted in every environment. The steering is heavy at higher speeds, just as I like it, but it does leave a bit to be desired in the feedback department. It's technically brilliant, but doesn't exude the same amount of passion as previous models.
Fuel is another story with the S6, but it's not something I'm going to complain about. If you're spending $85,000 for a car in this segment, but you want to save some fuel, Audi will gladly sell you an A6 or A7 TDI, both of which are beautiful choices. BMW will also sell you a 535d, which is a close competitor. However, if you buy the 400+ horsepower model with the big honking "S" badge on it, you shouldn't be hoping for thriftiness. Driving normally with a 50/50 split between city and highway driving, the S6 hovers around the 13.5 to 14L/100km mark. On one extended highway run, I kept everything in "Comfort" and used as light a foot as I possibly could, and I averaged 9.8L/100km. The S6's tank will take up to 75L of premium fuel.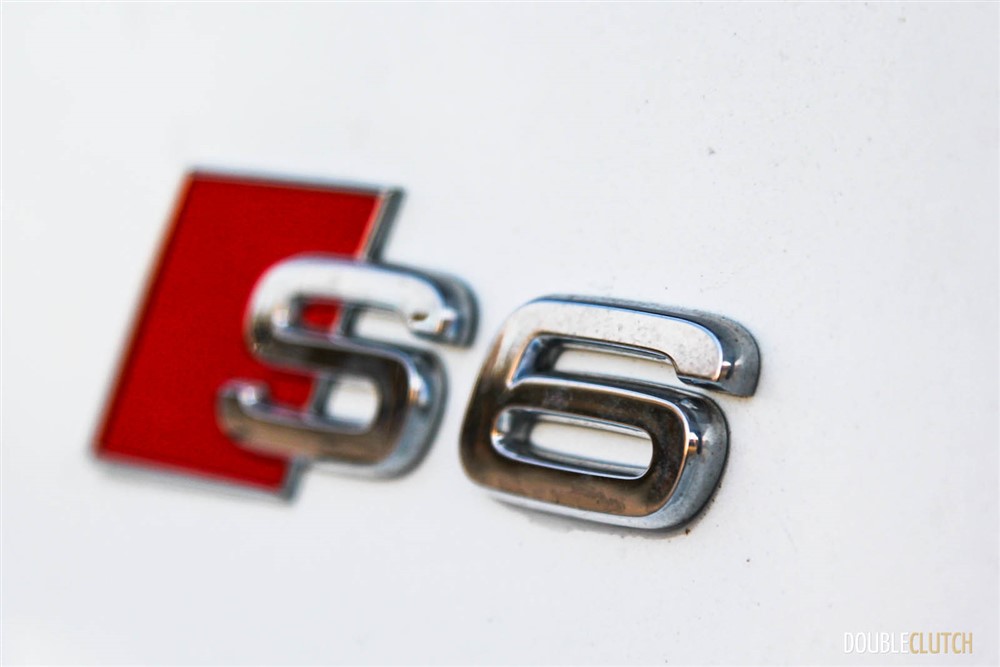 Painted in a gorgeous Glacier White Metallic and finished with the $1,600 Black Optics Package, my Audi S6 was absolutely stunning. The 20" 5-arm Rotor-design titanium wheels are aggressive and add that sporty edge to differ it from the "regular" A6, already a beautiful car. The lines are classic Audi with just the right amount of modern to help it evolve with the rest of the lineup. LED headlights add that crispness to the front end, contrasting nicely with the blacked-out grille.
Interior accommodations on the 2015 S6 are scrumptious. The quilted Valcona leather seats with fixed headrests are heated and adjustable in as many ways as you can think of, including deployable thigh support. An available option package can add the ability to cool and massage as well, but that changes the stitching pattern on the seats, and I much prefer these. The dashboard and center stack are accented with carbon fiber The instrument cluster is both clear and easy on the eyes, and there's a colour screen in between the gauges that displays navigation info, trip info, audio, and also doubles as the screen for the night vision my car was equipped with.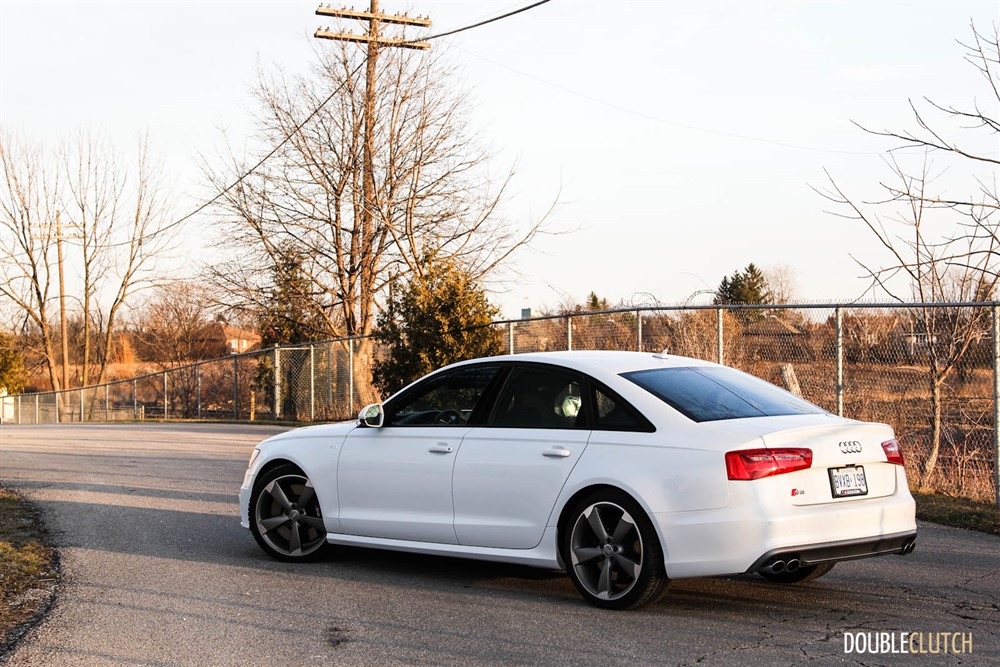 Adding onto the base price of $85,000, my car had the aforementioned Black Optics Package, the heads-up display, Driver Assistant Package including Adaptive Cruise Control, Audi Side Assist & Active Lane Assist, and finally, the Bang & Olufsen sound system. The as-tested sticker on this S6 was $100,700. Not cheap by any means, but this svelte sedan is worth every penny they want for it. The Bang & Olufsen here is a $6,500 option, and adds a level of clarity and precision from the 15 speakers and 1,200+ watts that's unmatched by anything else in its class. It plays any genre of music effortlessly and there's impeccable accuracy throughout the volume range. This is a serious system. Audi's MMI infotainment is great, but the upcoming 2016 refresh will feature the updated system that we've previewed in the existing A3/S3.
This car was the perfect holiday surprise. I was able to evaluate it in the traditional sense, as well as use it for Christmas errands and allow it to make an appearance at Christmas parties. On one occasion, I was enjoying dinner with some friends at a restaurant when a young gentleman came running into the restaurant huffing and puffing. He stopped at his buddies and, struggling to catch a breath, blurted "guys, there's an Audi S6 outside!" His comrades seemed to be car guys and asked if it's the V10 one, and he replied confidently "No, it's the new biturbo!" Three of the five gents at the table promptly ran outside, and began photographing the car with their phones as we watched quietly and discretely from the window by our table.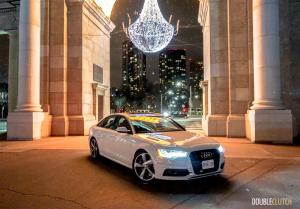 This is what makes the S6 so special. Car guys (and girls!) love it because they instantly know that the "S" badge means it's no ordinary sedan, while it flies under others' radars with its unassuming nature. As well as this, the driver is kept in the utmost comfort when on a long highway run, and it makes the heart race on the great driving roads we purists love so much. It's pretty much a given that nobody will call you a pompous ass for driving a white Audi sedan – literally everybody seems to understand that this is a car considered universally elegant.
2015 Audi S6 Gallery