There are cars, and then there are amazing cars. We've had the pleasure of testing nearly every type of Mazda Miata they sell in Canada, and our editor-in-chief presently owns one of the oldest documented Miatas currently on Canadian soil. Even still, when we decided to spend just over a week out in Southern California exploring some of the most beautiful driving roads in North America, we jumped at the chance to drive yet another one. Mazda was kind enough to provide one of the cars for our trip; a 2015 Mazda MX-5 Grand Touring.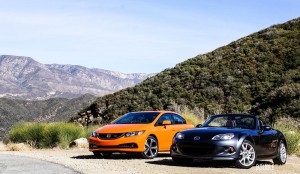 Uniquely spec'd compared to the models we get up here in Canada, our MX-5 was painted in a downright sexy Meteor Gray Mica with a brown convertible top and Spicy Mocha leather upholstery. It's definitely worth emphasizing that rather than bearing the Power Retractable Hard Top (PRHT) that every single Canadian press fleet Miata has, our car had a manually retracting soft top. It's light, it's durable, and it's easy to operate. Instead of waiting ~20 seconds at a traffic light for the PRHT mechanism to do its magic, you simply unlatch the top and it quickly drops behind the passenger cabin. Lifting it back up is easily done with one hand, too.
The US-spec Grand Touring is pretty similar to our Canadian-spec MX-5 GT, but it does give you the option to opt for either the PRHT or this soft top. Our car was also equipped with the Premium Package and the Suspension Package. The former includes Xenon HID headlights, keyless start, Bluetooth capability, Sirius Satellite Radio, and an anti-theft system. The suspension upgrades include Bilstein shocks all around, a sport-tuned suspension, and a limited-slip differential. This is definitely the way to have the MX-5; the automatic climate control, the leather interior, and the Bose stereo set off the rest of the car beautifully.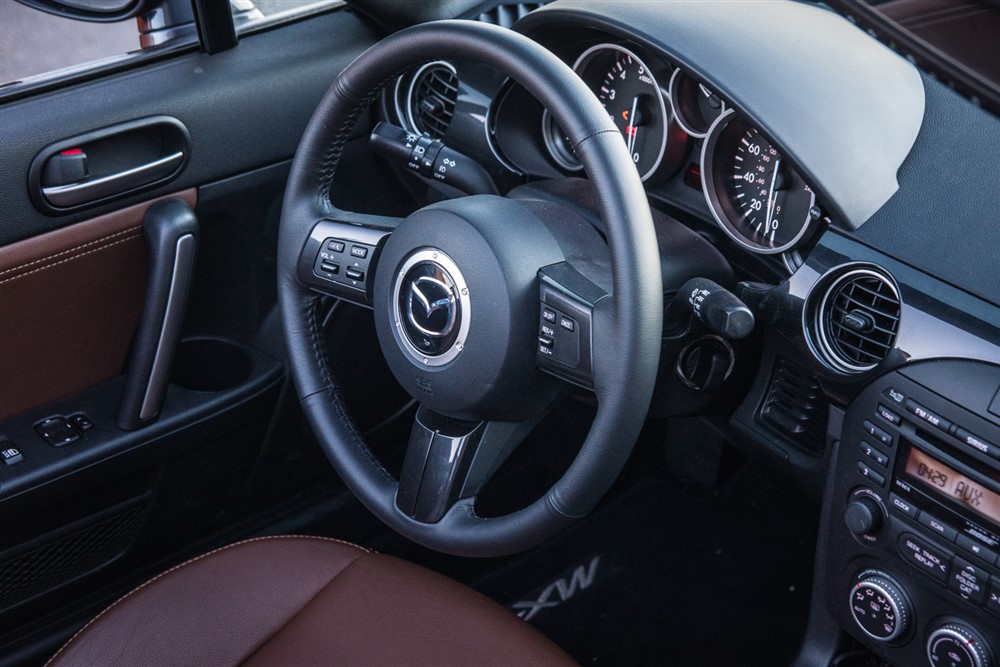 Like all other Miatas produced this year, this one has the same 2.0L 16-valve 4-cylinder engine. Because this is an older design dating back to 2006, there isn't any fancy SkyActiv stuff here; that's to be expected on the fully redesigned 2016 model, due mid-next year. This car puts out 167 horsepower at 7,000rpm, and 140 lb-ft of torque at 5,000rpm. It's not the quickest car out there, but when you're pushing corners on legendary roads such as Angeles Crest Highway north of Los Angeles, you won't miss the additional power. Power delivery is so linear and smooth, and the 6-speed manual transmission makes for beautiful shifts.
The transmission and the handling are the two key areas that define why the Miata has such a loyal cult following. Our MX-5 adored being pushed right up to its 7,200rpm redline, and the short gearing means when booting through the canyons, the transmission can be played with to keep the car at the perfect RPMs for any situation. The shifter is short and extremely precise, but the light flywheel means the revs drop hard as soon as you let off the throttle. This is particularly good for entering corners, but I wouldn't mind a little bit more power on exit.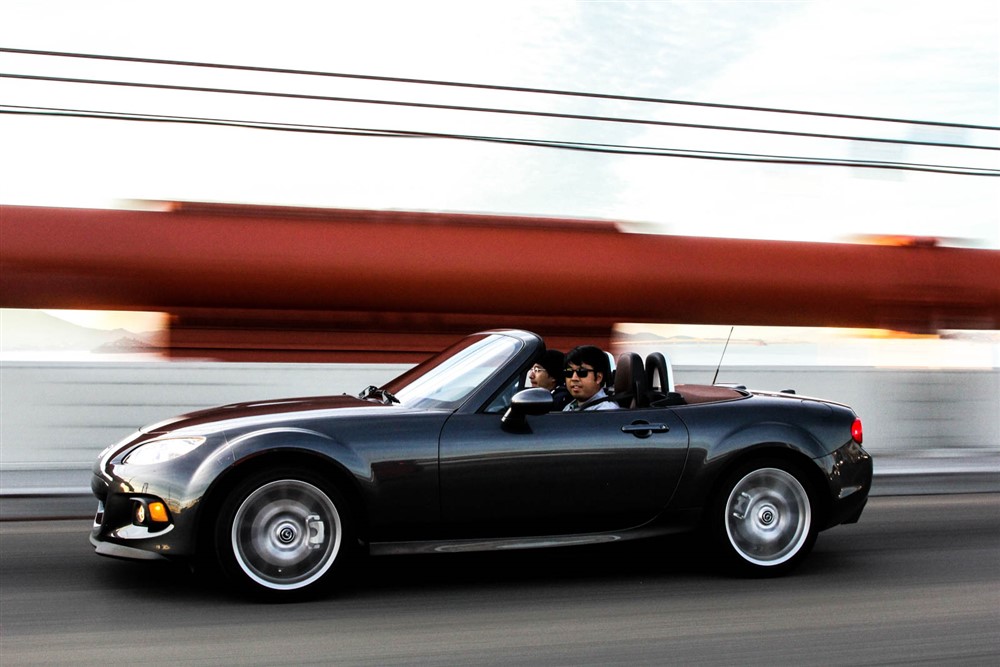 I really can't emphasize just how special this car felt in the mountain roads. It was so at home both on the legendary Pacific Coast Highway as well as the hills of San Francisco. The insane steering and the amazing pedal placement (heel-and-toe downshifts are flawless) make for a perfect combination. There's a button located on the left side of the dashboard that disables both traction and stability control to pug maximum control into the driver's limbs. At the top of one of the mountains north of Mulholland Drive, we actually discovered the temperatures dropping to near freezing, and there was a little bit of snow on the ground. On summer rubber, the Miata's rear end got a little squirrely pretty quickly, and we loved every second of it.
The driving position of the NC MX-5 is bang-on, and the fact that the car is a little bigger than its ancestors, the NA and NB helps larger folks stay comfortable for longer distances. Over our 10 day stint, we put over 2,000km on the MX-5, and this included quite a bit of long-haul highway driving. This included quite a few gas fillups, so we were able to accurately obtain some good fuel readings. If driven highway-only, the MX-5 can do as well as 29 MPG, which translates to 8.1L/100km. Over the course of the week, which included plenty of mountain road driving, we averaged 27, or 8.7L/100km. We only used 91-octane fuel, which Mazda recommends for this car anyhow.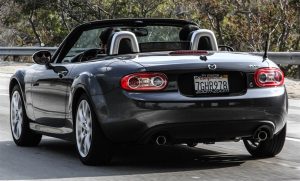 The new 2016 MX-5 is almost upon us, and we did see it in person for the first time at the LA Auto Show. With the current generation in its ninth production year, one can feel its age in certain areas. For example, this top-level Grand Touring model does have Bluetooth capabilities, but you can't stream audio from your external device wirelessly. Also, there's no USB port, so the only way to play music off your iPod is through an auxiliary cable. There are no automatic headlights, and the stereo display is a one-line monochromatic screen, not unlike that of a calculator. However, as evidenced by the latest iteration of Mazda3, we know that Mazda doesn't mess around; they're keeping with the times. All of these issues have been corrected in the new car, as well as a ton of weight reduction.
Is this the perfect car for a coastal road trip? Well, let's put it this way: we did this drive with both the MX-5 as well as a 2015 Honda Civic Si. There were four car guys between the two cars, and a proportionate amount of luggage and camera gear for the trip. The Civic was a sedan and its trunk gladly ate up all of the big bags and camera gear. We chose to stick one small carry-on and a couple of messenger bags in the Miata at all times, and some miscellaneous objects like water bottles and such. There are a few compartments on board for storage, coffee cups, water bottles, phones, etc., but the MX-5 isn't a minivan and it doesn't try to convince you otherwise.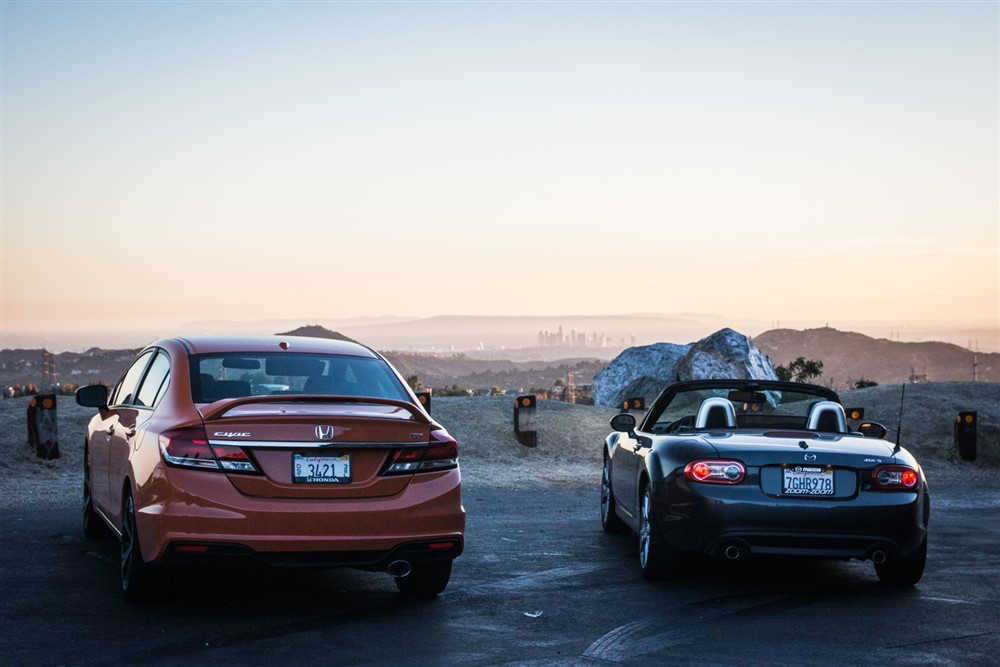 This car is unbeatable for the driving experience; it's a magical formula and it's a shame that nobody else continued producing a lightweight, rear-drive, manual transmission convertible for the same price as a Camry. No other car has kept such a large grin on our faces for this long. During our stint in California, we saw an absurd amount of MX-5s, and because of the lack of salt and snow, even first-generation models were minty fresh. Miata owners greet each other with the "Miata wave", which includes popping the headlights up and down on older models. Mazda has an icon on their hands, and we loved every single minute with it. Turning the in keys to our newfound friend at LAX on our way out was a sad experience, but we're sure that the new model will be just as faithful a companion.
Road Trip: 2015 Mazda MX-5 Grand Touring