MINI has confirmed that they will unveil a limited-edition version of the Cooper S Hardtop called DeLux at the New York International Auto Show next week.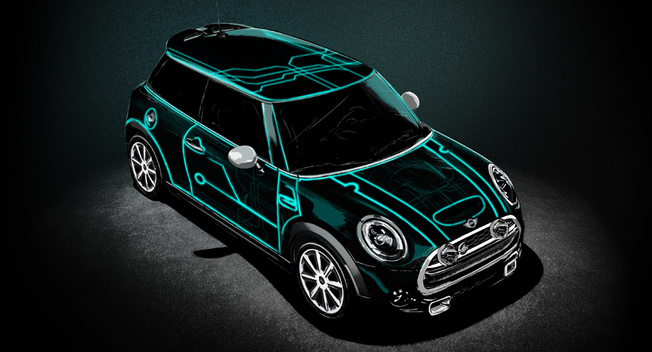 Designed by Alex Coyle,  a sophomore at Virginia Commonwealth University, the DeLux is the winner of the Final Test Drive contest that kicked off online a few weeks ago. The contest asked current MINI owners to design a modified appearance package for the recently-unveiled third-generation Cooper S.
Starting with an all-black MINI, Coyle added black light-inspired graphics on virtually every body panel giving the car a very futuristic and unique look. The visual effects come alive in the night. Rally-inspired and classic MINI driving lights on the front grille and 18-inch wheels add a sport touch to the already dazzling look.
There are no interior pictures as of yet but MINI says the DeLux has an off-white dash contrasting the Black Pearl leather/cloth seats. MINI also says it comes completely fully loaded with optional equipment.
The DeLux will be offered on the 189-horsepower Cooper S model, and MINI has not announced if the DeLux package will be offered on the base Cooper model. Pricing information for this limited-edition Coop' will be published closer to the car's release date.
Source: LeftLane