Audi has hinted at what they will be debuting for the Beijing Motor Show that is quickly approaching.
The automaker has a new crossover concept in the works that has similarities to the new TT. The five-door crossover has a low roofline and what looks to be a spacious interior with quad bucket seats, with the rear ones able to fold flat for extended luggage capacity.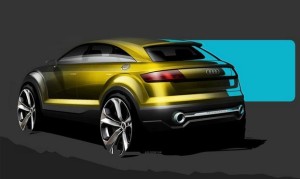 The three-door Allroad Shooting Brake that was unveiled at the Detroit auto show in January will be shared with the new crossover, suggesting Audi is already onto creating a series of new crossover-style SUV models.
If the concept is put into production, it could wear the Q4 badge, competing against rivals like the BMW X4 and the Porsche Macan. Until the official release in Beijing, everything is just speculation. The Beijing auto show is set to kick off on April 24.
Source: Autoblog