Mirabel, QC – Many of us car enthusiasts grow up reading about and watching videos of the BMW, Mercedes-Benz, and Audi corporate driving experiences. I've been fortunate enough to be on plenty of track days with a ton of different vehicles, but nothing could have prepared me for what I was in store for. Earlier this week amidst preparations for the Canadian International Auto Show, I was flown to Circuit ICAR in Mirabel, Québec to experience the BMW Winter Driving Experience.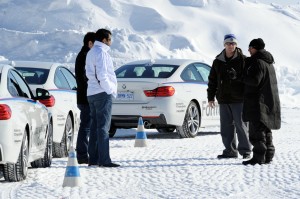 My day started in my Montréal hotel room around 6:00AM on a Monday. After a shuttle ride to the International Center of Advanced Racing, we were introduced to Philippe Létourneau, the Chief Instructor for the day. We were briefed on the day's activities in what could possibly be the best classroom setting – Philippe is approachable and extremely personable. No matter how novice a driver you may be, he will adapt his techniques to your needs and preferences.
The itinerary consisted of activities such as acceleration/braking, slaloms, understeer/oversteer techniques, reverse 180*, and driving around an hourglass-shaped track. Naturally, with it being a "winter" driving experience, the entire day is spent driving on the snow and ice. Philippe and his team of experts took roughly an hour to educate and inform on the program and what challenges we could expect to face throughout the day.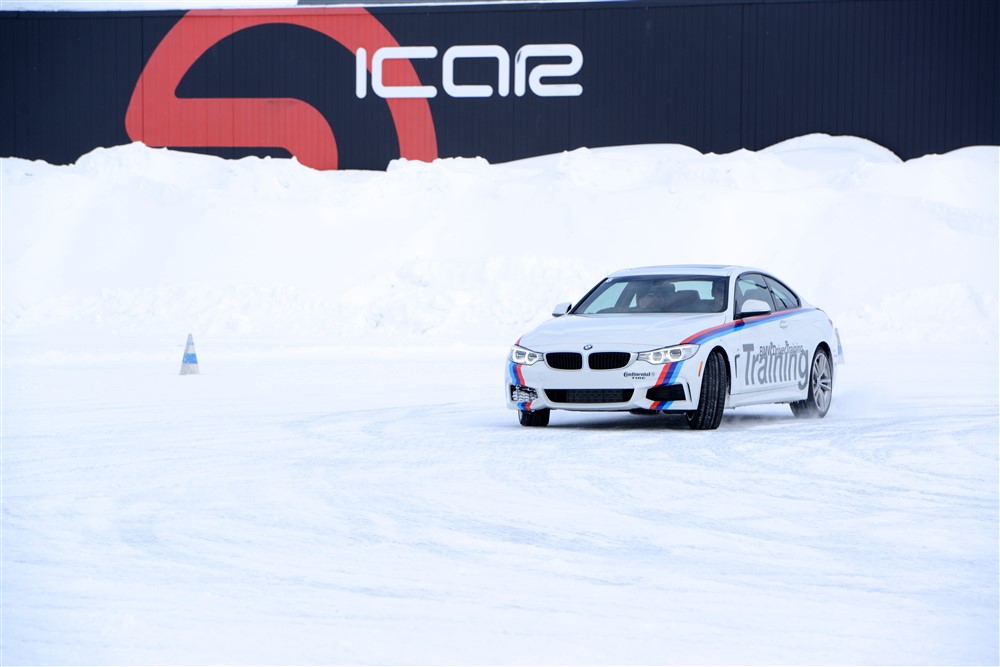 Our track weapons would be brand new 2014 BMW 435i Coupés – half of them equipped with xDrive all-wheel-drive. My driving partner and I were lucky (read: sneaky) enough to score one of only two proper manual transmission cars on the fleet; the rest are equipped with the excellent ZF 8-speed automatic. Naturally, all of the cars were equipped with BMW's slew of safety features as well as Continental winter tires. We had the opportunity to drive with and without electronic nannies, demonstrating to the public the benefits of said nannies. Personally though, I get the most enjoyment out of my drive by turning off stability control systems.
The BMW Winter Driving Experience team has also installed a "magic switch" on their track cars – engaging this switch completely turns off all DTC, ABS, and stability systems. This was particularly noteworthy in the braking and emergency avoidance maneuver. It started by being asked to accelerate to 50-60 km/h. Subsequently, an obstacle would pop up, and we would have to brake as hard as we can while swerving to avoid the obstacle.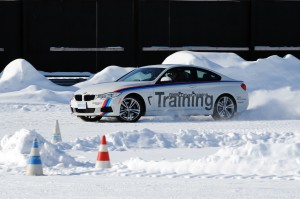 Morning lessons mainly consisted of defensive driving techniques that can be applied to your every day commute. Understeer and oversteer as well as ABS behaviour are things that the typical Canadian driver faces regularly. It's important to know exactly how your car will behave in different circumstances in order to properly avoid collisions. After the lunch break, enthusiast-oriented activities are put into play to encourage fun and eliminate fears of driving during poor conditions.
The final challenge we were asked to do was a timed autocross lap – one in which every single technique used throughout the day was put through the test. It started with a reverse 180* turn (these are particularly fun), forcing the car to oversteer and drifting around a circle, through a slalom, and braking to a stop in a marked area. Winners were awarded prizes from participating sponsors.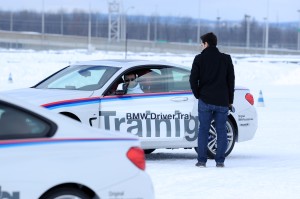 In my opinion, those who live in snowy areas (read: us!) should be forced to take a defensive driving course that specializes in winter conditions. To be perfectly honest, I think courses such as BMW's Winter Driving Experience should be absolutely mandatory. It's important to note that the high-speed techniques as well as forced oversteer and drifting are not meant to be used on public roads. To the car enthusiast, speed as well as the ability to put a car completely sideways is enthralling to a point of exhilaration, so this course is a great way to learn how to push a powerful car to its limits on a closed course as well.
This Winter Driving Experience costs just under $800, so it isn't considered particularly cheap. However, the lessons you learn are guaranteed to make you a more defensive and confident driver. Plus, it's a serious boatload of fun and is definitely the best day I have had in a very long time.
Register here:
BMW Winter Driving Experience
BMW Winter Driving Experience Gallery
See Also: