VW creates an even hotter hatch to add to the already great lineup
China could be getting better with an even hotter hatch than before. Volkswagen's Golf R has a new sibling, the Golf R Evo. The Golf R Evo is set to be unveiled in April at the Beijing auto show.
Like the Golf R, the Golf R Evo will be a more extreme version. The weight will be reduced significantly because of the use of the carbon fiber body panels, lighter wheels, and thinner seats. The rear seats will be replaced with a roll cage and will help with the sporty feel of the car.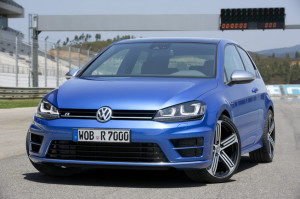 The Evo will be powered by the Golf R's 2.0-litre TSI that will put out around 370 horsepower and 330 pound-feet of torque, letting the hot hatch go from 0 to 99 kilometres per hour in under 4.9 seconds. The power will be sent to all four wheels by a six-speed dual clutch transmission. Official details will be announced closer to the debut in Beijing.
Source: LeftLane