The Toyota FT-1 could very well be the future of the Supra after the automaker filed for renewal of the sport car name.
The Toyota FT-1 has been quite a hit after it made its debut in Detroit, being called the next Supra and high hopes of its return. Although Toyota has not officially come out and said that it will be made, the constant hints and publicity show good signs for the FT-1's future.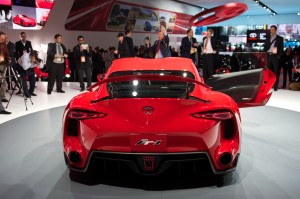 The automaker's original trademark for Supra was originally established in 1979, and expired in 2006, four years after the last car left the assembly line. Just last week, on Feb. 10, Toyota filed for a new application with the United States Patent and Trademark office to register the name Supra again. Although these are good signs for the resurrection of the sports car, Toyota has not made any confirmations about it.
If everything goes well, the FT-1 could be hitting production as early as 2016, and the FT-1 will be comparable to the Acura NSX and the Nissan GT-R. Rumours suggest that the FT-1 base model will have a 2.0-litre turbocharged four-cylinder engine, and an upgraded version offering a 2.5-litre turbocharged V6 hybrid good for about 400 horsepower.
Source: LeftLane