Top 5 Expensive Cars To InsureWhen we talk of super cars, we often talk about their outrageous price tags as well. However, what's rarely part of the conversation is the immense insurance costs that go along with owning such cars.
Autoblog (with the help of auto insurance dealer Kanetix) compiles a list of the 5 most expensive cars to insure. Needless to say, the vehicles in questions are not what you would see on your regular commute. The list of cars that Autoblog researched to determine the highest rates included the crème de la crème of the sports car segment; from Rolls-Royce to Lamborghini to Bugatti. From this they've complied a list of 5 most expensive insurance premiums.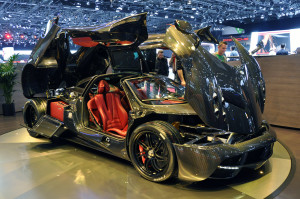 The Pagani Huayra comes in at the bottom of the list with the "cheapest" insurance at $23,611 per year.
  Although it goes without saying, the basic reasons for the ridiculous insurance premiums on these cars are the same as the reasons why these vehicles cost so much in the first place (the range of the cars on this list is $1.3-$2.6 million). These factors include the immense rarity of the materials used in the production of these cars (the intricate carbon-fibre panels, the titanium chassis', etc.) Along with the materials, the makers of these vehicles are some of the most highly trained in the industry and repairing these cars takes the same level of talent. So who makes the cut? Check out the list below:   5) Pagani Huayra (Cost: $1.3 million)
 Annual Insurance Cost: $23,611
Italian built exotic with a 700hp Mercedes-Benz V12
4) Aston Martin One-77 (Cost: $1.4 million)
Annual Insurance Cost: $23,826
British built exotic with a 750hp, 7.3 L V12
3) Koenigsegg Agera R (Cost: $1.7 million)
Annual Insurance Cost: $30,876
Swedish built supercar with a 1,115hp 5.0 L V8
2) Zenvo ST1 (Cost: $1.8 million)
Annual Insurance Cost: $42,240
Danish built supercar with a 1,250hp V8
1) Bugatti Veyron Supersport (Cost: $2.6 million)
Annual Insurance Cost: $50,855
French built hypercar with a 1,200hp W16 engine
Unsurprisingly, the Bugatti Veyron Supersports tops the list at $50,855 per year for insurance.
Source: Autoblog.com