Replacing last generations RS 5 V8, is a new lean and mean 2.9 liter Bi-Turbo V6.
Audi's second generation of the RS 5 was long awaited. Released in Geneva this year, the 2018 Audi RS 5 coupe brings a whole new powerplant under the hood and a number of modifications to the exterior. It aims to combine aesthetics with daily drivability to make it the ultimate gran turismo vehicle.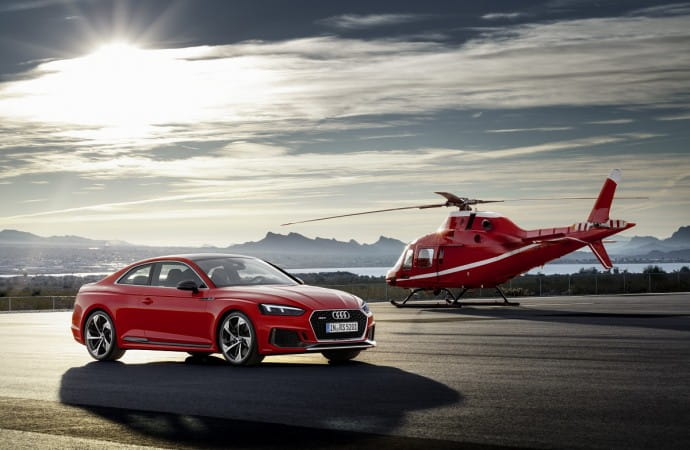 Last generation's RS 5 packed a monstrous 4.2 liter V8 under its hood, which was sourced from the V8 Audi R8, and generated 450HP. Although the purists may be disappointed, under the hood of this years model is a fast and efficient, developed from the ground up, 2.9 liter V6 biturbo engine. Although it produces the same amount of horsepower, 442.5lb.-ft. of torque help reach 100km/h in 3.9 seconds which is 0.1 seconds faster than its predecessor. An optional Audi Sport RS exhaust system is available to broadcast this new tone to the world. The more notable accomplishment is the fuel efficiency gain, with this generation averaging 8.7L/100km. This 17% gain over last generation can be due to the new powertrain and weight savings throughout the vehicle such as from an optional carbon fiber roof.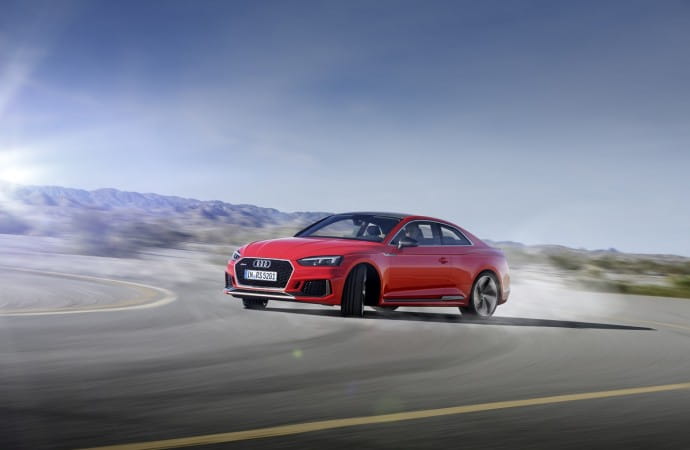 The engine is mated to an 8-speed tiptronic and, although it is not dual clutch system, has been optimized to deliver fast shift times. Quattro comes standard on all RS models and, on the RS 5, features a 40:60 power split ensuring dynamic handling and traction in situations where its needed most. To further handling performance, a five-link sport suspension, Dynamic Ride Control and dynamic steering help customize suspension tuning and steering settings to each driving situation. An optional Audi Sport rear differential and carbon ceramic brakes are also available.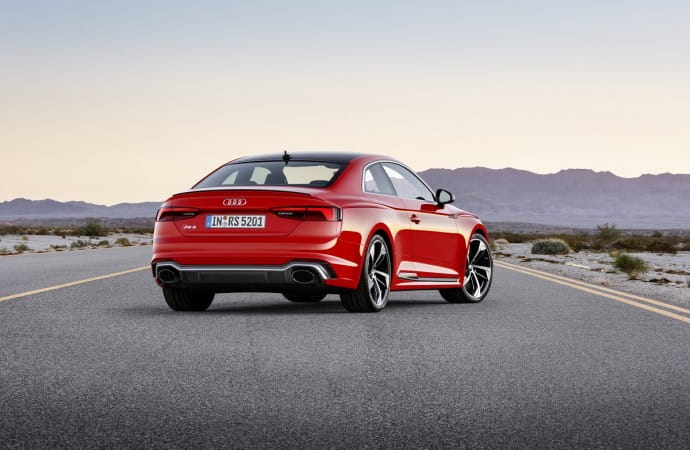 The exterior of the new RS 5 builds on the controversial design of the new A5. To differentiate this model from its siblings, Audi uses its iconic RS-honeycomb grille, larger air intakes and outlets, and a darker tinted headlight and taillight lens housing LEDs. Additionally, the body features more bulges around the wheel arches making the new RS 5 more wide and, ultimately, more aggressive. Other appointments made to the body include an RS-diffuser, oval tailpipes and a carbon fiber truck lip. The exterior can be had in three trim styles including carbon fiber, gloss black or matte aluminum.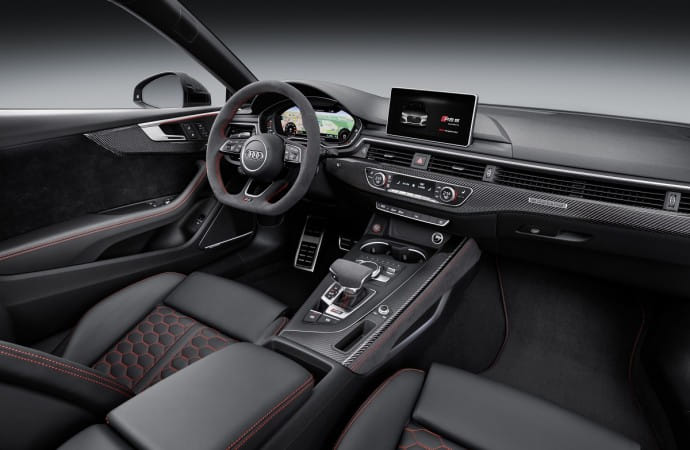 Inside, the sporty aura is upheld without drowning out luxury. RS sport seats with contrasting red stitching can be had in an optional diamond stitching that includes Fine Nappa leather. As with other Audi sport models, a flat-bottomed RS steering wheel allows driver input. RS logos bathe the interior, including the Audi Virtual Cockpit which features special RS displays. Behind the steering lies information regarding tire pressure, torque, g-forces and even a shift light. Technology and driver assistance are not forgotten with the RS 5 featuring the same technology and safety features as its less powerful siblings.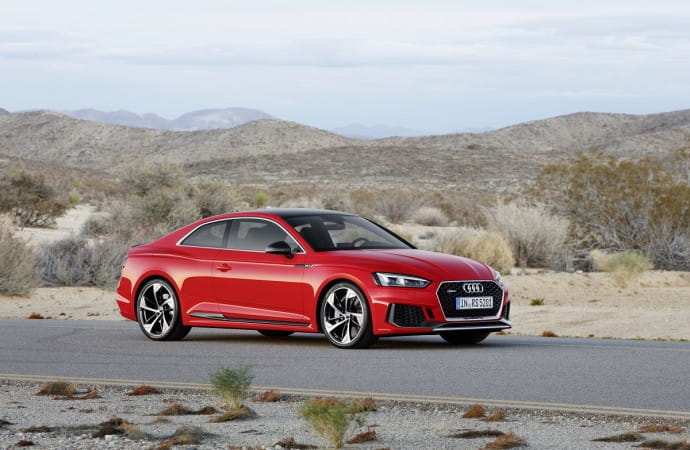 The new RS 5 will be available in Europe this coming June with deliveries being made to North America shortly after. It is expected to be around EUR 80,900.