An Autumn Adventure to the Big Apple Inspired by films such as The Hangover, we decided to embark on a journey to what is quite possibly the greatest city on this continent, New York City.
When I knew I'd be getting to spend a week with one of my all-time favourite sport-utility-vehicles, I decided to join forces with two close friends, who also happen to be car enthusiasts, and turn the week into a full-on adventure. Inspired by films such as The Hangover, we decided to embark on a journey to what is quite possibly the greatest city on this continent, the Big Apple. Said vehicle of choice? The 2012 Acura MDX Elite. At just over $63,000 as-tested, it should be able to handle the beautiful winding roads of the Appalachians, the long straightaways on the Interstates, and even the intense gridlock of downtown Manhattan.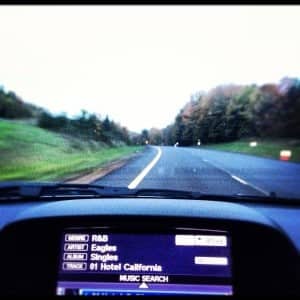 We hit the road around 0700 on a Thursday, and were absolutely perplexed by the fact that there was frost on the windows at the end of September. Are we really that close to fall, and ultimately, winter? Loading our three duffel bags into the MDX initially filled up the trunk area, until I decided that we weren't driving our kids to soccer practice, and folded down the third row. The seats actually folded so flush into the floor that it's nearly impossible to tell that the MDX is a three-row SUV. It's probably a good thing, too, because the third row is toddler-only. For anyone over four feet tall, it's difficult to access and even more difficult to find a comfortable seating position within it.
As we started on our journey, we seamlessly connected an iPod that contained what's quite possibly the best driving playlist of all time. Starting with "Hotel California" by The Eagles, we proceeded to go through the wonders of the 80s, 90s, and even current Top 40. It's no surprise that Grammy-winner Elliot Scheiner helped develop the ELS surround-sound system, because despite lacking some bass, the audio quality in the MDX was top-notch. Our nuisance of a friend lounging in the second-row was rather picky with his song selection, so the rear controls were a welcome touch to keep him from driving us absolutely insane.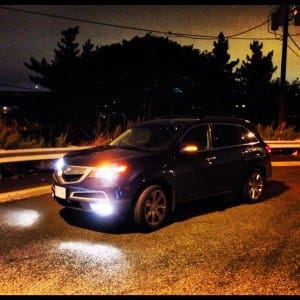 My friends have adamantly come to terms with the fact that my obsessive-compulsive nature means that no food is to be consumed inside the vehicle at any time. Beverages however, are allowed provided they are covered and there's a minimal chance of spillage. My logic is, regardless of a lack of time constraint, there's no reason to unnecessarily have the need to make pit stops to pick up unhealthy fast food or repeat visits to the fine restrooms on New York's interstates. One of my comrades was particularly helpful in this regard, continuously making calculations regarding time, tolls, fuel mileage, and total budgeting. Steadily cruising at a safe 5 mph over the limit, the MDX was averaging 9.6L/100km. The second the Appalachians hit however, economy took a steady nosedive as we hit a thirsty 13.9L/100km.
Adaptive cruise control is an option I particularly enjoy, moreso for the sole factor of having such a concept than the actual usability of it. I will say however that being a car enthusiast, I have been known to be a habitual speeder. A healthy combination of self-control and cruise control keeps me in line. Unfortunately, one of my co-drivers wasn't so lucky. While enjoying the "super-handling" part of the SH-AWD (short for super-handling-all-wheel-drive), we had a visit from New York State's finest. Evidently the 300-horsepower of the MDX Elite isn't just for show; it's also capable of doing 15 mph over the speed limit. I'm sure it's capable of more but we didn't try to find out.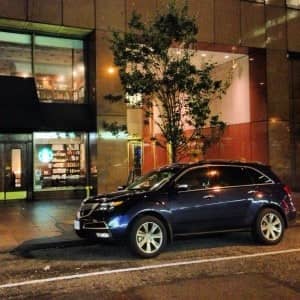 Entering Manhattan, I was immediately struck with something that befuddles me every single time I'm in New York City. The sheer chaotic nature of the traffic and the interactions between motorists, taxi drivers, and pedestrians never ceases to amaze me. Here in Toronto we observe our average speed, fuel efficiency, and driving time; whereas in Manhattan, arriving at your destination in one piece is typically something worthy of an award. Everyone seems to be in a hurry, and there is zero regard for lanes, signalling, or blind spots. In Toronto, if someone lets you merge out of an ending lane, you thank them with a quick wave. In Manhattan, no one lets you merge, and if someone does, they'll likely present you with a certain one-finger salute.
Maneuvering the MDX through the streets of Manhattan was certainly a chore, and it's where the car didn't quite meet my expectations. If I wanted to feel like I was driving a school bus or a large minivan, I'd have done so. Varying greatly from its Honda roots, the throttle response on the MDX isn't quite there; it takes a considerable amount of travel on the accelerator to actually get anywhere. This makes quick advances an issue. It also leads to absolutely horrendous fuel economy in the city.
There's no doubting that it has a very balanced and confident presence in the city however. The MDX fits right in on Wall Street beside the S-Classes, BMW 7-series and dark tinted GMC Yukon XLs, giving off a vibe of class and modesty at the same time. It surprisingly blends right in with the Cadillac Escalades, Chevrolet Impalas and retired taxi Crown Victorias in Harlem as well, giving off just the right amount of prestige without coming across as too obnoxious.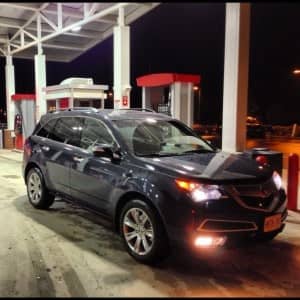 After an incredible night on Broadway, my comrades and I tossed our luggage into the MDX and started on our trek home. The main topic of discussion throughout this part of our trip was where we think the MDX needs improvement, and what vehicles would be better or worse suited for a trip of this nature. While competent in every way, there's nothing the MDX does that stands out to us. I personally think it's a sharp-looking SUV, but let's cut to the chase; it was last redesigned in 2007. It wasn't a timeless design then, and it's aged quickly. The squared-off exhaust tips do add a touch of sportiness to the lines, but we concluded that they're a bit gimmicky. The odometer/multi-function display in the instrument cluster is monochromatic and hasn't changed since the 2004 TL/TSX and is long overdue for an update.
I'm personally an incredibly light traveler. An extended weekend getaway for me, even including a set of clothes for a classy night out, consists of a duffel bag and my notebook case. This is why it confused me why my entourage initially said it's absolutely impossible for the three of us to travel for a weekend in a hot hatch. I figured, how much luggage could these guys possibly have? I was actually speechless when the trunk of the MDX was full. Apparently, I'm the abnormal one and a compact or midsize car is no longer suitable for any more than two people. However, the SUV was more versatile, comfortable, and an overall enjoyable experience overall. For a long trip such as this one though, I'd rather choose something along the lines of the Volkswagen Touareg TDI. Diesel efficiency, just as much technology, and German fun. What could possibly go wrong?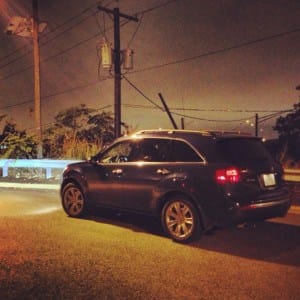 5 comments