Tesla has officially launched its first SUV - and it's absolutely stunning.
Tesla has launched its first all-electric SUV vehicle – the Tesla Model X. The SUV is available in two models – the base model 90D and the performance model P90D, both all-wheel drive.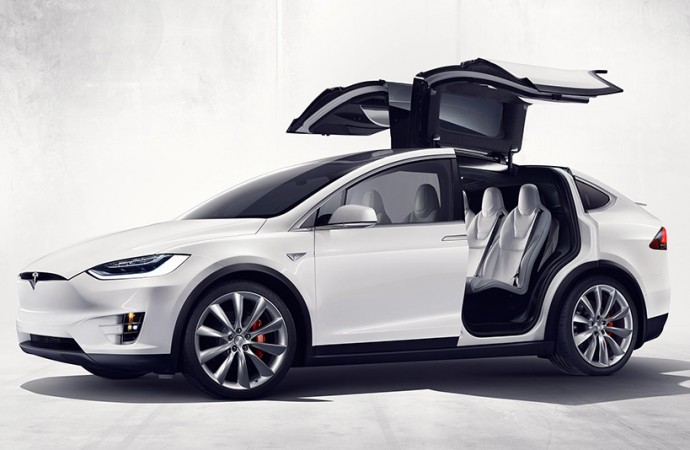 The SUV is available with both six or seven seats with three interior leather colours: ultra white, tan or black.  The most convenient (and lets face it, the flashiest) feature would have to be its second and third row falcon wing doors. Most minivan doors slide back only half way, making it awfully awkward to get into the back row and traditional doors are hard to open in tight parking lots. These falcon doors only require a foot of clearance to smoothly slide up and out.
The Model X also has the largest all-glass panoramic windshield, allowing the driver and passenger to see more of the sky above.
If you're worried about the air quality inside the cabin, don't fret. The X's secondary air filter is bigger than the average vehicle's primary air filter. The medical-grade HEPA filter rids the air of pollen, bacteria and pollution before circulating inside the cabin.
Storage is something you don't have to worry about when driving a Tesla- the Model X is no exception. The front trunk has room for strollers, luggage or two golf bags. The rear has enough room to store gear and your bikes for those mountainous getaways. Safety-wise, this SUV features blind spot and side collision warnings, automatic emergency braking as well as parking sensors.
Both the P90D AND 90D have a range of about 400 kilometres and can reach a top speed of just under 250 kph. The performance model can go 0-100 km/h real quick…. well, technically in 3.8 seconds (still pretty quick, right Drake?) or, when Ludicrous Speed is engaged, the P90D can shave that down to 3.2 seconds – real quick.
Source: Tesla