Driver assist systems keep getting better and Subaru has added a second camera to their EyeSight system and made the cameras colour!
Subaru's EyeSight driver assist system is getting better for 2015. The twin cameras will be switched to colour and have more processing power. EyeSight is still unique because of the collision avoidance and adaptive cruise control systems. Manufacturers primarily use either radar or laser sensors to detect distance and closing speed for vehicles in the surrounding area. The cameras are commonly used for pedestrian detection and maneuvering into tight spaces.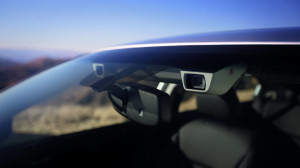 With the radar and laser sensors, they cannot make the distinction between vehicles and pedestrians but because the EyeSight system processes faster and is colour, the system is able to recognize the difference between the two. Because of the colour cameras, the new system will allow Subarus to distinguish when the car in front has the brake lights on. The faster system will automatically apply the brakes to avoid collision at closing speeds of around 48 kilometres per hour. The upgraded EyeSight system will debut in the 2015 Legacy.
Source: RoadandTrack