This month's Pride Parade will be joined by smart Canada's all-new 2016 Smart Fortwo Cabriolets.
This year marks Toronto's first-ever Pride Month and joining in on the fun will be smart Canada, who will march proudly along with the parade on July 3rd.
Pride Toronto is one of the largest Pride celebrations in the world with an estimated attendance of more than 1.2 million people. Pride Month aims to unite and empower people with diverse sexual orientations, gender identities and gender expressions and culminates with a three-day street festival and an enormous annual parade, which this year will happen the weekend of July 1-3.
This year, smart Canada will be introducing the all-new next generation of 2016 Smart Fortwo Cabriolet under the slogan "open FOR anything", referring to its canvas roof which transforms the vehicle into a top-down cabriolet at the touch of a button ( a real bonus when you're the passenger part of a parade and you can't help but to raise your arms in celebration).
Besides marching alongside the parade, smart Canada will also have the vehicle on display this weekend at the smart's festival headquarters on Church Street between Maitland and Alexander.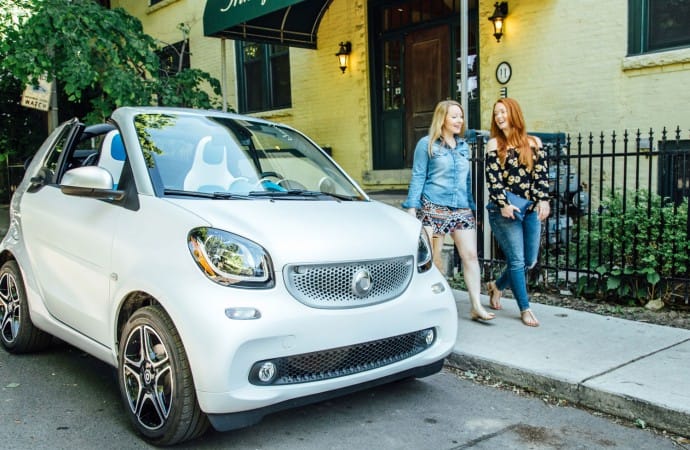 "smart Canada is incredibly proud to be once again supporting Pride Toronto in 2016. The event is driven by passion: to push boundaries, explore identities, and assert priorities, all while having a lot of fun," said Brian D. Fulton, President and CEO of Mercedes-Benz Canada. "This is a truly global initiative, with visitors coming to Toronto from all over the world, allowing smart to share its scope of vision as a global leader in urban mobility. smart Canada is very excited to be involved in an  event that embodies the enduring spirit that pervades this unique brand."
Those who visit the smart Canada hq during the festivities will be offered tattoos featuring Pride-centric sayings and are encouraged to share photos from the smart photo booth. For every photo shared with the #openFORanything, smart Canada will donate $1 toward supporting Pride Toronto and you'll also be entered into a draw for a chance to win several prizes during the weekend.
For more information, be sure to visit Pride Toronto.