What if the person who wants to stay under the radar still wants a comfortable refined SUV?
Despite what you may think, your car says something about you. Even if you don't care for cars or the image that may or may not be associated with them. Even if you get the most beige, most cloth seated, most under-the-radar thing you can think of, that in itself tells me something about you. Of course it is impossible to generalize totally, but if you drive a pickup truck with no actual need to haul anything, I can assume that you tuck your t-shirt into your jeans, and think that Boston Pizza is fine dining.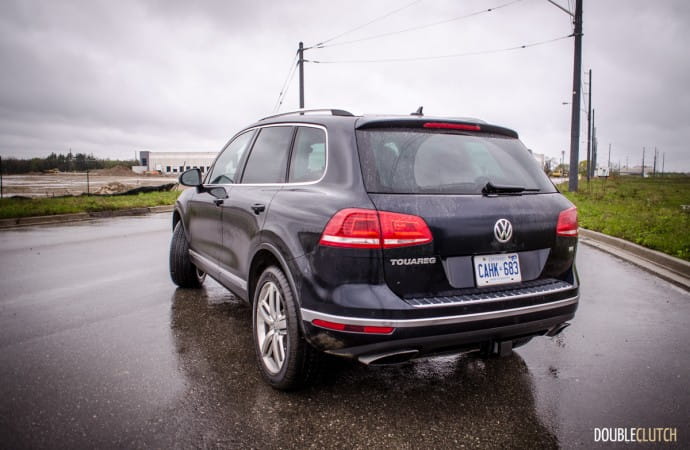 If you own an old British roadster, I assume you prefer working on your car, more than actually driving it. If you drive a Bentley Bentayga, it's only because actually driving around in a jewelry store would be impractical. Some people take issue with the perceived image that certain vehicles come with. Some prefer to retain a "humble" image, and so, do not opt for your big Mercede-Benz, Audi, or Porsche SUVs (reviewed here), because they are just "too much."
But what if that person who wants to stay under the radar still wants a comfortable refined SUV? Something sturdy, well built, but doesn't scream "I'm a luxury car!" Well, the 2017 Volkswagen Touareg VR6 Execline on test for the week may be a viable option. Since we have already tested this exact car this year (reviewed here), I thought this would be a good time to conduct a little experiment. I aimed to find out what people thought of this car, and what they thought of me driving it.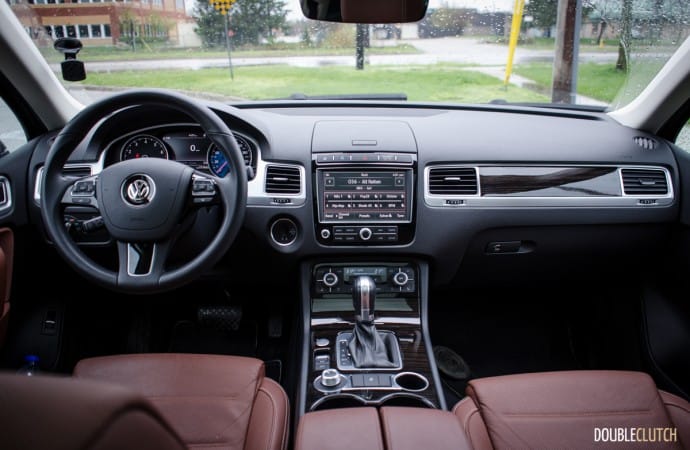 My daily car is a 2007 Subaru Impreza. It's great fun in the snow, but it is truly laughable in the refinement department. Noise, and vibrations are its signature dish; it makes no attempts to be smooth, ever. So when I drove it to pick up the Touareg, it was like I had fallen down a flight of stairs but then landed on a fluffy duvet. The interior of the Touareg is a lovely place to sit, and the materials are of a high quality, and beautifully designed. Everything you touch feels solid, and you get the sense that Volkswagen truly cares about making you comfortable. The seats are heated and cooled, and include lumbar and bolster adjustments, and the steering wheel is powered as well, allowing you to find a very comfortable driving position for long journeys.
I felt quite isolated from the outside world in the Touareg, and even though the ride is on the firmer side of the luxury SUV world, the damping is supple and I was never jarred around. The trade off for the slightly firmer ride is that it feels very stable in the corners, and since the steering is hydraulically assisted instead of electrically assisted like seemingly everything else these days, it actually has some feel, and it inspired confidence on highway on-ramps. A friend asked me, "So what are you driving this week?"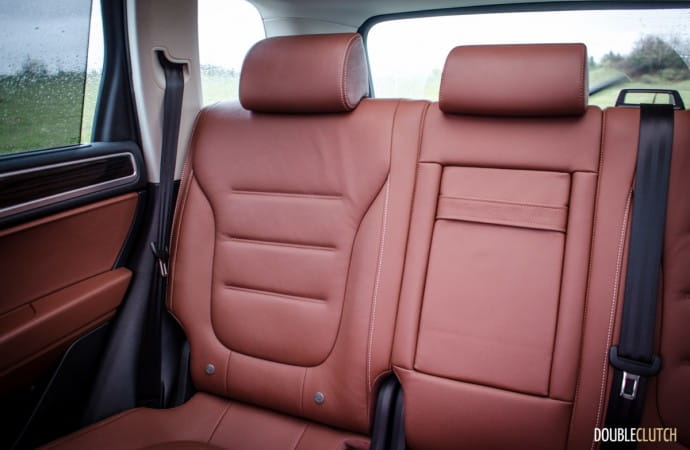 I responded casually so as to not give away that I was in a $65,460 luxury German SUV. "A VW Touareg."
He looked at me for a second, expressionless. "Oh yea?"
Then he walked away.
My evil plan was working.
On the way home that day I found that I very much liked the drivetrain as well. Shifts were smooth, and the eight-speed ZF transmission was responsive. The 3.6L V6, which rumbled out 280 horsepower, was smooth and accompanied by a good growl, and well-balanced exhaust level. Given that it had 266 lb-ft. of torque in the middle of the range, it never had any problem getting moving quickly. The Touareg definitely delivered a refined German driving experience. I continued my quest to identify the "image" of this vehicle, so I made a point to watch the expressions of other people as I pulled up next to them, but honestly, no one ever batted an eye, or looked disapprovingly at my "unnecessary" German SUV, and this may be due in-part to the fairly understated exterior.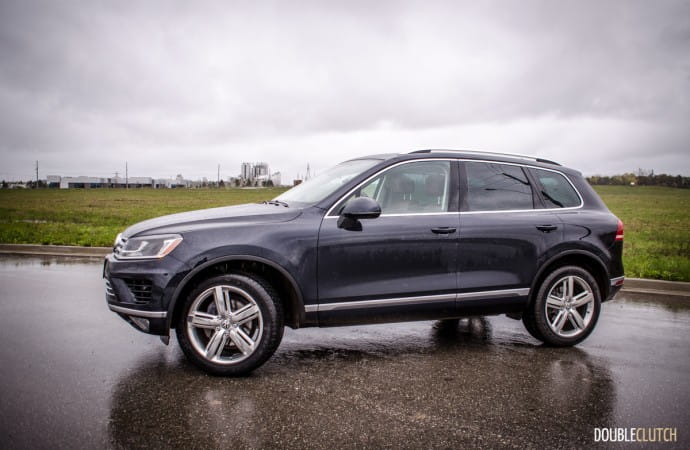 The exterior styling is calm yet nice, in the Volkswagen style- nothing too outrageous, save for some 20" chrome wheels and some shiny trim bits. But these parts give it the luxury touch it deserves without being too full of bling. The Moonlight Blue Pearl paint was subtle too, almost looking black in certain light. The exterior dimensions are not huge, which makes the fact that interior is so roomy a nice surprise. The driver is comfortable for sure, as are the rear passengers, who have plenty of leg-room, heated seats, window shades and a panoramic sun-roof.
Technology in the cabin is hit or miss, as the eight-inch touchscreen looks a bit dated, and doesn't match the driver's center readout in pixel count. It has navigation and an intuitive menu, but it's a step behind other infotainment systems in this class. The only way to plug your phone in is with a proprietary plug in the glove box which didn't fit my iPhone case and was only about 4 inches long. This is due to the Touareg's platform age, as everything else in the VW lineup has been updated recently with the latest infotainment, also featuring Apple CarPlay and Android Auto.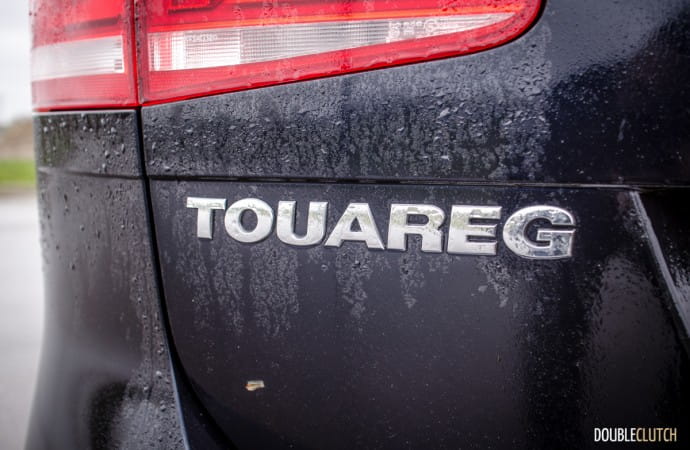 Fuel economy is about as expected in a vehicle weighing in at 2,130 kilograms (4,696 lb) that has Volkswagen's 4MOTION all-wheel-drive. I turned about 12.5L/100km over the week which is acceptable in something this size, but the real treat is that VW has fitted a massive 100L fuel tank, so you won't be bothered with frequent fuel stops.
After a week of asking friends and colleagues what they thought about the 2017 Volkswagen Touareg VR6 Execline, I concluded that this really is a luxury SUV that flies a little under the radar compared to your 'typical' luxury brands. No one I talked to responded with "Wow! That must be a really nice car!". You can bet that they would have responded differently if I said that I was driving even a less expensive BMW or Mercedes. For some folks, vehicle image is important. Many don't want the image that comes with certain luxury cars. For those looking for a lovely, comfortable SUV that flies under the radar, the Touareg is a great choice.
Second Take: 2017 Volkswagen Touareg VR6
See Also:
First Drive: 2018 Volkswagen Atlas