Safety remains at the absolute forefront, with design, luxury, and technology following closely behind.
When in the market for a luxury sport-utility for the family, passenger and cargo carrying capacities are high, and the equipment levels are boundless. Special attention is paid to infotainment systems, fancy all-wheel drive systems, and lately, turbocharged engines. Volvo has had a role in this market since the 2000s, and their claim to fame is emphasized above all else – safety. Since its inception in 2003, the XC90 model range has always been the pinnacle of safety and engineering for the Swedish automaker.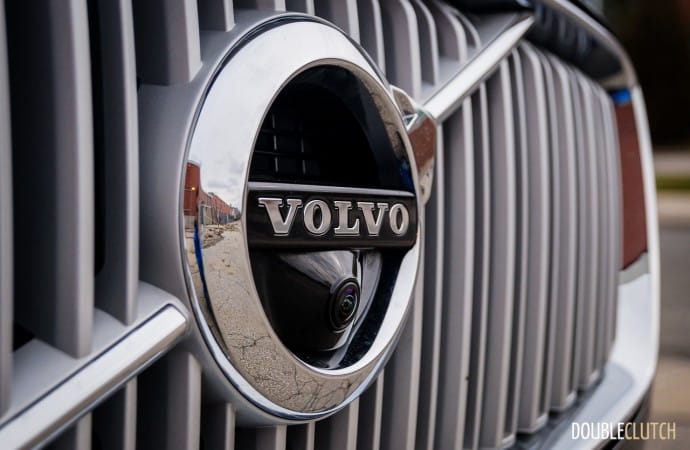 With a full assortment of airbags, stability control systems, and incredible structural design, the 2013 model year still managed to earn the Insurance Institute for Highway Safety's (IIHS) Top Safety Pick+ rating, and aced the newly-minted small overlap front crash test. Where many automakers had to revise their designs to comply with the test, the decade-old XC90 passed with flying colours. As an automaker, Volvo invented the three-point seatbelt in 1959. Rather than reap the profits by way of a patent, the Swedes made the new technology available to the rest of the world to share and benefit from. For this year, Volvo has come out with the latest iteration of their luxury flagship SUV, and a 2016 Volvo XC90 T6 Inscription found its way into the DoubleClutch.ca garage for some safe and comfortable evaluation.
At a starting price of $61,300, the seven-passenger XC90 is well into competing against the likes of the Acura MDX (see review here), Audi Q7, and Infiniti QX60. Highlights on the base T6 AWD trim include collision and lane departure warnings, navigation on an 8-inch touchscreen, leather, and 19-inch aluminum alloy wheels. The mid-level R-Design adds sporty touches inside and out, paddle shifters, and the wheels are upgraded to 20-inch units. Our test vehicle was of the top of the line Inscription variety, and also had most of the option boxes checked off.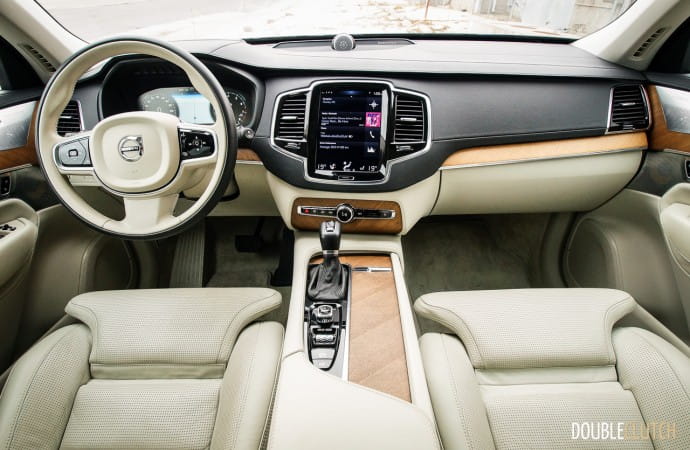 There's the $1,800 Vision Package that brings auto-dimming mirrors, blind spot and cross traffic alert systems, as well as visual park assist with 360-degree cameras. $2,300 adds a useful graphical head-up display (HUD), as well as heating elements to the rear seats, steering wheel, and washer nozzles. $2,200 adds a convenience package with adaptive cruise control, HomeLink garage door opener, among other options. Among other things, the as-tested price was $80,475, which still is competitive amongst the higher-spec German and Japanese offerings mentioned above.
At the heart of the new XC90 is a new powertrain that takes a completely different approach to forced induction, known as Drive-E. With all the current rage being the turbocharger, Volvo takes it up a notch and adds a supercharger to the mix. The roots style blower addresses low-rpm throttle response deficiencies often associated with a turbo, yet when bypassed under light load, still allows for small-engine fuel economy combined with big-engine performance. With a 2.0L four-cylinder configuration, total output is an insane 316 horsepower and 295 lb-ft of torque between 2,200 and 5,400 rpm.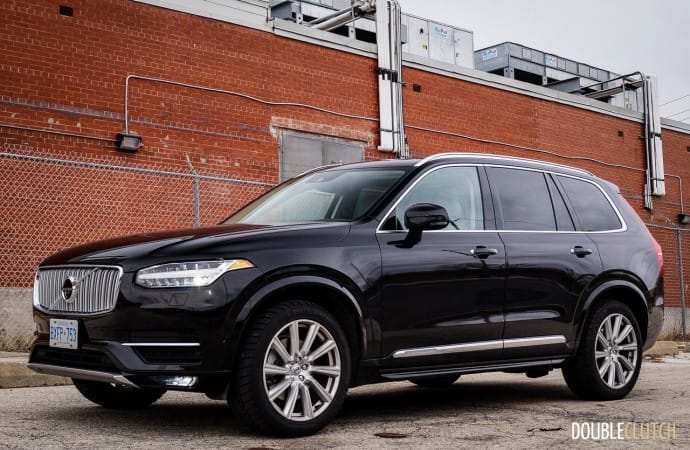 Throttle response off the line is excellent, with gobs of low-end power that doesn't disappear once you sweep through the rev range. There's also a subtle supercharger whine that lets you know that Drive-E means business. At higher rpm, the turbocharger is doing the bulk of the work, and seamlessly guides the Drive-E to its 6,000 rpm redline. Volvo has truly worked some excellent magic with this engine, and while the numbers on paper can be matched by other automakers, the Swedish sled manages to bring an extra dose of personality to the table.­ In an even wilder move, the up level T8 trim adds plugin hybrid "twin engine" capability, bringing output to 403 horsepower and 472 lb-ft of torque.
In terms of transmission, the XC90 T6's transverse powertrain makes use of an eight-speed automatic transmission that performed very admirably. The shifts do more than well for daily driving, but aren't quite as lightning quick or smooth as the longitudinal ZF 8-speed, which is the current standard for feel amongst torque converter automatic gearboxes. Kick-down response was quick, and the surge of Drive-E became immediately apparent as the engine swept through the rev range. While equipped with paddle shifters for manumatic control, the XC90 was happiest in conventional drive mode, and the transmission always knew which gear to be in.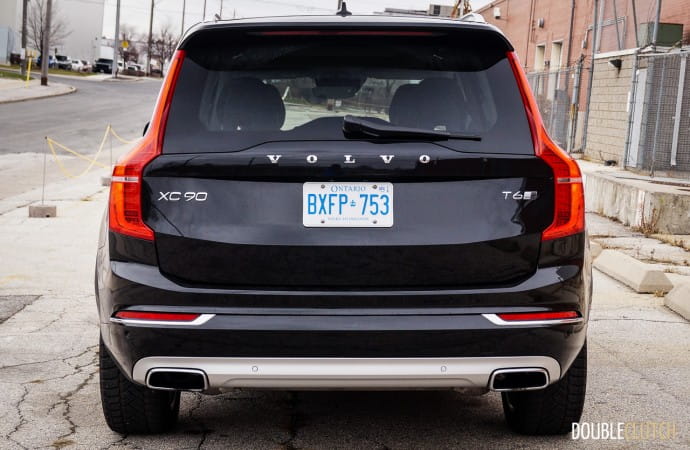 With the new Drive-E engine and eight-speed transmission, the 2016 Volvo XC90 does tout better fuel economy than its 3.2-litre inline-six predecessor. City mileage is rated at 11.5 L/100km, and the XC is good for a highway rating of 9.5 L/100km. Observed fuel economy over the course of 1,300 km was right in the middle, at 10.5 L/100km. The old six cylinder likely would have performed between twenty to twenty-five percent worse. As par for the course for a high-output, forced induction engine, the XC90 requires a minimum of premium 91 octane gasoline.
Inside, the XC90 brings fabulous attention to detail with a sexy Blond colour scheme – other available colours include amber (tan) or charcoal. As is with Volvo tradition, seat comfort is excellent with infinite adjustability, and extended road trips will always be fun in an XC. Material quality is of the highest caliber, and the touch points are more than appropriate for a car that stickers for over $60,000. The panels of wood grain are left textured with open pores as opposed to being lacquered over. This adds to the natural and airy feel of the Blond leather, with the only catch being that children and their associated spills will get the light interior a darker shade of stain fairly quickly. Not to worry, though – the amber and charcoal configurations are almost as nice. There are countless other little things that make the XC90 interior special too, such as little Swedish flag tags on the seatbacks, the intricacy of the sliding wood cup holder cover, and the plushness of the thick carpeting.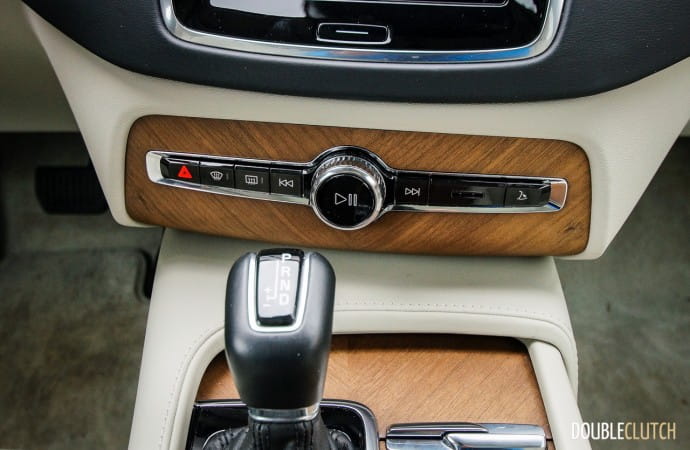 When it comes to practicality, the XC90 also delivers on its promise. With a 2-3-2 seating configuration, the third row is very usable – unless you're over six feet tall. Both the second and third row of seats fold very easily, creating a flat cargo area, and a panel on the rear floor flips up to create a useful cargo divider. When the seats up, there's a removable privacy cover that protects a decent amount of cargo room that's accessible by a power liftgate. As an added nod to safety, there's an optional (for $325) flip-up booster seat in the middle of the second row. Your youngster will enjoy sitting on a "real" seat that doesn't make them feel like they're in the penalty box. Simply grab the latch and pull up on the cushion.
When it comes to multimedia, the 2016 Volvo XC90 comes with two large screens: the driver gets an 8-inch display that shows navigation and vehicle information, and the centre stack gets a tablet-like 9-inch touchscreen that takes inputs without any lag. Apple CarPlay connectivity is available, and an app known as Volvo On Call gives the option of controlling remote functions (vehicle status, locks, and heater controls) via smartphone. For those familiar with using tablets, configuring assorted options such as engine stop/start technology and safety assists are easy as pie. Climate controls are all done from within the touch screen, but are fairly intuitive and easily accessed. In terms of buttons, there are a few basic functions repeated underneath the touch screen for defroster, audio volume, and track selection.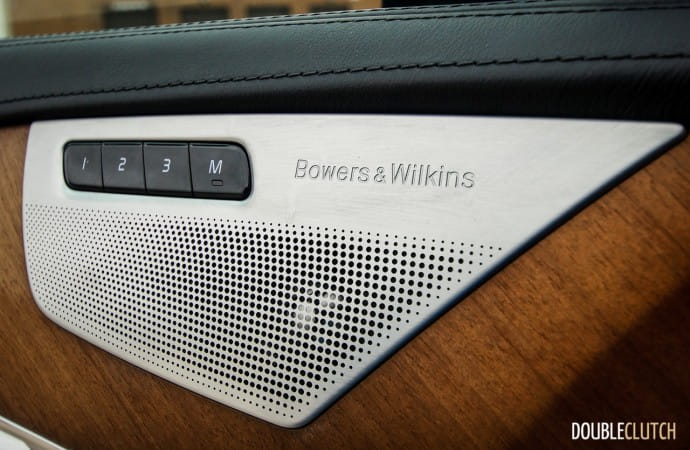 Even with a great touch screen interface, the XC90's pièce de résistance is the optional (for $3,250) Bowers & Wilkins premium audio system. With nineteen speakers and 1,400 watts of output, the Volvo was absolute heaven for music playing. Configurable in an infinite array of areas including a recreation of the Gothenburg Concert Hall, the Bowers & Wilkins setup brings out subtleties and new sounds that are usually not heard in other vehicles' lesser systems. The speaker grilles are an artisanal hole-punched aluminum, and there's a gorgeous Nautilus Tweeter facing the passenger cabin, reminding everybody to listen up. Even with its slightly steep price, it's not an option to be skipped when considering the XC90.
In terms of ride and handling, the test vehicle was equipped with an optional ($2,350) four-corner air suspension. With 20-inch aluminum alloy wheels that have less sidewall for cushion, ride quality is somewhat firm, and may be borderline harsh for some. Highway cruising on the open road is still a great experience however, and the cabin blocks out wind noise at all speeds. There are several suspension modes to choose from – Eco mode dulls throttle response and maximizes fuel economy, Comfort is used for daily driving, Off-Road raises the car for rough roads, and Dynamic sharpens everything up and reduces ride height for race car duty. For the majority of people, Comfort mode is ideal, and provides the best balance overall. Through these modes, the ride height is adjustable via the air system. Handling is above average for a taller sport utility vehicle, with the XC90 inspiring confidence even when taking off-ramps with a little extra gusto.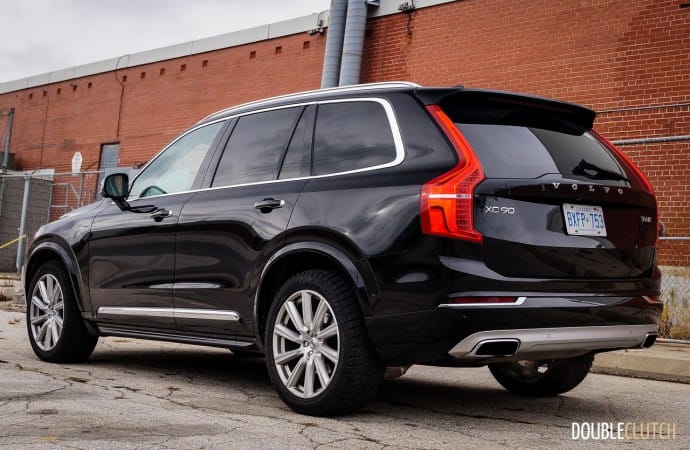 At the end of the test run with this 2016 Volvo XC90 T6 Inscription, the DoubleClutch.ca staffers were left with purely positive impressions. In fact, this wonderful vehicle took home the award for Best SUV/Crossover for the 2015 award season. I also own a 1990 Volvo 240 DL, and had become rather jaded over the years after Volvo pursued front-wheel drive platforms under Ford ownership. Now, with China's Geely providing the bankroll, Volvo has undergone a rebirth. Safety remains at the absolute forefront, with design, luxury, and technology following closely behind. There's plenty of good reason why the XC90 is winning accolades across the entire automotive industry, and there's also good reason to believe that Volvo's upcoming S90 luxury sedan (preview here) will be as good, if not better.
2016 Volvo XC90 T6 Inscription Gallery
See Also:
2016 Land Rover LR4 HSE Luxury