Detroit-bound in perfection | Commandeering the big Yukon Denali through the streets and outskirts of Detroit awakened us to a few things
Every year, the DoubleClutch.ca team will make our annual pilgrimage from our home base in Toronto over to Detroit, MI for the North American International Autoshow. Each year, the team that gets there has gotten larger and larger. For 2015, we had a 6-person team making the trek. When it came time to decide what we'll drive on the 6-hour journey, we really couldn't find a better alternative than the GMC Yukon XL. Okay, to be honest we could've grabbed any of the Yukon's two sisters (the Cadillac Escalade or the Chevrolet Suburban) but the chance to drive the Denali trim and get to Detroit in style was enough to sway our decision.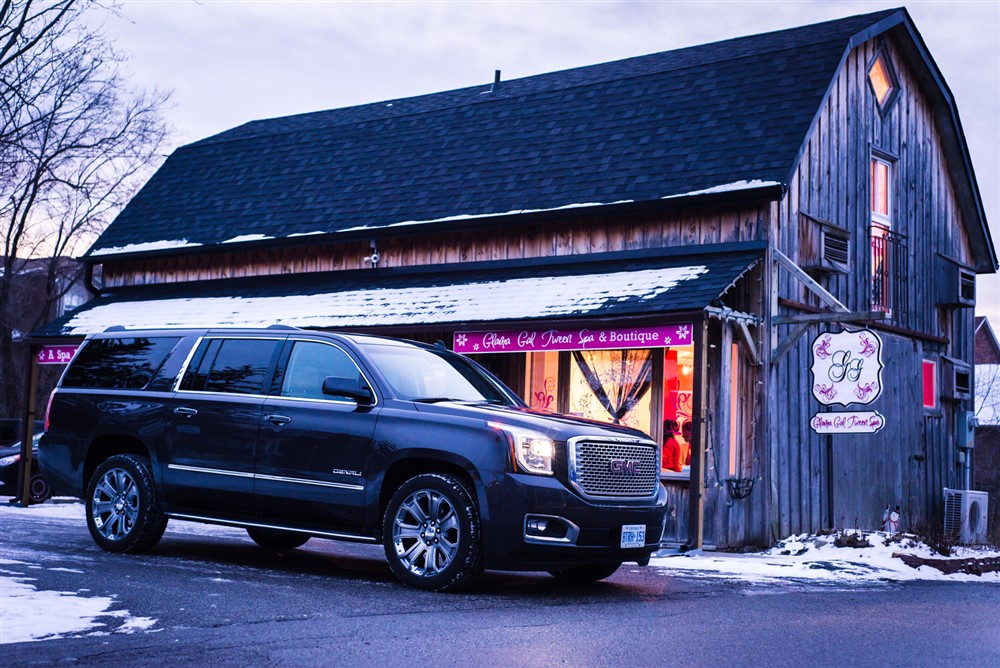 First things first, the truck is massive. They weren't kidding when they affixed the XL badge on the Yukon. But it makes sense, what else do you expect for a car that can seat 7 and still have space for their luggage? It's important to note that we actually were able to cram in three days worth of luggage for six, camera gear, and all of our six-foot-plus frames. The rectangular design of the Yukon  doesn't hide any of its mass either. The XL easily dwarfs anything in the parking lot. It's massive Denali grill and xenon lights do make it look rather sinister, and I've got to say for a guy who likes small agile cars, the looks of this massive truck grew on me over our time with it – I was sad to see it go.
My colleague had already driven the Yukon XL SLT, which as he pointed out in his review had the 5.3L V8. The Denali we drove came with the 6.2L V8, shared with the Camaro SS as well as the Escalade. The massive engine, truly representative of 'Murrica, pushes out 420 horses and 460 lb-ft of torque. These are figures that are well in sports car territory, until you factor in the car's substantial curb weight of over 6000 pounds – and then all you think about is how much gasoline it will drink every time you start it. The Yukon can be kept in 2WD mode to save fuel, and 4WD is available on demand at the flick of a small knob conveniently located on the dashboard.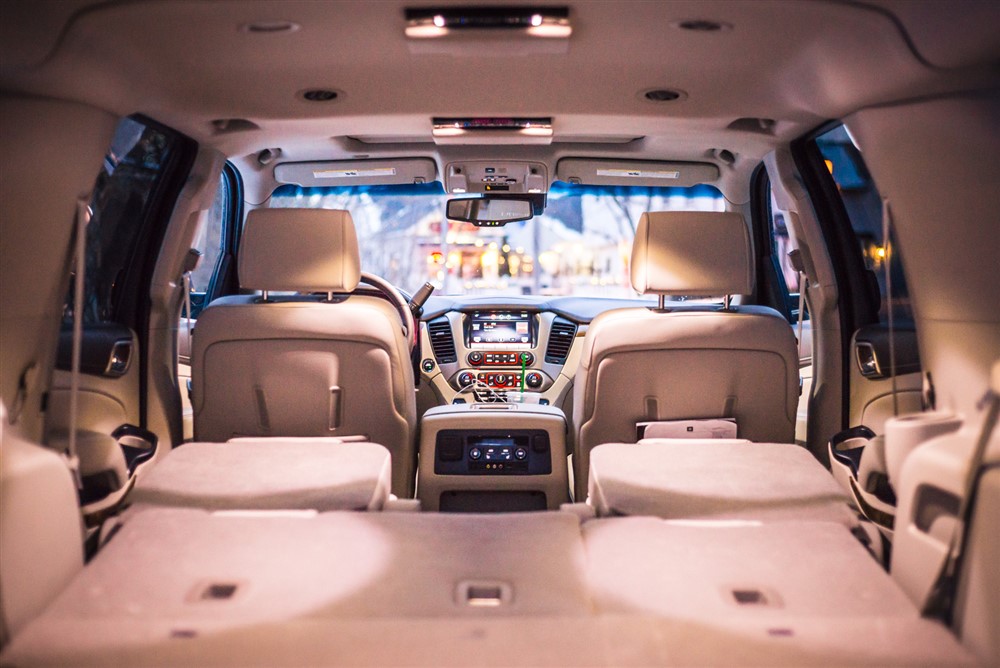 Still though, when driving it, the Yukon never felt short on power. Sure, it won't give you sports car performance, but getting on highway on ramps was effortless for the car and actually pretty satisfying. It glides down the highway without a care in the world, literally dominating the entire road. Once you've reached cruising speed, the cylinder deactivation works great (going into four-cylinder mode) to keep the fuel consumption figures low. Cruising at steady highway speeds, I saw fuel averages as low as 14L/100KM. The magnetic ride control made driving around the city extremely comfortable despite the 22" rims installed on our tester.

Stepping inside, you're swathed with supple leather and knurled wood trim, all of which make for an extremely awesome cabin to spend a long journey in. Those in the backseat are also welcomed with their own set of climate controls and a bevy of entertainment options. A full set of RCA jacks and standard outlet plug allows for kids (or overgrown kids!) in the back to plug in their favorite  gaming console on a long road trip. SD card, and USB slots are standard storage options to play movies from. Perhaps the best feature was that the two LCD screens (one for each row) operated independently so those in the far back could choose a different film if they so chose. Still though, the best seats in the house are definitely the second row. Those seated there are the true VIP's of the car as they get individual captains style chairs with arm rests and heated seats.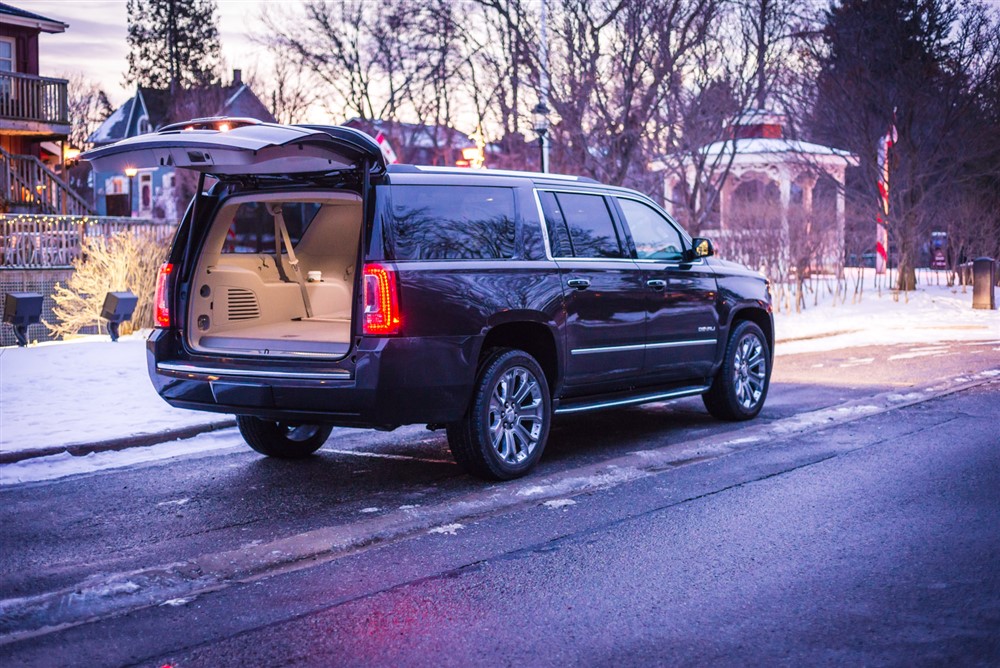 I honestly can't say enough about the ride on the Denali. Upon our arrival in Detroit, we took the first day to do some urban exploring. Venturing through historic sites like the old Packard factory as well as Michigan Central Station, the Yukon was our faithful companion without the slightest complaint. Even with a ton of stop and go with a full load on board, the truck didn't return numbers any worse than 17L/100km. Easy access in, including the third row, meant our entire team could hop in and out for photo opportunities without any serious concerns. GM's factory remote starter was a godsend in temperatures approaching minus 10 degrees Celsius.
At $83,925 as-tested, the Denali isn't cheap. Even decade-old examples of this SUV (sporting older architecture, far less technology) still have decent resale value. The only options missing on our particular tester were the power-retractable running boards and adaptive cruise control, both of which we were able to test on the Chevrolet Tahoe our junior editor drove a couple months prior. We could have made use of the adaptive cruise control, as it's the road trip setting where this feature is most useful, but we did just fine with the regular setup. If I were optioning out my ideal Yukon Denali, I'd opt for both these features, because it's in fully-loaded spec that the Denali looks simply menacing.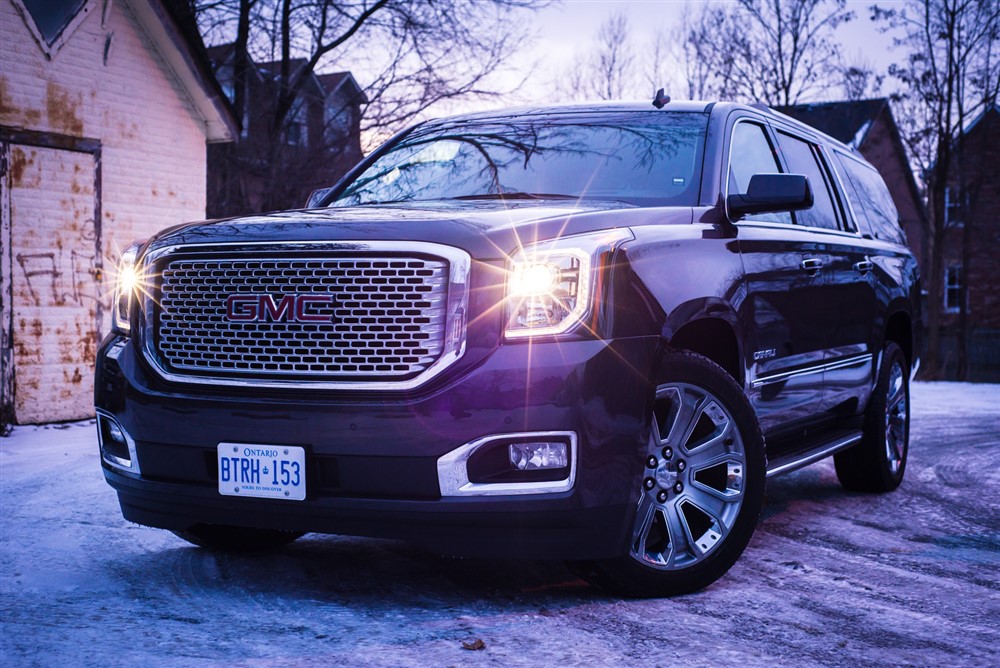 Personally, I'm not a huge SUV guy to begin with. Being a single guy in my mid-twenties, a three-row SUV that seats 7 and has a price tag north of $80,000 isn't exactly targeted towards me either, so there are no hard feelings there. However, commandeering the big Yukon Denali through the streets and outskirts of Detroit awakened us to a few things. This is a city that's been through a series of hardships, and there's a huge divide between the affluent and the impoverished, as evidenced through suburbs such as Grosse Pointe.
The Yukon Denali and its siblings, the Tahoe, Suburban, and Escalade, are representative of what the American car-buying public wants. No matter what area of Detroit we were in, we always saw a few of these big guys there. In a market oversaturated with "cute" crossovers and small sport-utility-vehicles, it's nice to see that the General is still willing to give buyers exactly what they want. There's a reason there are four distinct models on this platform and virtually unlimited configurations; they're just that special.
2015 GMC Yukon XL Denali Gallery