Radical Releases N.American Road-Legal RXC (Just $170k USD)Very few cars by the sportscar maker Radical have made their way to the US, now with the RXC becoming road-legal, that might change quickly.
Radical has been making outrageously awesome racecars for the last 16 years. Including the Radical SR9 (which has competed in the 24 Hours of Le Mans) and the SR8LM which set the Nurburgring record at 6:48! However, the company hasn't really gained much prominence because of the lack of legality of their vehicles. Majority of their cars are not road-legal (or even close to it). However that all has changed. According to a statement released by the manufacturer, the RXC has passed a series of required tests for the vehicle to be road-legal and gain registration in California. This step will make getting access to this vehicle significantly easier throughout North America.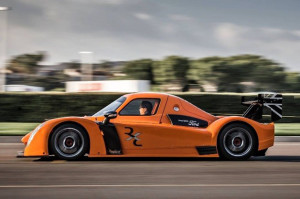 The Radical RXC is finally road-legal in North America… but it isn't exactly cheap.
What does that mean? Well, simply put, you can now have access to the 380 Horsepower beast which can do 0-60 mph in just 2.8 seconds for your daily commute or for dropping your kid off to school (yea, just one kid… the thing's only got two seats). And at just $171,280 US, it's a total bargain… right? However, if you'd like to upgrade to the new 454 hp twin-turbo V6, add on another $17K US, and if you want to stay cool in the summer, tack on another $3K US for air-conditioning. The base car with just a couple of basic options all adds up to what an only be considered a boat-load of money. But hey, at least now we have the option to buy this car if we want to!
Source: Autoblog.com