The Pope Donates Gifted Harley, Sticks To Used '84 Renault Pope Francis has already been known for his simpleton ways, however, his transportation habits may still surprise you.
Last June, soon after Pope Francis was elected, Harley-Davidson presented the religious leader with one of it's finest motorcycles; a 1,585cc Harley-Davidson Dyna Super Glide Custom. The reason for this grand gesture? Harley-Davidson was celebrating it's 110th Anniversary. Now you may be thinking, what's so amazing about that? Prominent religious figures and political leaders are regularly gifted objects of high-esteem. The key thing to note is what the Pope has decided to do with this amazing bike, is what's rather impressive. Instead of letting the bike sit in his personal automotive museum (such as the kind found in the homes of most dictators, prophets, etc.), the Pope has decided to donate the bike to an auction whose proceeds will go to the aid of Caritas Roma.
The humble Catholic leader pictured in front of his bike as gifted from Harley-Davidson.
This isn't all, anyone's who's been following the news on the man (of god) would have heard that the Pope has been making waves on many fronts. From ditching the Mercedes Benz Popemobile, to his rather more liberal stance on homosexuality, to his simpleton ways of living his life. The Papal leader has captured the hearts of many. More so, his choice of travel of late? A vintage 1984 Renault 4 which was gifted to him by a priest with over 305,000 km on it. Talk about "Simple living, high thinking."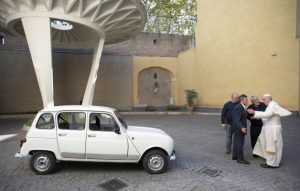 The Pope beside his '84 Renault 4 with over 305,000 km (a gift from a priest).
Source: Autoblog.com