Look out, New York Mercedes' new S63 AMG Coupe coming through, and with a beast under the hood.
The new 2015 Mercedes S-Class Coupe will be at the New York Auto Show and will have a monster under the hood. In other words, meet the 2015 S63 AMG 4Matic Coupe, because it is a beauty. Under the hood she holds a twin-turbocharged 5.5-litre V8 engine good for 577 horsepower and 664 pound-feet of torque. The S63 AMG beats the outgoing CL63 with 41 more horsepower and 74 pound-feet of torque.
The car can jump from 0 to 96 kilometres per hour in just 3.9 seconds. The power is sent to all of the wheels via an AMG-tuned 4Matic all-wheel-drive system. It will have a seven-speed AMG Speedshift automatic transmission with Manual, Sport and Controlled Efficiency modes.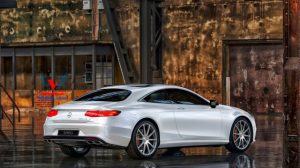 Mercedes has revamped the Airmatic air suspension for the more performance-oriented part of the S63 Coupe. The two-door will have 20-inch wheels and large, optional, carbon ceramic brakes can be fitted to them. Inside, the car has redesigned seats accompanied by an AMG Sport steering wheel.
In the fall, when the car officially launches, Mercedes will offer an 'Edition 1' version, which has all the bells and whistles. It will come with matte Magno Alanite Grey paint, Designo Nappa leather, carbon ceramic brakes and LED performance headlights – accompanied by Swarovski crystals. The car will officially debut in April at the New York Auto Show.
Source: Autoblog