McLaren is teasing with the new 650S that will slot in between the 12C ad the P1 hyper car!
McLaren was teasing with the latest of their cars, the 650S, but now we have a glimpse of what to expect when the car will debut in Geneva. The leak revealed that the 650S is pretty much what was to be expected, a more powerful car that will fit between the MP4-12C and the P1 hypercar. Specifics have not been announced yet, but rumours suggest the car will have a 3.8-litre V8 engine good for pushing out 650 horsepower and 485 pound-feet of torque. The 650S engine output has been raised 25 horsepower and 42 pound-feet of torque over the 12C.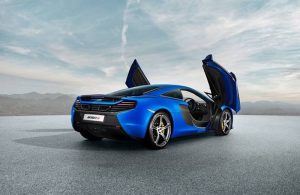 For the styling of the car, it has a lot of features that follow in the footsteps of the P1. There are new LED headlights, a more integrated front splitter designed to increase down force, and the door blades allow the air to be directed around the car. The 650S and the 12C are essentially the same as far as aerodynamics are concerned. The 650S will have a new airbrake, which is an improvement from the one found in the 12C model. The car will also have lightweight wheels wrapped by Pirelli PZero Corsa tires and carbon ceramic brakes on all corners. McLaren will officially reveal the 650S at the Geneva auto show when the doors open on March 4.
Source: Autoguide