Mazda Hazumi leaked before Geneva could be the new and improved Mazda2 but better.
Mazda's new Hazumi concept was leaked and just before the debut at the Geneva Motor Show. The Hazumi, is definitely a little car, but looks bold and seems ready for business. Like the concept preview of the Mazda6, the Hazumi features large wheels and will have the same look.
Mazda is expected to have a new 1.5-litre SkyActiv-D diesel engine at the auto show in Geneva. The company is still making adjustments to the emissions for the SkyActiv-D engine for the Mazda6 before giving the go ahead for North America. The Hazumi will make its first appearance next week when the Geneva Motor Show kicks off.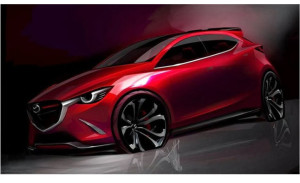 Source: Autoguide