Our trusty chariot soldiers on | The value offered by the Santa Fe is undeniable.
Since its 2013 redesign, I've been a big fan of the Hyundai Santa Fe. I've even gone so far as to recommend it and its close cousin, the Kia Sorento, to a couple of my good friends. So I couldn't have been more pleased when I found out that our long-term tester for this winter would be a fully optioned out 2015 Santa Fe Sport. While the major objective for our time with the Santa Fe is to determine whether it really is the best family vehicle offering out there, I have to admit that I was a little curious to see whether my affection for the Santa Fe had stood the test of time. It has been almost 2 years since my first drive of the current model and I've driven countless new crossovers and SUVs since then; so with all this tough competition, I couldn't help but wonder whether the Santa Fe would still shine.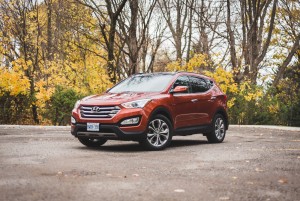 The model that had previously won my affection was a Santa Fe XL with the silky smooth 3.3L V6. Our long term tester however is a short wheel base Sport powered by the feisty 2.0L turbocharged 4-cylinder. While the 264 horsepower 2.0L turbo-four is a nice upgrade from the base 2.4L, I noticed right away that it's not as smooth or as sharp to respond as the 290hp V6. Additionally, the significant amount of weight the little 2.0L has to lug around means that the initial turbo lag is noticeable. But once the turbo kicks in the little powerhouse begins to feel quite peppy, making passing at speed a fun and effortless endeavor.
Presumably, the obvious benefit of the shorter Santa Fe Sport over the long wheel base XL would be fuel savings. It's reasonable for one to think that the smaller 4-cylinder engine and weight savings would translate to a stark fuel economy difference; however, looking back at my notes from my 2013 test of a Santa Fe XL, I observed almost identical fuel numbers over a similar week of commuting. To be fair, our Santa Fe Sport is currently on winter rubber and the temperatures for most of the week were sub-zero, but I was still hoping for some more savings over the larger version. Especially when you consider the additional cargo and towing capacities of the Santa Fe XL, it starts to make a compelling case for itself over the more popular Santa Fe Sport, and I think it would be my choice.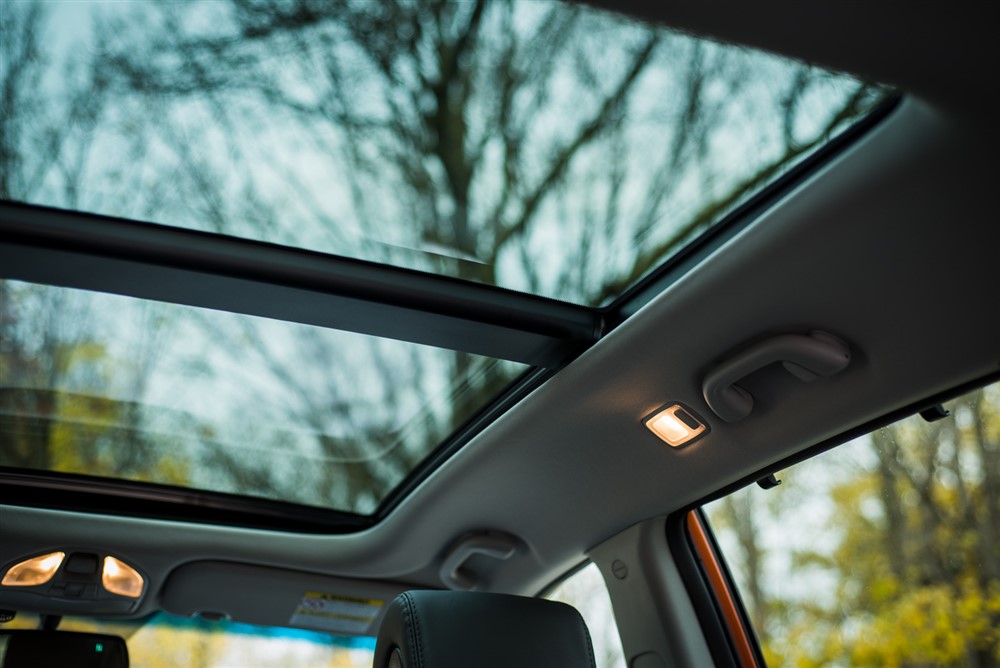 Whether you move up to the XL or stick with the smaller Sport, the value offered by the Santa Fe is undeniable. Good looks, loads of seating and cargo space, car-like fuel economy and extremely palatable pricing make it hard to deny the Santa Fe as a worthy contender in our quest to find the perfect family hauler. Not only that, but our sub $40,000 tester is loaded with just about every luxury feature you could imagine, and each feature is well thought-out and very functional. During the first really cold week of the season, I was especially grateful for the heated seats and heated steering wheel. Those first few cold days of the year always feel the coldest when your body isn't used to the frigid temperatures, so it sure is nice to wrap your cold hands around a nice warm leather wheel.
Those cold temperatures also mean the city struggled with our first significant snow fall, and the fallout from hundreds of poorly prepared drivers made my commute home more like running a gauntlet. The Santa Fe never missed a beat though. Despite the snow covered icy roads, with a light foot I never once felt even a hint of traction loss; proving that with a good set of snow tires, the Santa Fe's AWD system can offer almost complete confidence in just about any of the adverse conditions Mother Nature will throw our way this winter. It feels great to know we're prepared!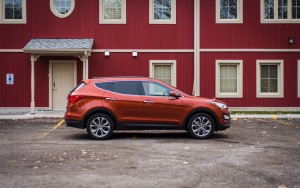 Finally, I ended the week with the Santa Fe by hauling home a few pieces of lumber from Home Depot. With a quick pull of the handle, the split rear bench seats folded completely flat and the Santa Fe easily handled the challenge. When it came time to hand the Santa Fe's keys off to my colleague, I realized that I really do still have an affinity for it. Its charm certainly hasn't worn off on me yet, and I am looking forward to spending as much time as I can with ours this winter.
Long-Term Test Update: 2015 Hyundai Santa Fe Sport Gallery