A new addition to our stable | Is it the best affordable family vehicle available in today's Canadian market?
At the end of calendar year 2013, the Hyundai Santa Fe XL was a runaway winner of our Best Family Vehicle award. Its feature list, value for the dollar, and overall awesome road manners had the entire DoubleClutch.ca team begging for more seat time. As we approach award season again, we put our heads together to think of what could be the most ideal winter long-term tester for our active lifestyles. Extensive conversations with Hyundai Canada's PR team led us to believe that this 2015 Hyundai Santa Fe Sport 2.0T, in top-trim Limited guise, just might be the answer to what we were seeking.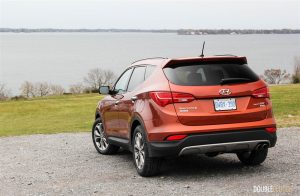 Not only did Hyundai not give us an existing Santa Fe off their press fleet, they gave us the option of spec'ing the car exactly how we wanted it, right down to the colour and brand of winter tires. Two months after we ordered the car, it's finally here and all set for the coldest months of the year. Upon receiving the car, it had just under 900km on the odometer, so Hyundai was kind enough to break in the engine and mount hand-picked winter tires for us. Over the next four months, we'll be putting the Santa Fe Sport through a series of tests, but here are my initial impressions.
The very day we took delivery of the Santa Fe Sport, I had to make a day trip to the Thousand Islands. In proper DoubleClutch.ca fashion, we loaded up our latest fleet addition with camera gear (which the SUV happily ate up with room to spare) and set off. One of the first things I noticed about our $39,522 tester was the sheer amount of stuff you get for the price tag. The front and rear leather seats are heated, the front seats are also ventilated, there's a panoramic sunroof, a 10-speaker Infinity stereo with an 8" touchscreen, navigation, blind spot monitoring, and a bunch of other equipment previously unimaginable in a sub-$40,000 SUV.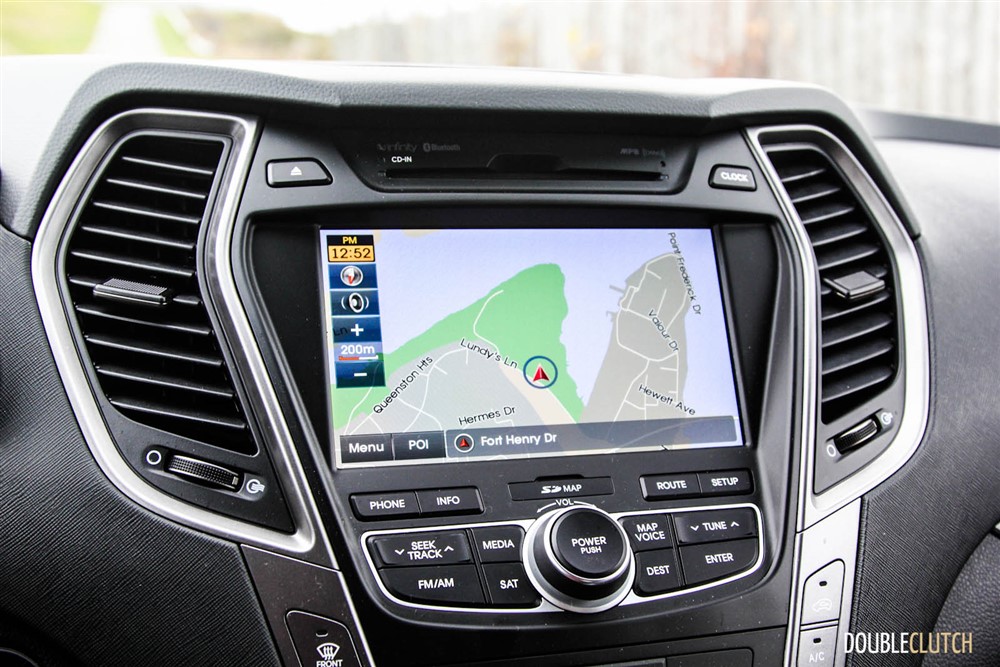 Hyundai starts off the Santa Fe Sport at just over $26,000, but for that price you get a 2.4L naturally-aspirated engine that's the same entry level motor available in the new Sonata. Our tester is equipped with the 2.0L twin-scroll turbocharged 4-cylinder. Again, this engine is also available in the Sonata 2.0T, but in the Santa Fe Sport it has been tuned to have a slightly wider torque range. It's good for 264 horsepower and 269 lb-ft of torque, and power is directed to all four wheels via a 6-speed automatic transmission. There is a manual mode available, but the Santa Fe does a pretty good job of shifting itself.
On the short road trip we did with the Santa Fe Sport, we made a few observations that will undoubtedly be analyzed more closely over the coming months. Firstly, despite being turbocharged, the 2.0T can actually get away quite comfortably on regular fuel. The car was running regular when we picked it up, and we observed 10.3L/100km purely highway over the first tank. Hyundai did inform us that the fuel economy would be improving drastically over the first few thousand kilometers. We topped it up with premium on the way back, and it went down to about 9.4L/100km. I'm predicting combined fuel economy of about 10.6L/100km over the next few months, because the Santa Fe Sport will definitely be seeing some city driving. This isn't bad in the slightest for a midsized SUV with a turbocharger.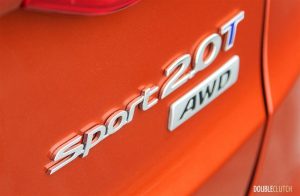 The ride on the Santa Fe is surprisingly comfortable, and the steering is very comfortable. Our car has the adjustable steering modes (Sport, Comfort, Normal), which is a nice touch. It does work, but all this system really does is adjust the weight of the steering, Sport being the heaviest setting. I preferred this mode, as Comfort was a bit light for my liking. The Hyundai infotainment system is very good, and inputting destinations into the navigation is quick and easy. The map is a dated two-dimensional setup, but everything still works very well with no lag at all.
I've personally recommended two members of my extended family and one friend into buying a Santa Fe Sport in the past year alone. Being an unmarried guy in my mid-twenties, I'm not exactly the target market for any crossover/SUV, except maybe the departed Honda Element. However, there's something about this particular one that has me wanting to drive it more and more every time I get behind the wheel. Is it the best affordable family vehicle available in today's Canadian market? Only time will tell, and that's the question we'll be doing everything in our power to answer over the coming months. Please feel free to visit us on Facebook or Twitter with your questions about the 2015 Santa Fe Sport.
Long-Term Test Introduction: 2015 Hyundai Santa Fe Sport 2.0T Gallery