Koenigsegg went big for their 20th birthday creating the Agera One:1, making it possibly the world's fastest car and even the first megacar.
Celebrating their 20th birthday this year, Koenigsegg is taking the hypercar to the next level with the Agera One:1. The Swedish specialists claim that the car is the world's first megacar, because it is the first production car with 1,341 horsepower and a one-to-one ratio of power-to-weight, meaning the car is beyond a super or hyper car.
The Agera One:1 is powered by a twin-turbocharged 5.0-litre V8 pushing 1,341 horsepower and 1,011 pound-feet of torque. The car is also equipped with a seven-speed dual-clutch transmission. When Koenigsegg designed the car, top speed was not a factor but it has a simulated top speed of around 440 kilometres per hour, which would make it the world's fastest production car. The One:1, however, will never be able to hold a Guinness record, because only six cars will be built – and all of them are sold.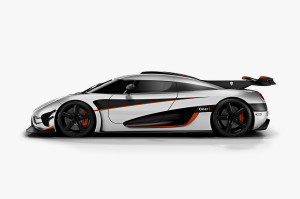 The One:1 is meant to be a track focused car. It has 2 Gs of cornering capabilities with road-legal tires and up to 1,345 pounds of downforce at 260 kilometres per hour from an active rear wing, and active left and right flaps. The chassis is able to predict the road ahead using a GPS and drivers can even calculate telemetry after with a 3G connection sending the data from the car to an iPhone app.
Koenigsegg had a pretty good idea for a 20th birthday present – and will have the One:1 at this years Geneva Motor Show.
Source: Autoblog