Remember watching King-Kong atop the Empire State building? Ford let's us know who the real king is!
Ford plans to kick off the 50th anniversary of the Mustang model line by recreating the original impressive 1965 stunt in which the iconic Mustang Convertible is placed atop the Empire state building.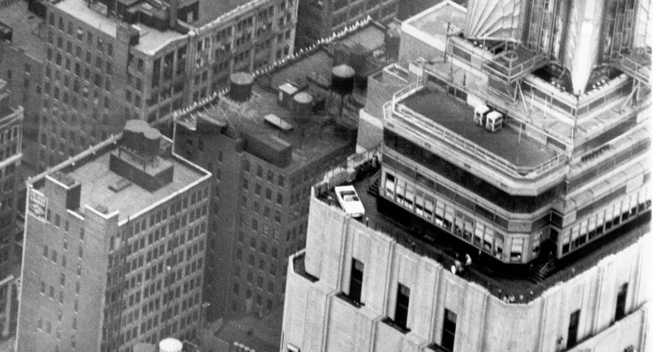 How will they do it you ask? Well, to get the 2015 Mustang convertible up to the 86th floor observation deck, Ford will have to replicate just what they did 50 years ago: technical will dissemble the car into pieces small enough to fit in the building's elevators, and then put it all back together at the top of the building. This is due to lack of availability of portable cranes tall enough to have the ability to reach the 86th floor, further the spire above the observatory makes helicopter delivery impractical. Elevators are the only way to get the pony up on the 86th floor. Not to mention, the new Mustang is nearly seven inches longer and four inches wider than its older brother, the '65 Mustang.
"Like the team that did this in 1965, the current crew visited the empire state building before starting and took careful measurements of its new elevators and doors before cutting up the car." Once all the Mustang's components have made it up, technicians will have six hours to reassemble the car before it goes on display. Visitors will be able to view the tribute on April 16 and 17, dates that coincide with the New York Auto Show.
Source: LeftLane