The Kia Soul is becoming greener and coming with a fully electric model, the EV!
Electric cars are becoming more popular, and now Kia has unveiled the Soul EV at the 2015 Chicago auto show. The EV is based on the second generation Soul and has little differences from the gas-powered machine. The EV has specific paint colours, 16-inch wheels and LED lighting elements. The Soul EV is powered by an 81.4kilowatt electric motor, which is good for 109 horsepower and 210 pound-feet of torque. It will also come with an air-cooled 27kilowatt hour lithium polymer battery that should allow a driving range of about 128-160 kilometres. The EV will max out at around 145 kph.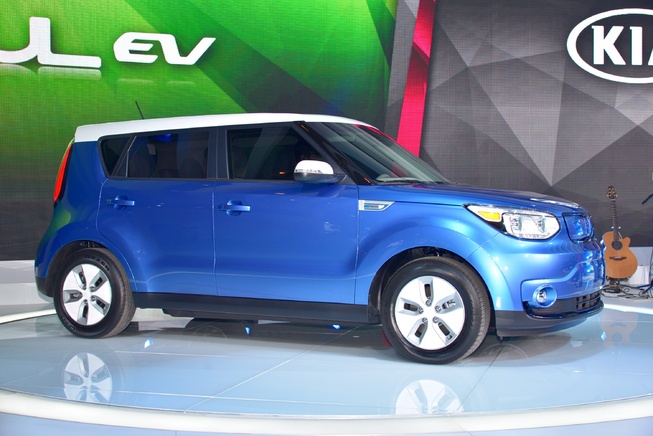 For the battery to reach full from completely empty, Kia says it will take approximately 24 hours from a standard 120-volt outlet. The higher of the voltage coming from the outlet, will reduce the amount of time to be charged. Along with the green drivetrain, the EV also has an interior of eco-friendly materials. The Soul EV has an option for a heat pump, which will use power from the electric system to warm the vehicle. Buyers can choose from limited two-tone colours exclusive to the EV. Pearl White body with an Electric Blue roof, a Caribbean Blue body with a Clear White roof, and Bright Silver accompanied by a Clear White roof. Seating wise, both cloth and leather are available – they are both grey with blue accents.
Source: LeftLane