New Kia GT4 Stinger concept a lot like Hyundai Genesis Coupe but pushes more horsepower!
Kia teased auto enthusiasts about the new GT4 Stinger concept before it was officially unveiled at the auto show in Detroit, and it was worth waiting for.
A 2.0-litre turbocharged four-cylinder engine powers the GT4 Stinger, and is much like the Kia Optima and Hyundai Genesis Coupe, because of the shared engine. The GT4 Stinger will be pushing 315 horsepower to the rear wheels – which is more than the 274 hp the Optima and Genesis send out. The car has a 6-speed manual transmission and it will also have 20-inch wheels that have carbon fiber inserts and will be wrapped by Pirelli P-Zero tires.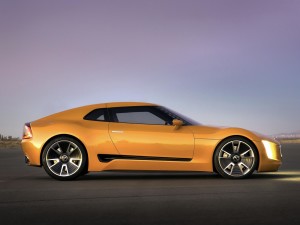 The body is quite low to the ground and wide, fitting the image of a classic sports car. Following the name, the GT4 Stinger orange paint job is sure to grab attention. Kia has not officially announced when we will see a Stinger and what the cost will be, but seem to have every intention of bringing it to the market.
Source: Jalopnik