The Hennessey Venom GT is extremely fast breaking records for speed, even though they will not be recorded for Guinness.
Hennessey has improved the record of top speed for its Venom GT to an astonishing 435.31 kilometres per hour. The run took place on a landing runway at the Kennedy Space Center in Florida on February 14. The record speed was confirmed by a Racelogic Vbox telemetry system. The previous record-holder was the Bugatti Veyron Super Sport, which demonstrated 430 kilometres per hour.
The incredible thing about the run is that the Venom GT, which pushes out 1,244 horsepower was still accelerating when it was at 435 kilometres per hour, but was forced to slow down due to the remaining length of the runway. The driver of the car, Brian Smith, only had around 4 kilometres to complete the run because he needed about a kilometre to slow the car down to 112 km/hr.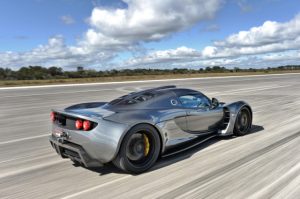 The cars record time will not make it into the Guinness Book of World Records because the car needed to complete two runs in opposite directions with the average speed for the record time. The Venom GT only did one run because that is all the NASA would allow, and according to founder, John Hennessey, it still took years of negotiations for the solo run. Even if more than one run was completed, it still would not make it into Guinness, because 30 examples are required to certify a car for a 'production vehicle' – Hennessey is only building 29 Venoms, 11 of which are sold.
Even though that run did not get recorded as the fastest by Guinness, the Venom GT already has the title as fastest car to reach a speed of 300 kilometres per hour, getting to that speed in 13.63 seconds, which is unbelievably fast. Check out the video below to see the run!
Source: Autoblog