GM is in deep water after facing a law suit for a death caused by the engine of a Cobalt halting mid-drive.
General Motors is facing a civil lawsuit for an ignition defect of the Chevrolet Cobalt, from as early as 2004, but waited10 years to issue a recall. The issue with the ignition forces the cars engine to shut off unexpectedly, losing the vehicle's power brakes, power steering, anti-lock brakes and airbags.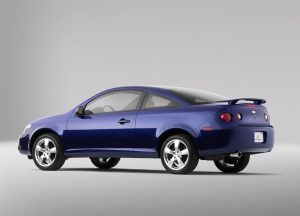 According to USA Today, at least one GM engineer discovered the faulty ignition in 2004, and in 2005 GM issued a bulletin advising dealers to install a snap-on key cover to help with the problem, but only if a customer filed a complaint. The program engineering manager for Cobalt, Gary Altman said that the key cover was an "improvement, it was not a fix to the issue."
The lawsuit was filed after Brooke Melton died behind the wheel of her 2005 Cobalt. Out of nowhere, Melton's car lost power while she was driving around 96 kilometres per hour, which caused the car to skid out and collide with another vehicle.
Source: LeftLane