Ford Reviving '32 Ford Body ProductionHot rod enthusiasts everywhere rejoice; Ford revives the production of the '32 Ford Coupe body along with many other parts.
Around the world, the 1932 Ford 5-window coupe remains the icon of hot rods. the 82 year old design has been a favourite of hot rod enthusiasts everywhere. However, the issue with such an old design is the lack of availability of parts. Those looking to do a rebuild are limited to after market parts (which are often a hit or a miss) and used parts (which are rarely found in good working condition). Well, Ford has now responded to it's clientèle facing this dilemma by reviving the production of the '32 Ford Coupe body.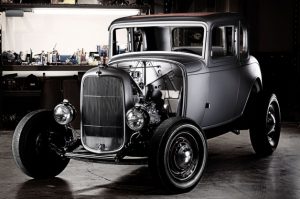 The '32 Ford Coupe has become an iconic design, and now, it's back!
That's not all, Ford is going to great lengths to ensure authenticity on these pieces. The bodies will be made from stamped steel and according to original specs., using original machinery. Other than that, Ford offers it's clients interested in building or tweaking their own vehicles the Ford Racing catalogue; a merchandising publication which gives buyers the option of over 9,000 parts to build their custom creations. These parts include vintage powertrains and crate motors, designed and built to easily be coupled with the '93 Ford Coupe body. Along with that, Ford is also reproducing bodies for the '65-'70 Mustang and the '40 Ford Coupe. It's always nice to see an automaker go out of its way to cater to it's die hard enthusiasts!
Ford is also reviving production of the '65 Ford Mustang Convertible body.
Source: Autoblog.com