This is an environment like that where the Africa Twin belongs: a land of adventure.
The morning's chill was quelled, if only a little, by the flames leaking out from in between crackling wood at the ride site. A large patch of pavement stretched out over the dirt to my left, while a trail snaked off into the trees to the right. Honda Canada is quite exceptional at choosing the most optimal locations for their launches. With plenty of paved twisties and dirt trails alike, the 2016 Africa Twin could not have been more at home. Also featured at the event were the CRF 250L, XR650, CB 500X (some with a handy rally kit installed), NC 750, and NC 750X.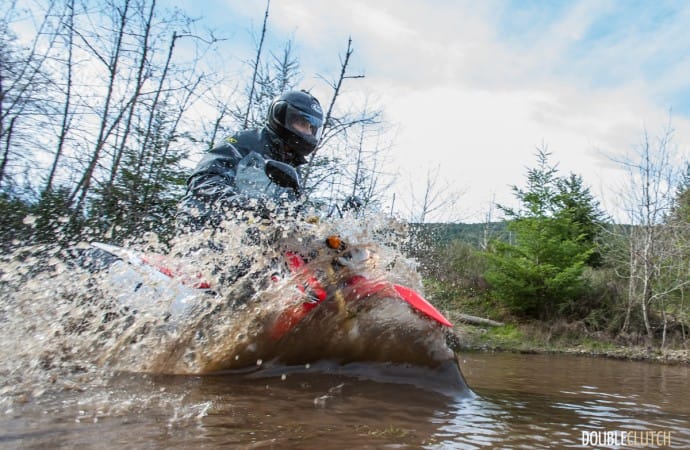 The day begun with seasoned adventure rider Clinton Smout instructing us on the essentials for dirt riding. I could not be more thankful for Honda's decision to bring along Clinton as an instructor; he is both a talented rider and a witty, clever teacher. I would recommend dirt riders of any skill level to visit his training centre called SMART Adventures at Horseshoe Valley in Ontario. He shared his deep bank of knowledge and experience with us journalists, each one of us emerging more confident in both ourselves as riders and the bikes we rode.
The day's heat made me further appreciative of the gear Honda had provided us with. Safety at Honda events has always been paramount, and they made sure we'd be comfortable by providing us with Klim gear. I was genuinely surprised at how well the gear retained heat in the cool of the morning, and promoted air flow as the temperature increased throughout the day (a result of the 9 billion pores per square inch in the GORE-TEX® membrane).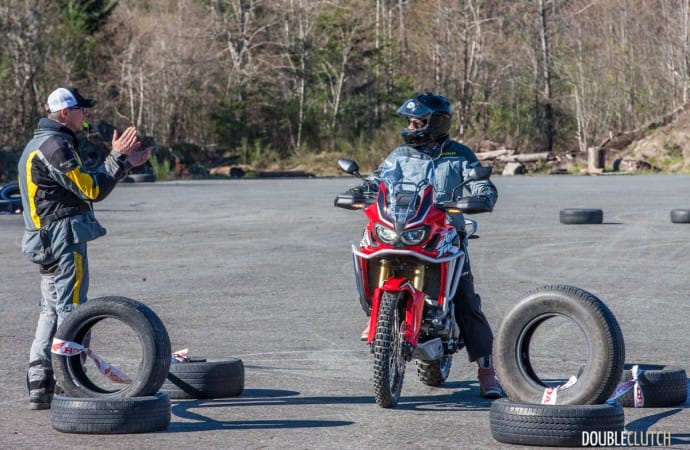 One of the key focus points for this event was the introduction of a newly improved Dual-Clutch Transmission (DCT) system. This was fitted on the Africa Twin (reviewed here) and the NC 750X. Choosing to test this new system in the dirt seemed counter-intuitive to me at first, as clutch control is vital in such environments. That being said, there was a moment where I was riding one of these DCT-fitted bikes and thought to myself, "Oh, that's why." It's because it works damn well.
Putting the system through a situation where the rider could potentially have severe doubts in it is key in developing that trust. The DCT truly allows for seamless shifts, and combined with the electronics constantly calculating in the background, it makes for an incredible riding experience in any environment. Honda has made riding simpler and more intuitive than ever. Want to ride? Turn the key in the ignition, press the button by the throttle with the 'D' on it to kick it into drive, then just ease into that throttle. There is no clutch. Experienced riders, you'll definitely be grabbing for it. There is no shift lever. Your foot will move forward in search of it, but you will adjust and it will feel natural soon enough.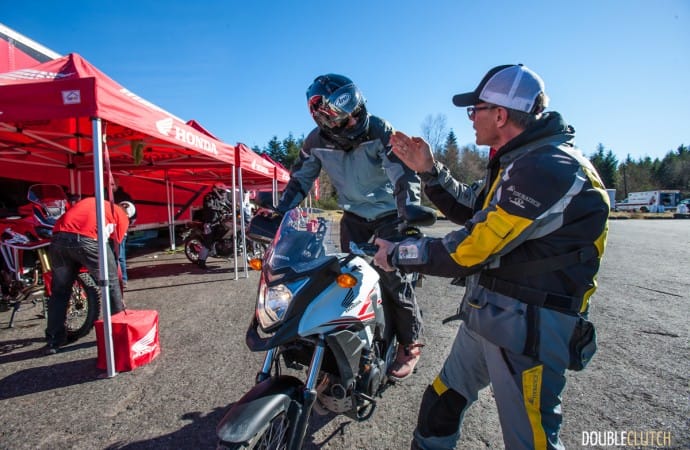 There is a manual mode with buttons to shift by the left hand, but I didn't feel myself needing it. The bike simply knows what I want to do, whether I'm using one of the three sport modes, or the G mode for aggressive riding on gravel. G mode enhances the connection felt between the throttle and rear-wheel. Response feels tighter, control more precise, and it also enhances engine braking going downhill. Every feature that comes with the DCT system was meticulously designed to suit a particular kind of riding style, and it all meshes together perfectly.
The air is different in BC: less invasive, more wholesome. I had never been before, and I found Victoria to be one of the most beautiful places I had been. No other place has felt more like the perfect blend of bustling city, and simple community. The mountains, ever-looming in the distance, set a magnificent backdrop the city's hilly, tiered landscape. This is an environment like that where the Africa Twin belongs: a land of adventure. Honda Powersports Canada succeeded in rousing that sense of adventure and excitement in me with their bikes.
First Ride: Honda Adventure Experience Gallery