Yamaha also was kind enough to supply us with a nearby airstrip for some more… intensive testing.
Huntsville, ON – I was invited to test four of Yamaha's latest motorcycles with a handful of other journalists in and around Huntsville, Ontario. The location provided some spectacular roads, classic cottage-country views, and served up plenty of adrenaline for a county otherwise associated with rest and relaxation. If you've never taken your bike out for a ride up there, add it to your list of things to do this season – you'll be thrilled with what you can find a few hours north of Toronto.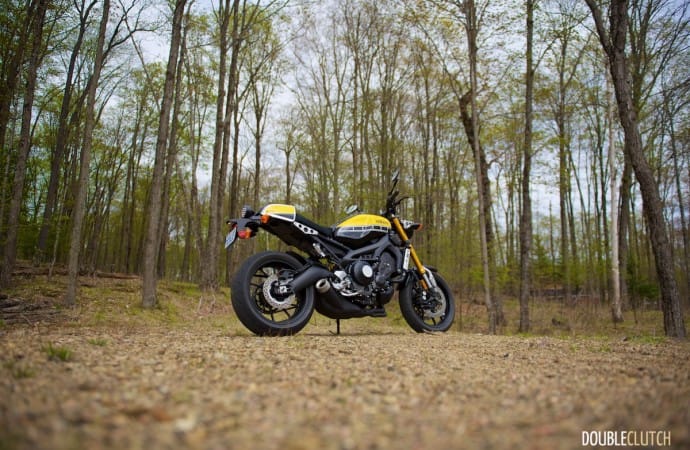 As luck would have it, Yamaha also was kind enough to supply us with a nearby airstrip for some more… intensive testing of the bikes' acceleration and braking capabilities. The keys to the 2017 Yamaha FZ-10, 2016 R1S, 2016 XSR900, and 2016 FJR1300 were handed over, and, well, you're about to read the rest.
The first bike I got my hands on was also the same bike everyone would be fighting over the next few days – the 2017 FZ-10. Redesigned and reengineered the FZ-10 is brand new for this year, and should be available this July for $15,499. It shares many components with the R1S, including the frame, swingarm, and (for the most part) engine. The major difference with the FZ-10's engine from the R1S is its slightly heavier, crossplane crank to improve acceleration from a standstill).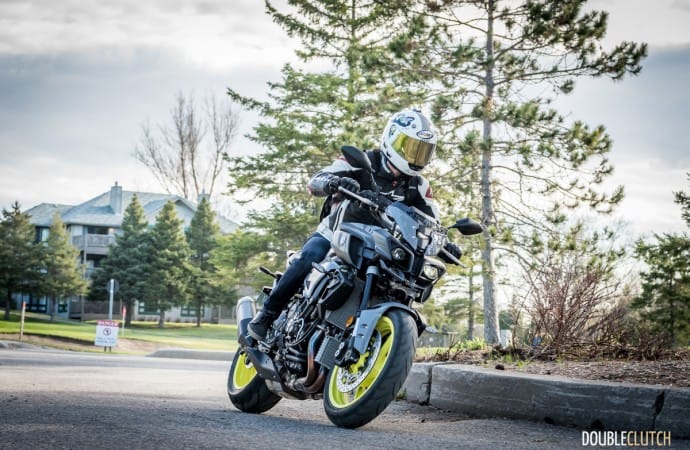 Aside from this, it also uses a larger air box, revised throttle bodies (for cruise control), and aluminum engine covers/oil pan (as opposed to magnesium on the R1/R1M). There are a few more minor differences between the engines, but let's not get too caught up in the technicalities. The FZ-10 is Yamaha's latest shot at the growing "Supernaked" segment. One glance at the bike's styling makes it clear that Yamaha is taking aim at bikes like my own BMW S1000R (reviewed here), which made this the bike I was most excited to ride.
For the most part, I think Yamaha has hit their mark here. The bike is a joy to ride, providing plenty of low-mid range torque and a few different ride modes to help manage power delivery and throttle response for riding situations ranging from heavy traffic to track days. Putting out 160hp with a note extremely similar to the R1S, the big-daddy FZ can and will move any time you want or need it to. Pushing it hard on the airstrip revealed a very manageable launch, with some front-end lift in higher RPM's, but that's something you should expect from pretty much any bike in this class.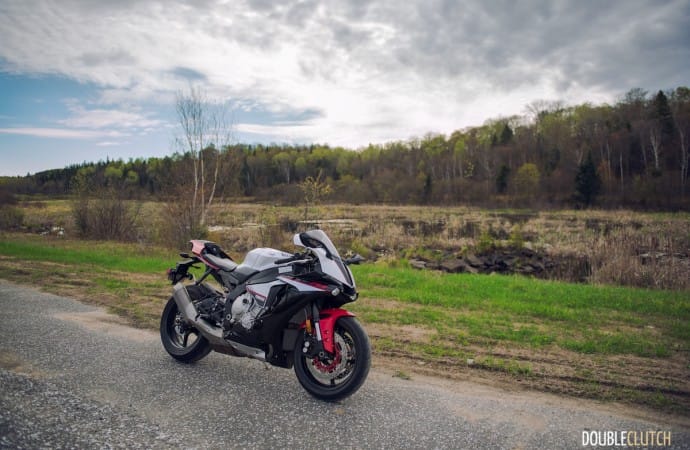 Brakes on the FZ-10 felt firm and constant under hard deceleration. The suspension, just a bit firm for commuting I think, but nothing that can't be solved with a few tweaks – it's adjustable for a reason. While the bike held up very well overall, I did have a few minor gripes with it – I have to get picky. Firstly, the control interface was a bit awkward to use once on the move, some of the buttons felt out of thumb's reach, causing you to relax your grip in order to reach for the cruise control or try to adjust the traction control settings. Well, that brings me to the second gripe; traction control is only adjustable at full stop.
Considering that you're able to switch between riding modes on the fly, I hoped that traction control wouldn't be much different. Not a major issue, but it would be nice to dial it up if you see some unexpected and unavoidable gravel ahead.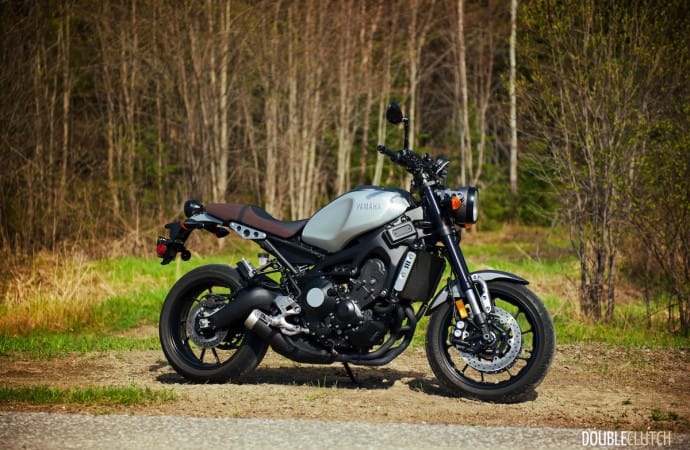 Of the group, the XSR900 by far had the largest fun-factor for me. Not only does it look fun with the modern-retro styling Yamaha has given this bike, but it's set up to be extremely rider-friendly and inspires a lot of confidence from the moment you toss your leg over it. Available in a brushed aluminum/matte grey ($10,699) or a 60th Anniversary yellow & black ($10,999) colour combination, the XSR can look refined, or ravening. The bike is standard-equipped with (adjustable) traction control and ABS, so it isn't going to bite you too hard if you're prone to whisky-throttling.
Its upright riding position and raised bars further inspire confidence, giving you a good amount of leverage when trying to lean the bike down – you can pretty much throw it into corners. The 847cc inline triple will put out 115hp and almost 65 lb-ft of torque. Those numbers might not sound like a ton for a "900", but the bike feels quick, and it's plenty nimble. While I don't want to get too in-depth on this one, since we have a detailed review to come, I will say one thing: I want it. Wait, I'll say two things: I want it, and I want it in the 60th anniversary yellow with that solo-seat on the back.
Lastly, the R1S (Yamaha's "Street-able" version of the R1) is certainly not least. Of course, it shares pretty much all of the engine components of the R1, except a handful are cast in aluminum/stainless-steel rather than titanium/magnesium. Most notably, the crossplane crank is heavier with steel connecting rods for added low-end torque and quicker acceleration from standstill. Further to that, the wheels are made from aluminum rather than magnesium, making them heavier but also more cost-effective.
The R1S is phenomenally fast – opening it up on the airstrip released roughly 1000cc of epinephrine into my bloodstream (sure, doctors would likely tell you that a dose over 10mL could kill a person, but we're talking about motorcycles here). While it is missing a quick-shifter as standard, it's still an available option for only $260. Even though the R1S is geared towards more street riding than the track, I still wouldn't want to ride it through downtown traffic; it just hates going slow, and that's what you already expect.
Riding position is obviously quite hunched, but I made it comfortably through a couple hours of riding with my backpack on before stopping for a break. The display is also very well done on Yamaha's part, it handled direct sunlight without glare and had plenty of information on it, including meters for brake-pressure and acceleration/braking g-force… yet still no fuel gauge (Just twist the throttle once, you'll forgive them). At $16,699 it's a lot of bike for your money.
While I enjoyed all the riding, and curvaceous roads the area offered, eventually Yamaha wanted their bikes back, and my stay drew to a close. The folks at Yamaha worked hard to put on a successful event – we were given tons of support to better understand these bikes, somebody was always available to answer questions, they lead us on some excellent routes, and encouraged us to push the bikes hard in a controlled setting. They also brought along Roger Yip, a very talented (and patient) photographer who got some really great rolling shots for us. All that said I'd like to thank them for putting on a successful event and inviting me along for the ride.
First Ride: 2016 Yamaha Full Line Gallery
*Photos by Theron Lane and Roger Yip, respectively*
See Also: